We're back! And we're in Tennessee! If you've wondered where we were this past month, well, we've been all over the place. But the move is over and we're setting in to our new digs. The kitchen in our new place is fantastic, it might be the main reason we chose this place.
Anyways, we were anxious to break it in, and this was the perfect dish to do so. A delicious, light, and healthy meal perfect for a hot summer day. The recipe originally called for the addition of crab, which would have been delicious, but we've spent all our money moving and buying new furniture so crab wasn't exactly in our budget. :) Served with corn and some fabulous mango cilantro margaritas, and it was definitely a meal we'll make again!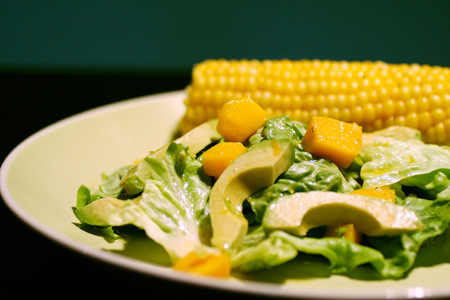 Mango & Avocado Salad with Citrus Dressing
Makes 2-4 servings. Recipe from Bon Appetit.
Ingredients
3 tablespoons orange juice
1 tablespoon fresh lime juice
1 tablespoon honey
1 teaspoon grated orange peel
3 tablespoons olive oil
1/2 red onion, sliced paper-thin
1 pound fresh lump crabmeat, picked over, separated into chunks
1 large (15- to 16-ounce) mango, peeled, pitted, sliced
1 large avocado, halved, pitted, peeled, sliced
12 large Boston lettuce leaves

Directions
Combine first 4 ingredients in small bowl; whisk in oil. Season dressing with salt and pepper. Mix in onion; let marinate 15 minutes.

Combine crabmeat, mango, and avocado in large bowl. Gently mix in dressing. Overlap ends of 3 lettuce leaves in center of each plate, forming bowl. Mound salad in lettuce bowls and serve.