It feels so good to be cooking again. I didn't know how much more eating out my stomach (and wallet) could take…
This is a great summer meal. They can be served hot or cold, and make GREAT leftovers the next day (in fact, it may have been better the next day!). We added some tofu, just to give it more substance as a main dish. We just sautéed the tofu in a bit of oil, soy sauce, and siracha hot sauce until browned.
The part about sitting 1 hour… right. If you've read our blog enough you'd know we're just not that patient. So we ate these hot. Still good, and much quicker. :)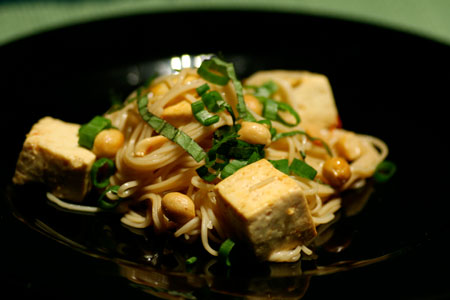 Sesame Noodles with Peanuts and Basil
Makes 4-6 servings. Recipe from Bon Appetit.
Ingredients
1 tablespoon peanut oil
2 tablespoons minced peeled fresh ginger
2 garlic cloves, minced
3 tablespoons Asian sesame oil
2 tablespoons soy sauce
2 tablespoons balsamic vinegar
11/2 tablespoons sugar
1 tablespoon (or more) hot chili oil (we used Mongolian fire oil… not sure if that's what the recipe was calling for or not.)
11/2 teaspoons salt
1 pound fresh Chinese egg noodles (about 1/16 inch in diameter) or fresh angel hair pasta
12 green onions (white and pale green parts only), thinly sliced
1/2 cup coarsely chopped roasted peanuts
1/4 cup thinly sliced fresh Thai basil leaves (or regular basil will work just fine)

Directions
Heat peanut oil in small skillet over medium heat. Add ginger and garlic; sauté 1 minute. Transfer to large bowl. Add next 6 ingredients; whisk to blend.

Place noodles in sieve over sink. Separate noodles with fingers and shake to remove excess starch. Cook in large pot of boiling salted water until just tender, stirring occasionally. Drain and rinse under cold water until cool. Drain thoroughly and transfer to bowl with sauce. Add sliced green onions and toss to coat noodles. Let stand at room temperature until noodles have absorbed dressing, tossing occasionally, about 1 hour. Stir in peanuts and Thai basil; toss again. Season to taste with salt and pepper. Serve at room temperature.