Ok, so here's the thing. Sometimes we do good. We find fantastic recipes and we enjoy them. Other weeks, we don't do so good. This might be one of those weeks.
While I wouldn't call this bad, it wasn't jaw-dropping good. Taylor liked it more than I did. I love basil, asparagus, garlic, shrimp, and lemon… but this didn't quite do such fantastic ingredients justice. Maybe I'm just not a huge fan of white wine sauces, and in that case I'm biased. It's still worth a try. Maybe we just had some bad shrimp.
On a better note: at Farmer's market this week, they had something we had never seen before. Fresh garlic. I was quite confused at first, because they were sitting in between green onions and leeks (fresh garlic looks like bulbous leeks or giant green onions, hence my confusion). We bought some anyway, as we're always up for trying new things! It's actually quite good! Milder and sweeter than dried garlic, I like it a lot! We used it last night in the garlic yogurt sauce, and tonight in this pasta. Next week we'll have to look into some recipes that feature fresh garlic, could make for some good eats. :)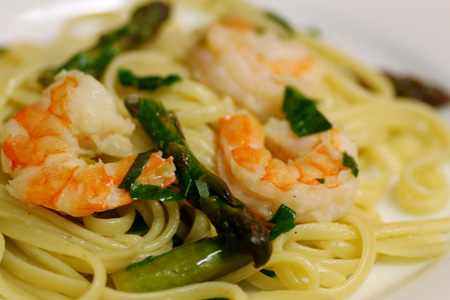 Linguine with Shrimp, Asparagus, and Basil
Recipe from Bon Appetit. Makes 2 servings (two BIG servings!)
Ingredients
8 ounces linguine
3 tablespoons olive oil
2 garlic cloves, chopped
1 tablespoon chopped red jalapeño chili
1/2 cup dry white wine
1 tablespoon butter
12 uncooked large shrimp, peeled and deveined with tails intact
12 slender asparagus, trimmed, cut diagonally into 1 1/2 inch pieces
1 tablespoon fresh lemon juice
2 cups packed fresh basil leaves, thinly sliced
2 lemon wedges

Directions
Cook pasta in large pot of boiling salted water until just tender but still firm to bite, sirring occasionally.

Meanwhile, heat oil in heavy large skillet over medium-high heat. Add garlic and jalapeño; sauté 1 minute. Add wine and butter; boil 2 minutes. Add shrimp, asparagus, and lemon juice. Toss until asparagus is just tender and shrimp are just opaque in center, about 3 minutes.

Drain pasta and add to skillet. Add 2 cups sliced basil leaves and toss until basil wilts and sauce coats pasta, about 1 minute. Season with salt and pepper. Divide pasta between 2 plates. Garnish with fresh basil leaves and lemon wedges and serve.