Corn tortillas + deep frying = more trouble than these are worth. They had a really good flavor and tasted great when they were done, but it was a real ordeal getting there. Next time, we'll use flour tortillas, and pan-fry them in a few tablespoons of oil instead of an inch, just so they are browned on the sides. Easier and healthier.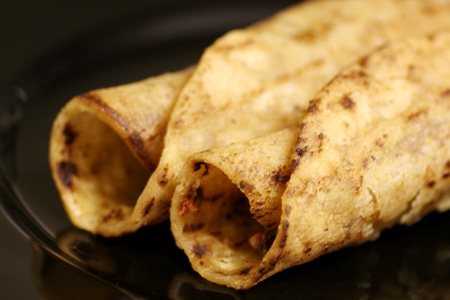 Smoked Salmon Flautas
Recipe from Bon Appetit. Makes 8 to 12. The recipe originally called for smoked tuna or smoked trout, but I couldn't find either. So we ended up using a can of smoked salmon.
Ingredients
2 large jalapeño chiles
1/2 cup finely chopped shallots
3 tablespoons chopped fresh basil
3 tablespoons chopped fresh italian parsley
3 tablespoons chopped fresh cilantro
2 large garlic clove, minced
1 tablespoon olive oil
2 teaspoons fresh lime juice
8 ounces smoked tuna (albacore), or smoked trout fillets, coarsely flaked
12 5- to 6-inch-diameter corn tortillas or 8 7- to 8-inch-diameter flour tortillas
vegetable oil (for frying)

Directions
Char jalepeño chiles over gas flame or in broiler until blackened on all sides. Enclose in paper bag 10 minutes. Peel and seed chiles, then chop finely and place in medium bowl. Add shallots and next 6 ingredients; toos. Mix in fish. Season with salt and pepper. Can be made 1 day ahead, cover and chill.

Preheat oven to 350ËšF. Wrap tortillas in foil; place in oven 10 minutes. Arrange tortillas on work surface. Press 2 tablespoons filling for corn or 3 tablespoons filling for flour tortillas into 3- to 4-inch strip on bottom third of each tortilla. Roll up; secure with toothpicks.

Pour oil into large skillet to depth of 1 inch. Attach deep-fry thermometer; heat oil to 350ËšF. Fry floutas 3 or 4 at a time until golden, turning occasionally, about 4 minutes. Using tons, hold flautas vertically over skillet to drain off oil; transfer to paper towels to drain. Remove toothpicks. Serve with shredded iceberg lettuce and sour cream.