So tonight we cooked the fancy fish dish. We didn't use bass, but frozen dover sole. The fillets almost fell apart in the cooking process (so excuse the ugly plating), but it was still a delicious dish nonetheless. We weren't too fond of the carrots cooked in chicken broth though… maybe something like white wine or vegetable broth would have been better. The mint pesto is delicious! So who designated this the week of pesto?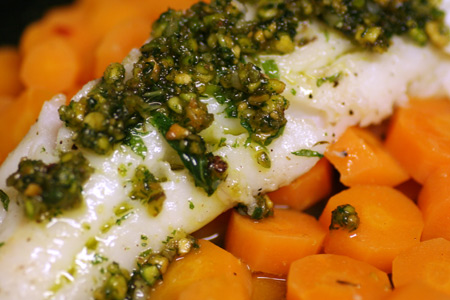 Sautéed Bass with Mint Pesto and Spiced Carrots
Recipe from Bon Appetit. This will be the last recipe we make from the April '07 issue… seeing as Taylor made a mess with the fish and spilled raw fish juice all over the magazine, so now it is contaminated. Ooops. Some good recipes in there too!
Makes 4 servings.
Ingredients
Pesto:
1/4 cup packed fresh mint leaves
1/4 cup lightly toasted shelled unsalted pistachios
1/4 cup extra-virgin olive oil
1 garlic clove, peeled
coarse kosher salt

Fish:
1 tablespoon extra-virgin olive oil
2 tablespoons chopped fresh mint
1 tablespoon chopped fresh thyme
4 6-8oz striped bass fillets (with or without skin)

Spiced Carrots:
1/2 teaspoon coriander seeds
1/2 teaspoon cumin seeds
1/2 teaspoon fennel seeds
3 tablespoons extra virgin olive oil, divided
12 ounces medium carrots, peeled, thinly sliced into rounds
1/8 teaspoon dried crushed red pepper
1 cup low-salt chicken broth
3 tablespoons fresh lemon juice

Directions
For pesto: blend mint leaves, pistachios, olive oil, and garlic in processor until coarse puree forms. Season with coarse salt. Can be made 1 day ahead; cover and chill, bring to room temperature before using.

For fish: combine olive oil, mint, and thyme in small bowl. Spread herb mixture all over both sides of fish fillets. Cover and refrigerate fish at least 3 hours and up to 5 hours (yeah right… we marinated for maybe 30 minutes tops).

For spiced carrots: Stir all seeds in small dry skillet over medium heat until fragrant, about 2 minutes. Transfer seeds to spice mill or mortar and grind coarsely.

Heat 1 tablespoon oil in heavy large skillet over medium-high heat. Add carrots, crushed red pepper, and ground seeds; sauté until carrots begin to brown in spots, about 5 minutes. Add broth and lemon juice and bring to a boil. Reduce heat to medium-low, cover, and simmer until carrots are tender, about 6 minutes. Season to taste with salt and pepper.

Sprinkle fish with salt and pepper. Heat 1 tablespoon oil in each of 2 large nonstick skillets over medium-high heat. Add fish and cook until browned on both sides and just opaque in center, about 5 minutes total.

Divide carrots and any juices among 4 plates. Top each serving with 1 fish fillet. Spoon pesto over and serve.