So we had a fancy fish recipe planned for tonight, but neither of us felt like eating it or cooking it. So, we turned to our designated "leftovers" meal… a yummy noodle stir fry with Taylor's awesome peanut sauce. A sauce, by the way, that we use as the dipping sauce for our Vietnamese Shrimp Spring Rolls. Delicious and quick!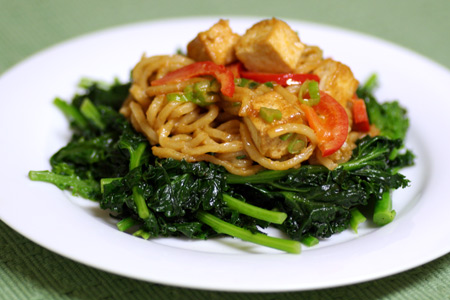 Tofu toss basically means toss whatever you have left in the fridge in a pan with some tofu and noodles. Mushrooms, onions, peppers, carrots, broccoli… seriously whatever you have in the fridge. The peanut sauce will make anything taste good. Please note that the measurements in the sauce are very rough… Taylor is very 'intuitive' when it comes to this peanut sauce, and couldn't give me exact measurements for the recipe. Just keep mixing things until it tastes good.
Tofu Noodle Toss with Taylor's Kick-Butt Peanut Sauce

Ingredients
Noodles (rice, soba, spaghetti… whatever)
Tofu, drained and cubed
Veggies (we used peppers and green onions), chopped, sliced, minced, etc.
Canola Oil
Kale, stems removed
Olive Oil

For Peanut Sauce:
1/3 cup peanut butter
3 tablespoons soy sauce
1 teaspoon rice vinegar
1 teaspoon garlic salt
3 tablespoons brown sugar
1 tablespoon sesame oil
sriracha chili sauce, to taste
water

Directions
Bring water to boil and cook noodles according to package directions. Drain and set aside.

Heat a tablespoon or so of olive oil in large skillet. Add tofu cubes and saute until browned. Move to paper-towel lined plate to drain. Add veggie pieces to same pan, and cook until tender. Remove from pan with tofu.

Add a few tablespoons olive oil to skillet. No need to wipe out the pan, all the flavors will be mixed eventually! Add kale and cover. Cook, stirring occasionally, for 3-5 minutes or until tender. Remove from heat and transfer to serving dish.

To make peanut sauce, combine all ingredients except water in microwave safe bowl. Stir well. Microwave for 30 seconds or so and stir until smooth.

Move tofu and veggies back into pan (yes, the same pan!). Add noodles and peanut sauce, toss until coated. Add a few teaspoons of water to peanut sauce if it seems too thick.