Believe it or not, this creamy whipped almond dip is entirely vegan, and made with ingredients you already have in your pantry!
A perfect starter or light lunch, we served this whipped almond dip with pickled beets and slices of fresh sourdough bread (but feel free to treat it like you would hummus, paired with fresh vegetables, soft pita, or even crispy chickpeas).
This recipe was inspired by a dish we had in Sydney, Australia this past fall. On our last night there, we randomly found ourselves in an adorable restaurant down the street from our apartment called Dead Ringer.
One dish on the menu that immediately grabbed our attention was an appetizer of creamed almonds with beets and housemade sourdough. I'm a sucker for anything with beets, and so we ordered it not really knowing what exactly 'creamed almonds' would be.
Turns out creamed almonds are downright magical. Somehow, without any cream or dairy whatsoever, the almonds whip up into a creamy, fluffy dip with a texture falling somewhere in between hummus and whipped ricotta. With little more than a splash of lemon juice, a glug of olive oil and a garlic clove, it's surprising just how flavorful this dip is.
In an effort to recreate the original as closely as possible, we topped ours with a drizzle of olive oil, pickled beets, fresh dill and and homemade sourdough.
The pretty pink powder is actually a mix of beet powder and sumac, which gives the dip a tart lemony twist (the beet powder is mainly for looks, so feel free to leave it out, though I'd argue the sumac is not optional since it adds so much flavor).
We realized after the fact that we forgot the black sesame seeds, which would have added another level of visual interest. Next time! (because we will certainly be making this again!)
The original was made with something called Verjus, which is a juice made from unripe grapes. Not something we could easily find, so we just used water instead to give the dip its creamy consistency. We also opted to use lemon juice instead of vinegar, though in the absence of fresh lemons you can certainly use white wine vinegar in its place.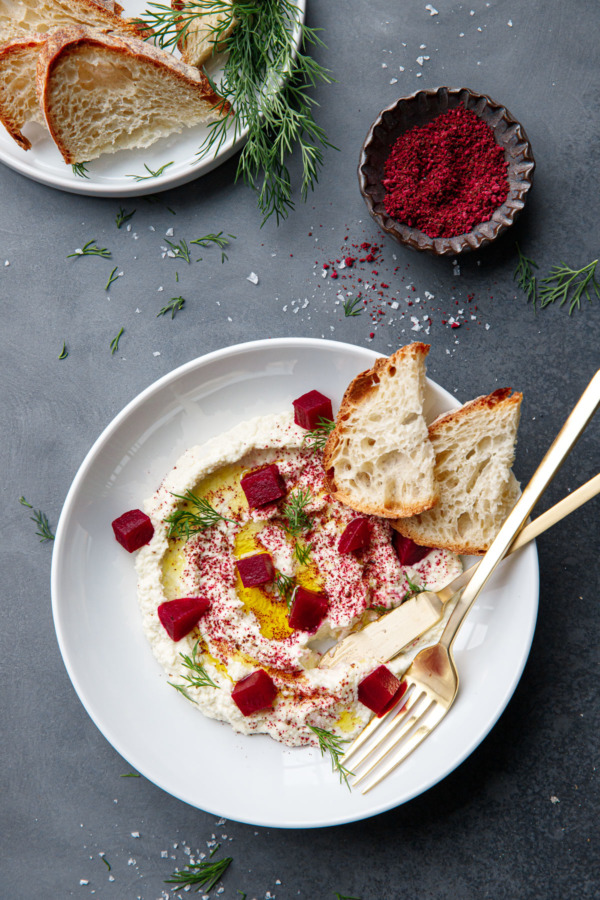 This innovative pantry recipe requires little more than raw almonds, garlic, lemon juice, and olive oil, and canned pickled beets for topping. It's completely vegan, vegetarian, dairy free AND gluten free (well, other than the sourdough, but I'm sure you can find a suitable gluten-free alternative to that).
The pickled beets make for a perfect pairing, however I think you could serve this dip with anything that would go well with hummus, including fresh crudité vegetables like carrots or celery, warm pita bread, or crispy fried chickpeas.
You know that blending almonds in the food processor results in almond butter… but this recipe is nothing like almond butter. Amazing how the addition of a few simple ingredients like water, olive oil and lemon juice can transform almonds into something completely different.
Do plan ahead, as this recipe calls for soaking the almonds overnight. If you forget or want to make it tonight, boil the almonds for 1 to 2 minutes and you should soften them sufficiently while also loosening the skins (while skinning the almonds isn't required, it does make for a smoother consistency overall).
I also think this recipe would be just as lovely and just as creamy (if not moreso) made with cashews instead of almonds.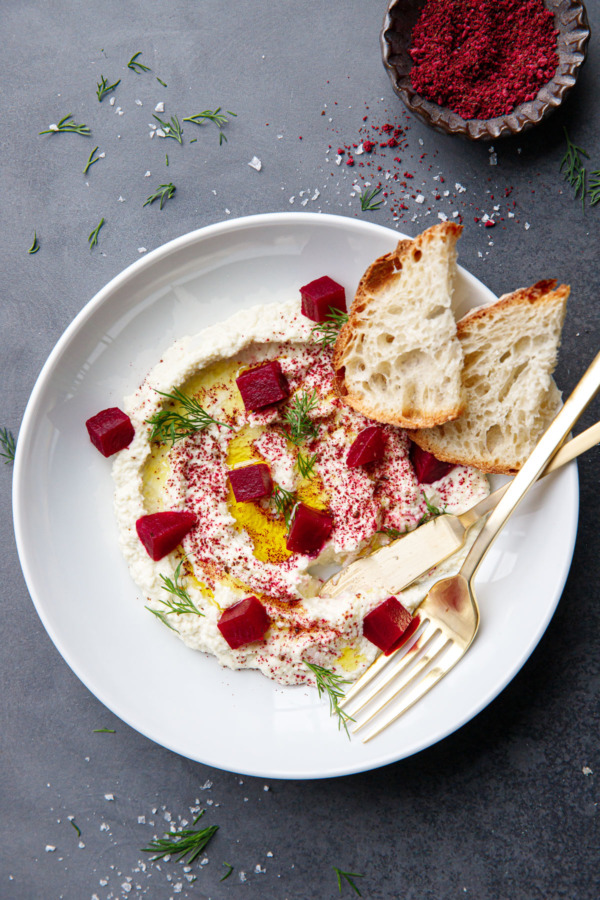 Hey you. Yeah, you. The one who sees a recipe calling for 5 garlic cloves and automatically doubles it…
This recipe calls for 1 small garlic clove, and please trust me when I tell you that that is enough. It's perfect, actually. Just enough garlic flavor but not so much that the delicate notes of almond and olive oil are steamrolled. Save your extra garlic for your pasta tomorrow night, and trust me on this one. You won't be disappointed, I promise!
Whipped Almond Dip with Pickled Beets & Sourdough
Whipped almond dip (made entirely without cream so it is naturally vegan and dairy free!) served with pickled beets and slices of fresh sourdough bread.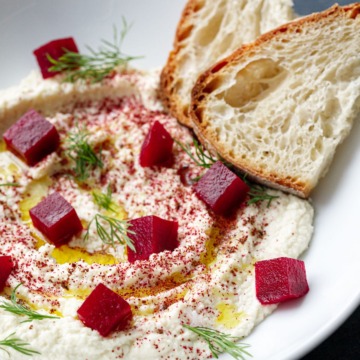 Ingredients:
1 cup raw almonds
1/4 cup extra virgin olive oil, plus more for topping
2 tablespoons lemon juice
1 small garlic clove
1/4 teaspoon kosher or coarse sea salt
1/4 cup water, more or less as needed
1/2 cup chopped pickled beets, for topping
fresh dill, for topping
1 teaspoon beet powder (optional)
1/2 teaspoon ground sumac
fresh sourdough bread, for serving
Directions:
Place almonds in a jar or other container and cover completely with cold water. Cover and refrigerate for at least 12 hours or overnight. (While I prefer soaking, if you are short on time, you can blanch the almonds for 2 minutes in boiling water).
After soaking, peel almonds, discarding skins. They should slip out of their skins fairly easily if they've soaked long enough.
Place almonds, olive oil, lemon juice, garlic and salt in the bowl of a food processor. Pulse until coarsely chopped. Add water, 1 tablespoon at a time, and continue to pulse until smooth, scraping down the sides of the bowl as necessary. This could take a good 5 to 10 minutes to really get it smooth. You may need slightly more water to achieve a nice creamy consistency. Taste and add additional salt as desired.
Spoon dip into shallow serving bowls, swirling the dip around the dish with the back of your spoon.
Drizzle with olive oil, and top with pickled beets and torn fresh dill. Mix together beet powder and sumac and sprinkle over top. Serve with warm sourdough bread and enjoy.
Did you make this recipe?
Let us know what you think!
Leave a Comment below or share a photo and tag me on Instagram with the hashtag #loveandoliveoil.