Bowls over rolls—everything you love in an egg roll, now in an easy-peasy bowl form!
These satisfying egg roll bowls provide all the fantastic flavors of egg rolls without the hassle of wrapping and frying. Sautéed cabbage, carrot and ground pork with a punch of spicy kimchi, served over a bed of rice.
For all the chaos in the world right now, food is proving to be a safe haven for a lot of us. I'm trying to see a silver lining to all of this, and I have to say that seeing so many people staying at home for the good of their communities, and cooking food for their families is heartwarming. If we all come out of this with a little more confidence in the kitchen, and a more conscientious approach to food waste, I think we'll all be better for it in the end.
In the coming weeks we're going to try to keep sharing recipes as best as we can, focusing on practical recipes utilizing pantry ingredients and incorporating fresh produce whenever we can (because while one can feasibly live on dried beans and pasta, it's certainly not satisfying).
In these bowls, for example, both cabbage and carrots will keep quite well in the fridge for weeks, as does kimchi. Paired with some steamed rice and frozen pork from the freezer (you could also use ground turkey or chicken), it's a practical recipe that doesn't sacrifice on flavor.
This particular recipe was inspired by our most recent CSA box from Caney Fork Farms, which arrived with a whole head of napa cabbage, beautiful fresh carrots, gigantic green onions and the most beautiful purple daikon radishes I've ever seen.
We sort of threw this together on a whim, stir frying that lovely produce with some ground pork and all the spicy condiments we happened to have in our fridge. The result was so good, so deliciously spicy, that we had to make it again to share with you. Served atop a bed of steamed rice it really makes for one heck of a meal.
(And, if you're in the Nashville area and interested in getting your own CSA delivered right to your front door, check out Caney Fork Farms. And psst! Use coupon code LOVEANDOLIVEOIL to save $25 off your first share!)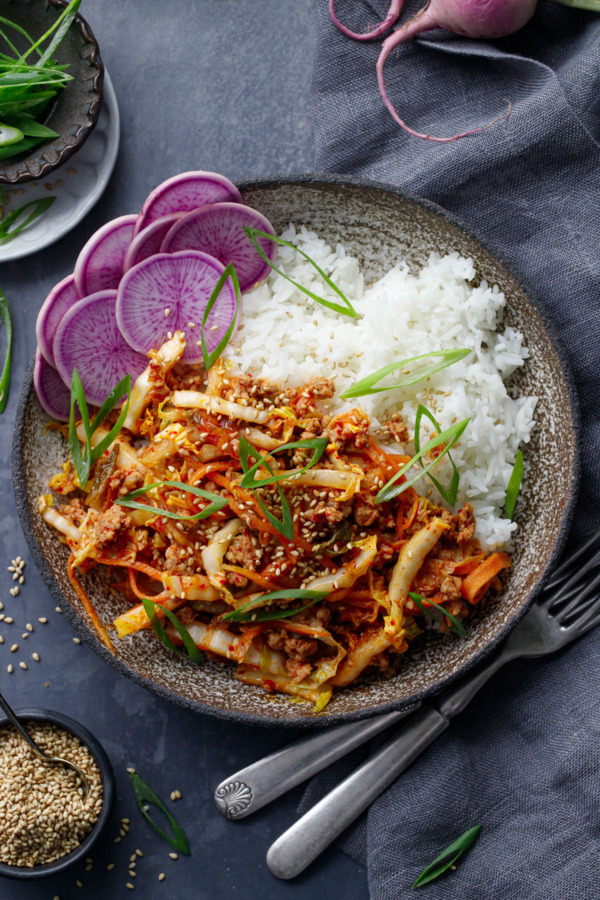 These gorgeous purple radishes were one of the highlights of our last CSA box. I'm not usually a fan of radishes, especially daikon radishes, but these stunning purple radishes won me over first with their unique hue and then with their mild flavor and fantastic crunch.
We found them to be the perfect foil to the spice in this dish; even though radishes are often described as spicy, in this case their watery crunch cools your tongue as you eat so you can live to eat another bite.
In addition to the kimchi, we incorporated two spicy Korean ingredients in this recipe for an incredibly spice and rich depth of flavor.
Gochujang, or Korean hot pepper paste, is one of our favorite ways to add flavor to dishes, and we always try to keep a tub in the fridge (since it's fermented, it keeps forever). It's got a decent amount of spice, but is cut with a wonderful sweetness and rich umami flavor somewhat like miso. We've found that about 2 tablespoons per 4 servings or so is a good balance of flavor and spice for a dish like this. Sriracha is probably the closest substitute if that's all you have, though it won't be quite as well-rounded a flavor or noticeable sweetness.
Gochugaru, or Korean red pepper flakes, is a finer, more flavorful version of the red pepper flakes you're familiar with. It has a coarsely ground texture that falls somewhere between chili powder and traditional red pepper flakes. While you can use standard red pepper flakes, you really can't beat the smoky, sultry flavor of the real deal.
Both of these pepper products, together with the spicy kimchi, results in a noticeably spicy dish, with a pleasant burn that builds as you continue to eat it. If you are sensitive to heat, I recommend using a mild kimchi and leaving out the gochugaru completely—while you can dial back the gochujang as well, this flavor-packed paste is the source of more than just spice (also sweetness and umami), so the result won't be quite as intensely flavored.


If you can find it, napa or savoy cabbage is best for this dish—their softer, more tender leaves will soften into a satisfying texture. Regular green cabbage will work in a pinch, however I'd recommend cooking it a few minutes longer to let it fully soften.
You can also certainly use ground chicken or turkey in place of the pork, or even cubes of firm tofu if you prefer.
Spicy Korean Egg Roll Bowls
Sautéed cabbage, carrot and ground pork with a punch of spicy kimchi, served over a bed of rice—just as satisfying as egg rolls without the hassle of wrapping and frying!
Ingredients:
2 tablespoons vegetable oil
4 cloves garlic, minced (about 1 tablespoon minced)
1 1/2 teaspoons minced ginger (from a 1-inch piece)
2 scallions, white parts separated and finely chopped, green parts thinly sliced and set aside for topping
1 pound ground pork
2 teaspoons sesame oil
1 tablespoon soy sauce
2 tablespoons gochujang (Korean hot pepper paste), or to taste
1 teaspoon gochugaru (Korean hot pepper flakes), or to taste
1/2 cup drained chopped kimchi
2 tablespoons kimchi juice
1/2 napa or savoy cabbage (about 10-12 ounces), thinly sliced or shredded (about 4 cups shredded)
2 large carrots, julienned or shaved into ribbons
steamed rice, for serving
daikon radish, thinly sliced, for topping
sesame seeds, for topping
Directions:
Heat oil in a large skillet or wok set over medium-high heat.
Add garlic, ginger and the white parts of the scallions and sauté for 1 to 2 minutes until fragrant.
Add ground pork and cook, breaking up any large chunks, until cooked through, about 6 to 7 minutes.
Add gochujang, gochugaru, soy sauce, sesame oil, kimchi and kimchi juice and stir to evenly coat.
Push pork mixture to the sides of the skillet; add cabbage and carrot to the center. Cook, tossing occasionally, until cabbage is softened and carrot is tender, about 3 to 5 minutes (green cabbage will take slightly longer than softer napa or savoy cabbage).
To serve, spoon steamed rice into serving bowls, then spoon pork mixture over top. Sprinkle with thinly sliced green onions, sesame seeds, and top with thinly sliced daikon. Serve warm.
Did you make this recipe?
Let us know what you think!
Leave a Comment below or share a photo and tag me on Instagram with the hashtag #loveandoliveoil.