This tender and flavorful slow cooker beef brisket is cooked low and slow until it practically falls apart, served with a sweet and tangy sauce that you'll simply adore!
Your new favorite beef brisket recipe is here! It's really at its best the second day, making it the perfect make-ahead dish for your Hanukkah dinner party.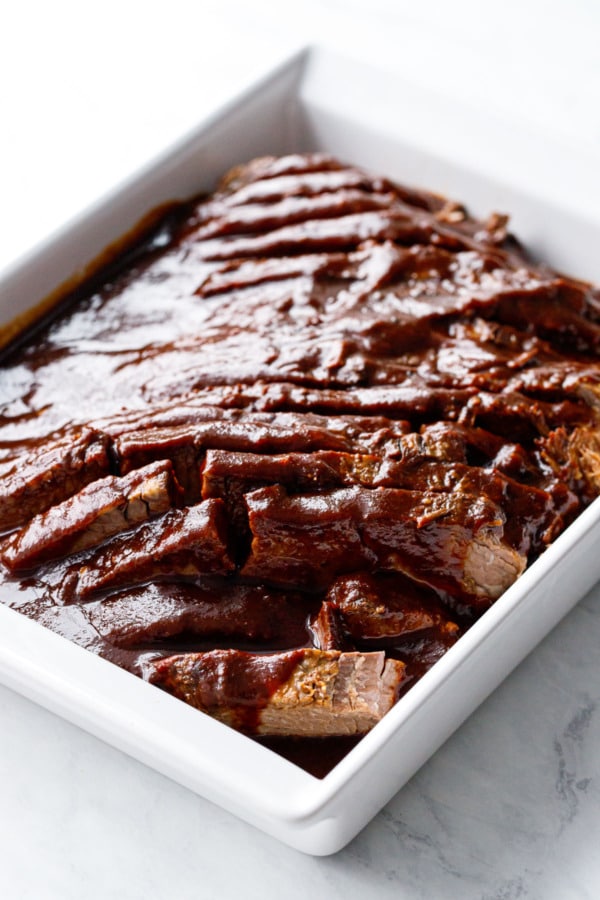 This brisket recipe is a culmination of a few years' worth of trial and error.
(I don't know why but I always want to spell brisket like biscuit… briscuit. My brain is weird…)
Anyway. Brisket. Why did it take so long to perfect this recipe? Well, we really only make brisket once a year: for our annual Hanukkah dinner party. So it's taken us a few tries… and a few years… to get it right.
But let me just say that all that time has been well worth it… because this one's a keeper!
Maybe you're more like a twice-a-year brisket maker, for Hanukkah AND Passover (and, assuming you track down all Kosher-for-passover ingredients like soy sauce, this recipe works for both!) And really, who needs a holiday as an excuse? You could certainly make this for any occasion (or non-occasion even, this recipe would make a lovely Sunday night supper for your family).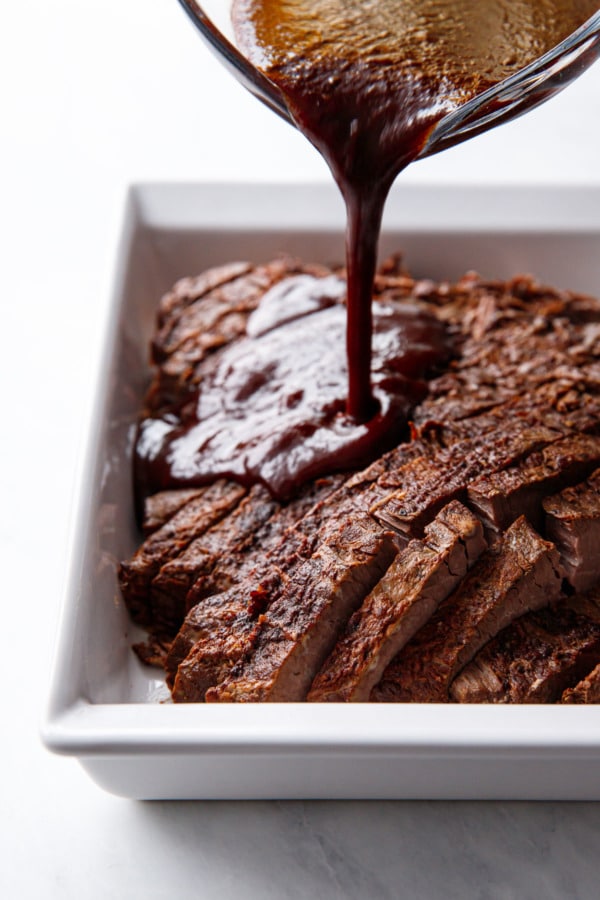 Most Hanukkah brisket recipes call for braising the brisket in the oven at 350 for 3 to 4 hours. The first time we made brisket we followed one of these recipes, and the result was less than ideal.
To really get that ultra tender, fall-apart, melt-in-your-mouth brisket, you need to go way lower and way slower.
And the easiest way to do that? A slow cooker of course.
In the case of this brisket, 10 hours on low is just about perfect, resulting in a ridiculously tender piece of meat. Just how tender? Practically-fall-apart-when-you-try-to-serve it tender (tip: ditch the tongs for a thin, wide spatula).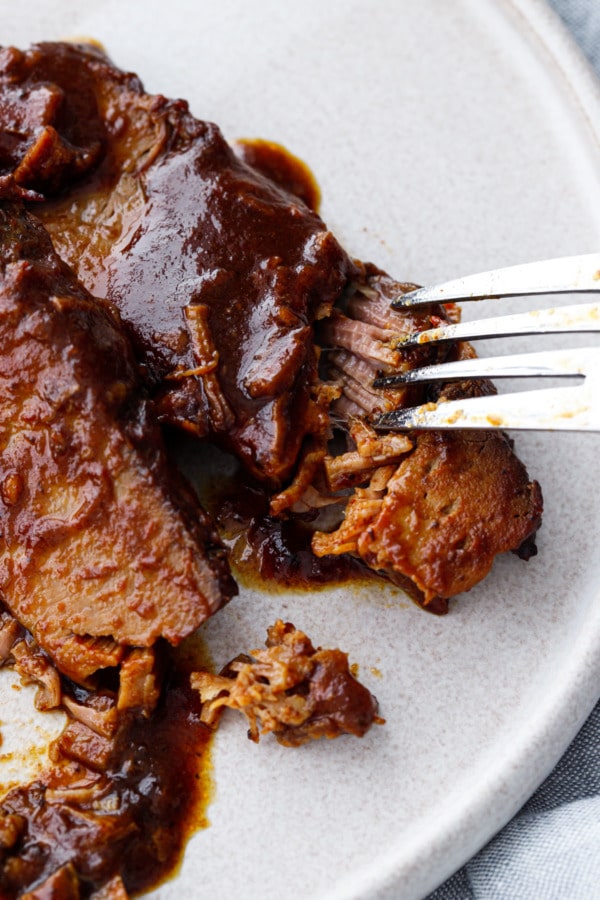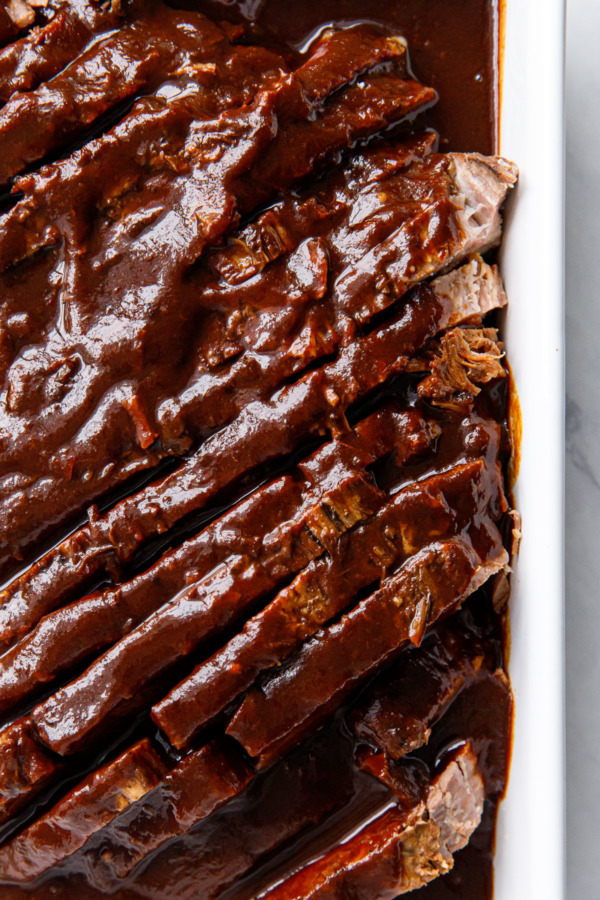 One of the best things about this recipe is it pretty much demands you make it ahead of time. A full day ahead, to be precise: start up your slow cooker the morning before you want to serve it. Then, before you go to bed that night, transfer it to the fridge covered in its self-made sauce. The next day, slice and reheat it in the oven just prior to serving.
The result of this two-day (but still surprisingly simple) process is a ridiculously tender, juicy and flavorful brisket that will quickly become your go-to Hanukkah recipe every year (that said, it'd certainly be fine for any other occasion too!)



After 10 hours in the slow cooker the brisket will have shrunken considerably.
Let it cool down a bit, then either transfer it to a large baking dish or roasting pan or, if your slow cooker insert can fit in the fridge, you can just keep it where it is.
Cover and refrigerate it overnight. I don't know the science behind this overnight rest, but somehow the brisket comes out the next day even more tender and flavorful. You also have the added benefit of giving the fat time to settle to the top, so you can spoon off any excess from the liquid, and cut off any large chunks of fat from the meat itself. That fat does wonders for the overall flavor of the brisket as it cooks, but it doesn't need to be there when you eat it (a lot of brisket can be overly fatty when served, this method lets you cut that down significantly).
After removing the fat, slice the brisket and arrange the slices in a baking dish.
A lot of recipes end there, but Taylor really has a thing for thick, velvety sauces, so he takes the extra step of reducing the sauce and thickening it with a bit of roux as well. The result? Well, let's just say it's out of this world.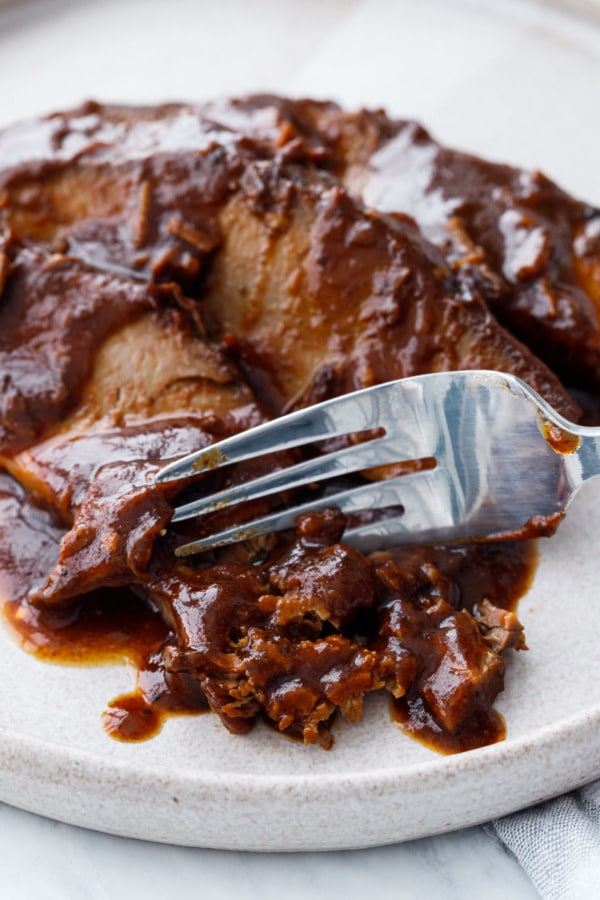 Our recipe is written for a 4 to 5 pound brisket, which we found to make about 6 or so servings (you could maybe stretch it to 8 if you had a lot of sides).
If you want to scale this up for a larger piece of brisket, by all means do, just be sure your meat will fit in your slow cooker. That's really your only limitation in terms of size and scale.
If you do need to make a larger quantity than will fit in your slow cooker, borrow your neighbor's and have two batches cooking concurrently. You can combine the sauces and it's really no more work in the long run.
Slow Cooker Hanukkah Beef Brisket
Flavorful slow cooker beef brisket, cooked low and slow until ridiculously tender and then smothered in a sweet and tangy sauce.
Ingredients:
4 to 5 pound piece beef brisket
For Sauce:
kosher salt and freshly ground black pepper, for seasoning
1 1/2 cups beef stock
6 tablespoons packed light or dark brown sugar
1/4 cup red wine vinegar
3 tablespoons tomato paste
2 tablespoons soy sauce
4 teaspoons paprika
1 tablespoon Worcestershire sauce
1 tablespoon onion powder
1 teaspoon garlic powder
1/4 teaspoon red chili flakes
For Roux (optional):
1 tablespoon all-purpose flour
1 tablespoon butter, melted
Directions:
Season brisket generously on both sides with salt and pepper.
Whisk all sauce ingredients together in a bowl.
(Optional) if your brisket will fit, heat a large cast iron skillet or dutch oven over medium-high heat. Cook for 3 to 5 minutes per side until browned.
Place brisket in slow cooker. Cover with sauce. Cook on low heat for 10 hours, flipping once half way through (flip it very carefully using two large, flat spatulas rather than tongs so it doesn't fall apart).
Transfer the brisket and sauce to a baking dish, or you can also put the bowl of your slow cooker directly in the fridge if it will fit (let it cool slightly first). Cover and refrigerate for at least 3 hours or ideally overnight.
Preheat oven to 300 degrees F.
Remove brisket from fridge and spoon off any excess fat that has risen to the surface of the cooled brisket and surrounding liquid.
Remove brisket from sauce and place on a large cutting board. Trim off any large fatty areas from the edges of the meat; slice into 3/8-inch thick slices and arrange in a baking pan.
Transfer leftover liquid to a saucepan set over medium heat; bring to a simmer. Continue to cook until sauce has reduced by about a third, about 20 minutes.
If you want a thicker sauce, prepare a roux by melting butter in a small skillet set over medium heat, then whisk in flour until smooth and lightly golden brown, about 5 minutes. Add roux to sauce, a spoonful at a time, returning to a simmer between each addition, until sauce is thickened and coats the back of the spoon.
Pour sauce over top of sliced brisket in baking dish. Bake in preheated oven until heated through. Serve immediately.
Did you make this recipe?
Let us know what you think!
Leave a Comment below or share a photo and tag me on Instagram with the hashtag #loveandoliveoil.