It's the ultimate end of summer treat: slices of juicy watermelon sprinkled with a basil and lime-infused sugar that will make your mouth water.
You'll be surprised how a simple sprinkle of flavored sugar elevates watermelon to an entirely new level, amplifying the flavor, sweetness and depth of this sublime summer fruit.
It's incredible, really, what a little bit of sugar and salt will do to the flavor of watermelon (which is often lackluster, even when you stumble upon a really good one). If you've ever sprinkled salt on mediocre tomatoes, you know exactly what I mean here.
A simple yet sublime mixture of sugar, sea salt, lime zest and fresh basil, mint and lemon verbena (just a hint of the other two for a bit more interest and flavor) is enough to make an ordinary slice of watermelon something your tastebuds will crave. Dare I say it somehow makes this juicy fruit even juicier?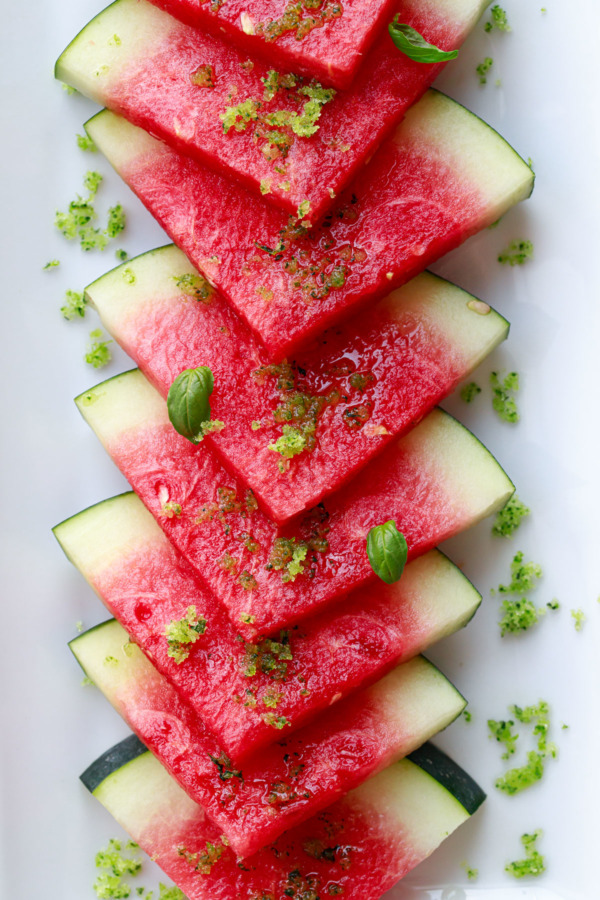 To make the basil lime sugar, simply pulse everything a few times in a food processor or a (clean) spice grinder before sprinkling liberally on your watermelon slices. Easy as that. It's literally a 10 minute recipe, including the time it takes to chop up the watermelon.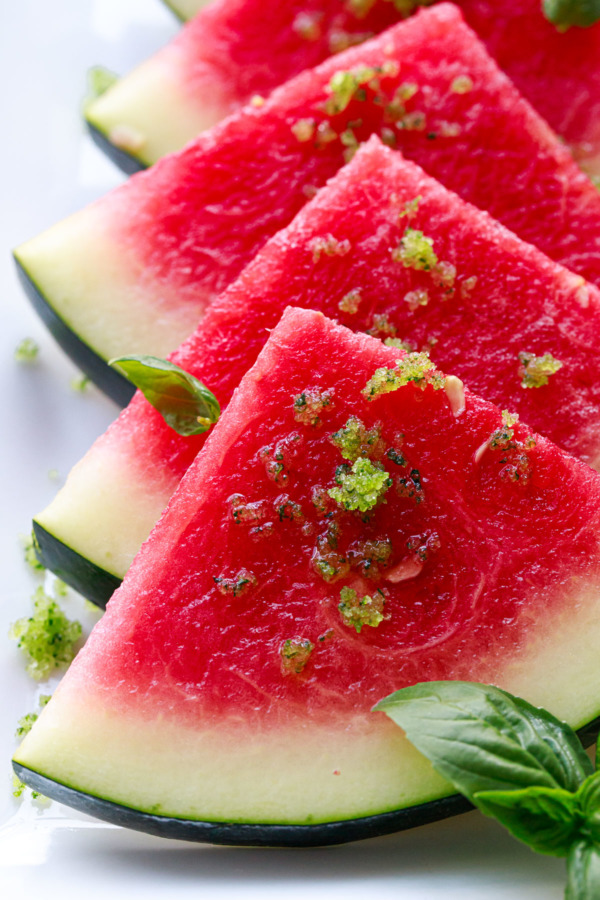 The sugar will be quite moist, the consistency of wet sand, just from the natural moisture in the basil and lime zest. I didn't have an issue with the consistency, as the watermelon isn't exactly dry either (lol).
That said, drier sugar might be preferable if you're using it to rim a margarita glass, for example. In that case, you can easily dehydrate the lime zest and herbs before processing it (in a food dehydrator if you have one, I've also seen microwave methods – just don't use jarred dried basil as the flavor really isn't even close to the same). You can also just let the moist sugar sit out overnight and it'll dry out all on its own, though it will be a bit clumpy and will need to be broken up a bit before using it.


But this sugar shouldn't just be limited to watermelon! I think it'd be divine sprinkled on an heirloom tomatoe sandwich or a delectable panzanella salad, rimming a glass filled with a frosty watermelon margarita or agua fresca, or even sprinkled on buttery shortbread cookies.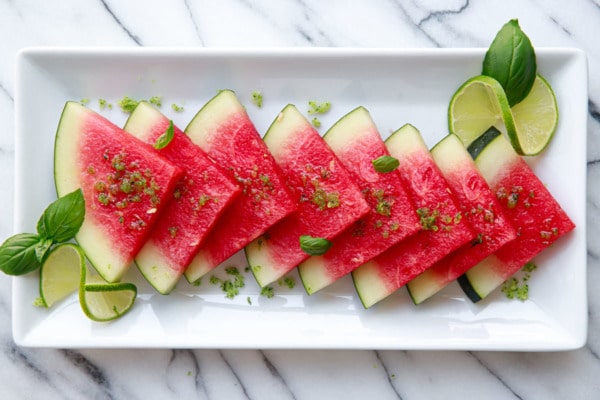 Watermelon with Basil Lime Sugar
Basil and lime-infused sugar elevates simple watermelon slices to a whole other level, intensifying the flavor and sweetness of this juicy summer fruit.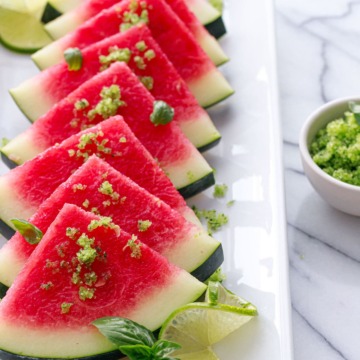 Ingredients:
1/4 cup (50g) granulated sugar
1 teaspoon (5g) flake sea salt
1 teaspoon very finely grated lime zest (from 1 small lime)
1/4 cup (3g) loosely packed fresh basil leaves, washed and completely dried
4-6 small fresh mint leaves (also optional)
1 lemon verbena leaf (optional)
1 small watermelon, cut into wedges
Directions:
Combine sugar, salt, lime zest and herbs in a food processor or a clean spice grinder. Pulse until basil is finely ground and evenly distributed throughout the sugar mixture.
Arrange watermelon slices on a serving plate and sprinkle generously with sugar.
Sugar mixture will keep, uncovered at room temperature, for up to one week (it will dry out as it sits).
Did you make this recipe?
Let us know what you think!
Leave a Comment below or share a photo and tag me on Instagram with the hashtag #loveandoliveoil.