A traditional Japanese savory pancake with zucchini and cabbage, topped however you like it!
Somewhere in between a frittata, a potato pancake and a zucchini fritter, these Japanese savory pancakes are a great way to use up whatever leftover vegetables happen to be in your fridge (in our case, cabbage and zucchini). We topped ours with a combination of okonomi sauce, Japanese mayo, crispy bacon, scallions, sesame seeds and bonito flakes.
Okonomiyaki literally means "cooked how you like it" so there's really no wrong way to make one. It's typically cabbage based, with eggs and flour and served with a variety of toppings.
We mixed the cabbage with some shredded zucchini, for a bit more flavor and vegetable goodness. Do note that this recipe calls for Savoy cabbage, the ruffly leaves of which are thinner and more delicate than your standard green cabbage. Napa cabbage would be a good alternative, but regular green cabbage should be your last resort.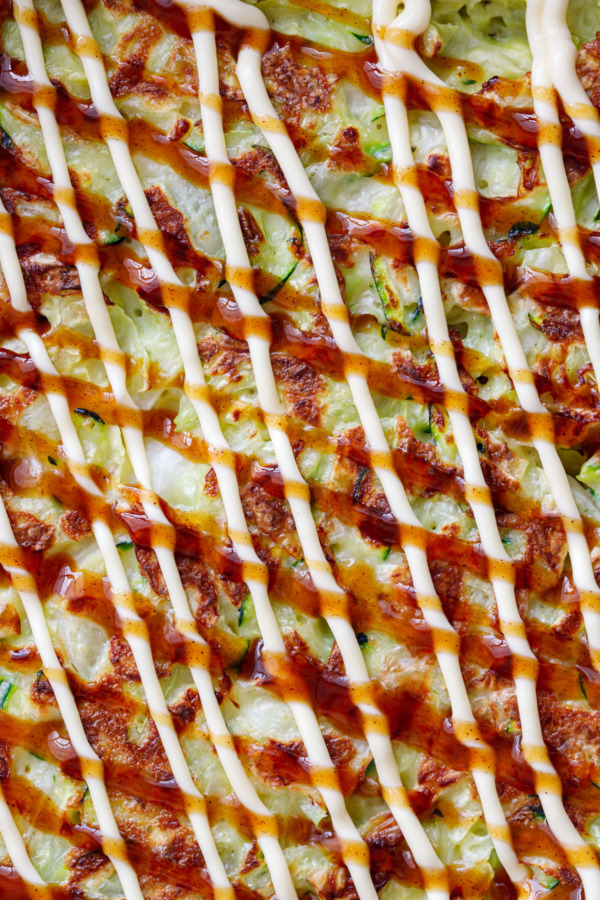 We cooked our pancakes in a 9-inch cast iron skillet, one pancake a satisfying dinner for two, but you could also make smaller pancakes using a flat griddle or other large nonstick pan too. We prefer our pancakes on the thinner side, so this recipe will give you two 1/2-inch pancakes. You could also make one extra thick pancake if you prefer. If you do this, after browning both sides I'd recommend finishing the pancake in the oven to ensure the inside is fully cooked through.


You can really top these savory pancakes with just about anything (remember, as you like it!) but we opted for a fairly traditional drizzle of kewpie mayonnaise and okonomi sauce (which you should be able to find at any decent Asian market that carries Japanese products), as well as green onions, toasted sesame seeds, and papery bonito flakes that dance as soon as they come in contact with the hot pancake.
As for the kewpie, if you've never tried it, it's far superior to American mayonnaise in every sense of the word. Smoother, creamier and more luxurious (it's made with just egg yolks instead of the entire egg, giving it a more yellow color and a richer flavor). And yes, MSG. Which, despite its reputation, isn't actually evil; when used as a seasoning, it acts more like a super salt, enhancing and intensifying the already delicious flavors. That said, the American-made version (with the sandwich on the label) omits the MSG (but if you find a good Japanese market you can probably get your hands on the real stuff).
The trick to flipping a large pancake like this is silicone-grip potholders and a big plate or heat-proof cutting board. Invert the plate and place it on top of the skillet, then, while you hold the plate tightly to the skillet, flip the whole thing so the pancake falls out onto the plate. You can then slide the pancake back into the skillet to cook the other side.
The leftover batter keeps quite well overnight (cover tightly and refrigerate) – I'd recommend doing this and cooking the second pancake fresh before you want to eat it as opposed to keeping the cooked pancake overnight.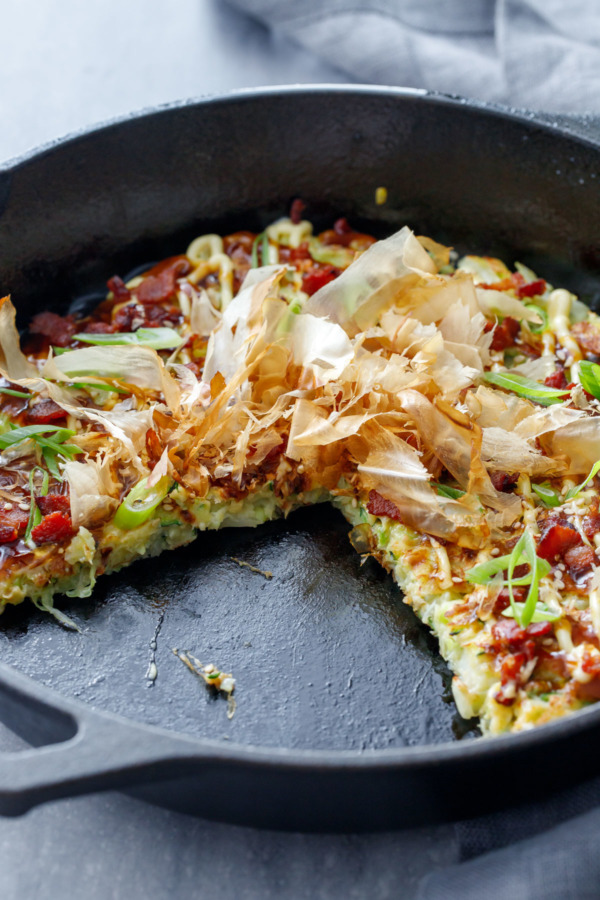 The base of this recipe was adapted from the back of the okonomi sauce bottle, with a few modifications.
Many Japanese recipes for okonomiyaki call for okonomiyaki flour. From what I can find, okonomiyaki flour is a self-rising flour, a mix of wheat and soy flours, leavening and spices. I assume the self-rising nature of it would lead to a lighter, fluffier pancake. I used regular all purpose here, but will definitely report back if/when I get my hands on some okonomiyaki flour. 😉
Other traditional additions include tenkasu (fried tempura bits), pickled ginger, dried green seaweed, as well as grated potatoes or lotus root mixed in to the batter, which supposedly produces a lighter, fluffier pancake. You can also swap out the bacon here for pork belly, or even a different protein like shrimp, squid or octopus. Again, cook it how you like it!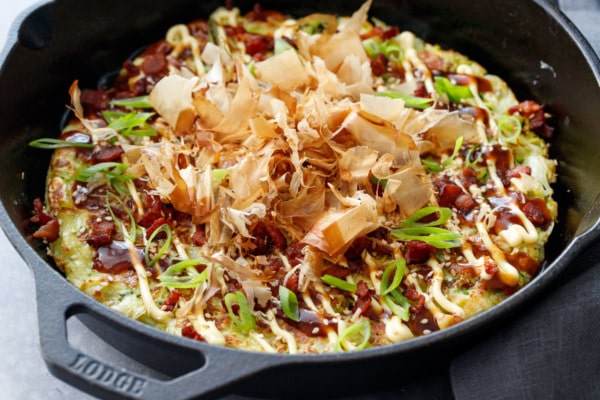 Cabbage & Zucchini Okonomiyaki
A savory Japanese cabbage pancake topped with a combination of okonomi sauce, Japanese mayo, crispy bacon, scallions, sesame seeds and bonito flakes.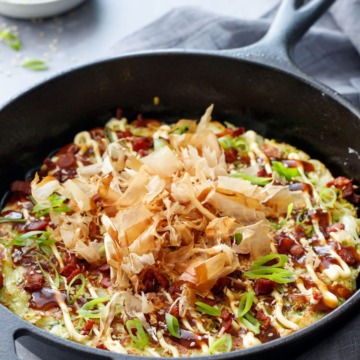 Ingredients:
4 ounces bacon, chopped
1/2 head (300g) savoy cabbage, very thinly shredded (about 5 cups shredded)
1 medium zucchini (100g), grated
1 cup all-purpose flour
3/4 cup water
3 large eggs, lightly beaten
1 teaspoon chicken bouillon paste (optional, you can also use chicken broth instead of water)
okonomi sauce
kewpi mayonnaise
sliced green onions
toasted sesame seeds
bonito flakes, for topping
Directions:
Cook bacon in a 9-inch cast iron skillet over medium heat. When crispy, transfer with a slotted spoon to a paper-towel lined plate and set aside.
Spoon out about half of bacon fat and save for the second pancake (about 2 tablespoons worth).
Return skillet to heat.
In a large bowl, toss shredded cabbage and zucchini with flour, water, eggs and bouillon. Spoon half of mixture into hot skillet, patting it out into an even layer over the entire bottom of the pan.
Cook for 8 to 10 minutes or until bottom is nice and browned. Carefully place a plate upside down on top of the skillet, then flip the entire skillet over so the pancake falls onto the plate (use silicone-grip oven mits if you have them, it'll make things much easier!)
Slide pancake back into skillet so the browned side is now facing up. Cook for an additional 5 to 7 minutes or second side is also golden brown. Slide out of skillet onto serving platter or a baking sheet (keep in a warm oven while you cook the second pancake).
Return skillet to heat along with reserved bacon fat. Repeat process with remaining cabbage mixture.
To serve, drizzle with okonomi sauce and kewpi mayonnaise and sprinkle with bacon bits, green onions and sesame seeds. Top with a handful of bonito flakes. Enjoy while still warm.
Did you make this recipe?
Let us know what you think!
Leave a Comment below or share a photo and tag me on Instagram with the hashtag #loveandoliveoil.