This simple soup has become my new favorite comfort food, with a light and slightly salty white miso broth with just a hint of ginger, and thick, chewy udon noodles. It's flavor and comfort in one delicious bowl.
We topped our bowls with cubes of firm tofu, steamed baby bok-choy, and shiitake mushrooms that have been tossed with soy sauce and sesame oil and roasted until the flavors sing, and a sprinkle of sesame seeds and green onions to finish it off.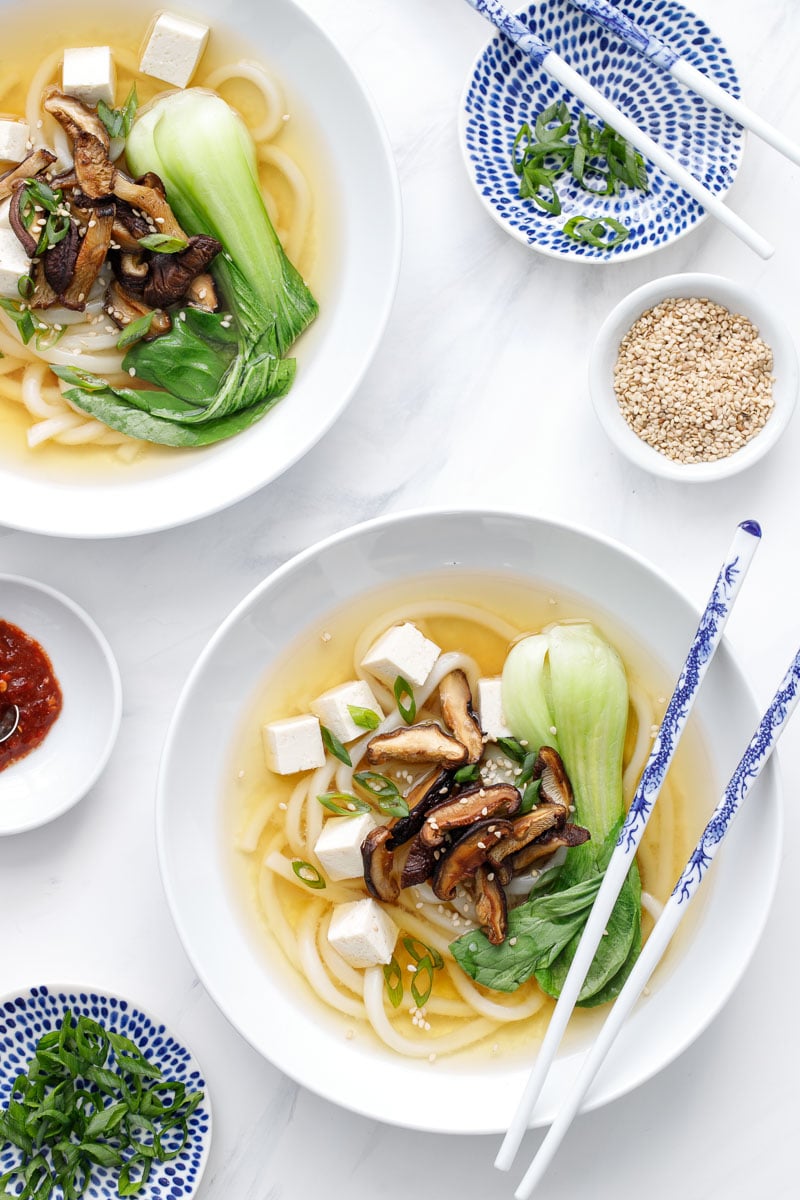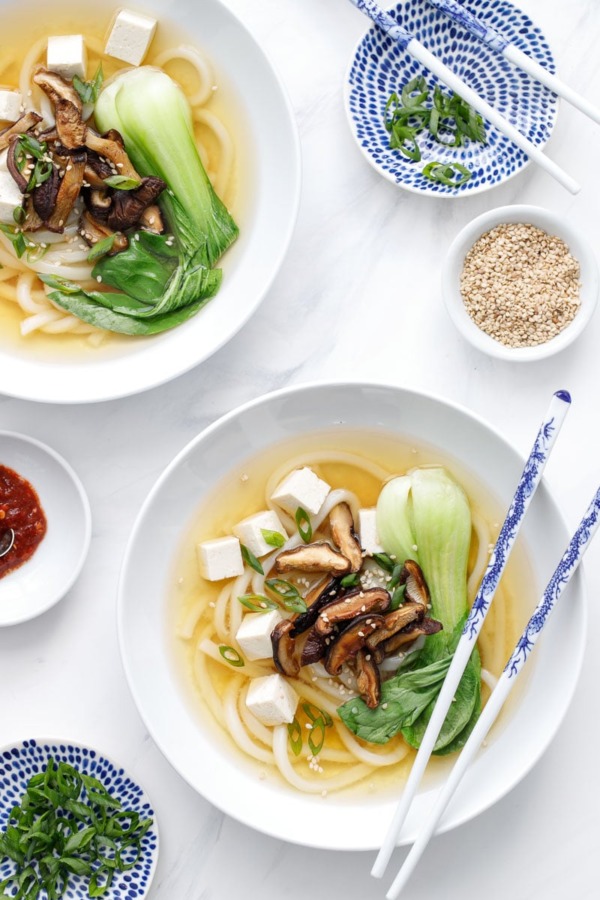 Japan has altered our culinary outlook more than any other place we've visited. I find myself craving their soups most of all: simple yet complex, with oodles of noodles and other fun bits and pieces waiting to be discovered within.
We have made a slightly different, soy-sauce based udon noodle dipping-soup, or Mentsuyu, before (the soy base can be thinned to make it into more of a soup vs a dip). While this recipe starts out the same way, with a dashi broth made from bonito flakes and seaweed, the final broth is lighter in color and flavor, with a touch of mild white miso paste and a hint of fresh ginger. You can also add a splash of soy sauce or hot chili paste if you're hankering for a bit of extra kick.
But my favorite part of this dish has to be the mushrooms. The first time we roasted shiitake mushrooms was for these beet and barley bowls, and we haven't cooked them any other way since. Tossed with a bit of sesame oil and soy sauce, the mushrooms' flavor is concentrated as they shrink in size in the oven, browning and becoming almost crispy in the thinnest parts.
You can make homemade udon noodles, or, if you have an Asian market convenient to you, look in the freezer section for blocks of thick frozen udon noodles. They are more expensive than dried, but they are seriously amazing. We plan to stock our freezer with them the next time we're in that part of town, because this is one of those dishes that is easy to throw together on those nights when you just want something light and comforting.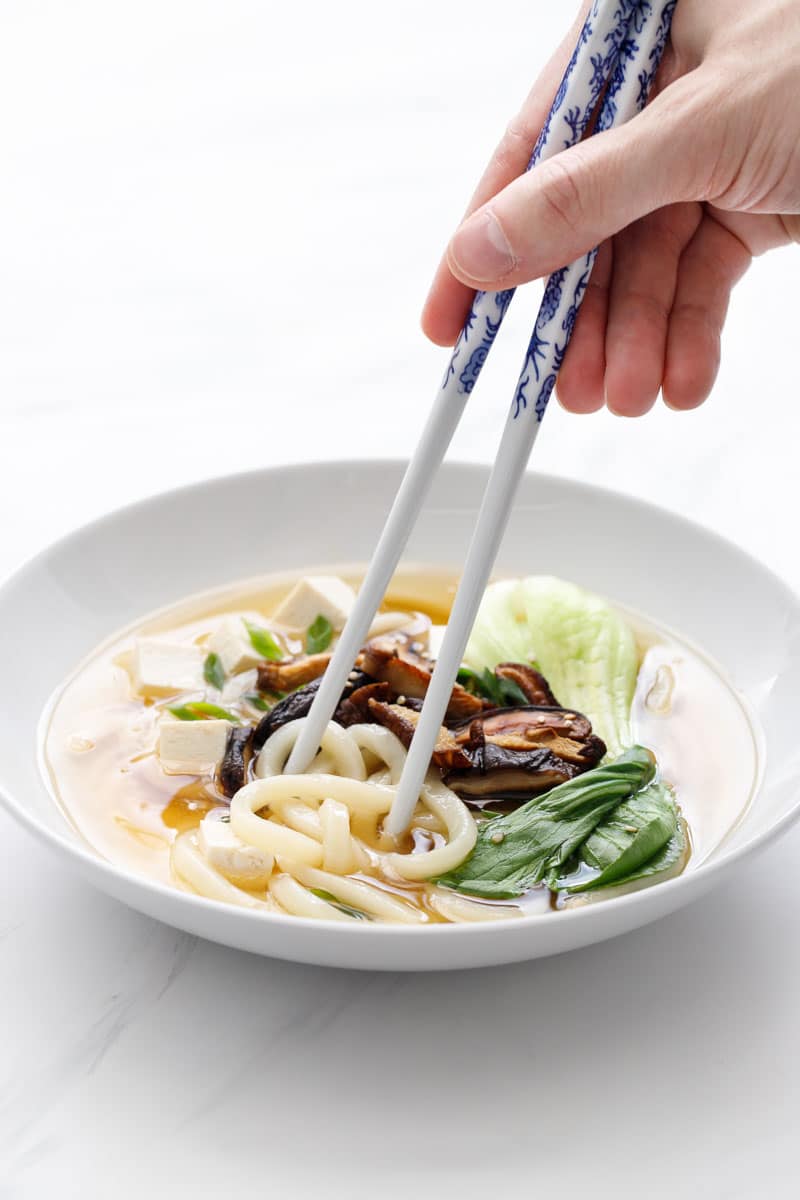 For an even quicker throw-together dinner, make your dashi (a simple Japanese broth made with bonito flakes and dried seaweed) ahead of time. It'll keep for a few days in the fridge or you can freeze it in plastic deli containers so it's always ready to go. Then all you have to do is add a little soy, miso and mirin and your soup broth is ready to go.
You can also buy instant dashi packets, which are very convenient in a pinch.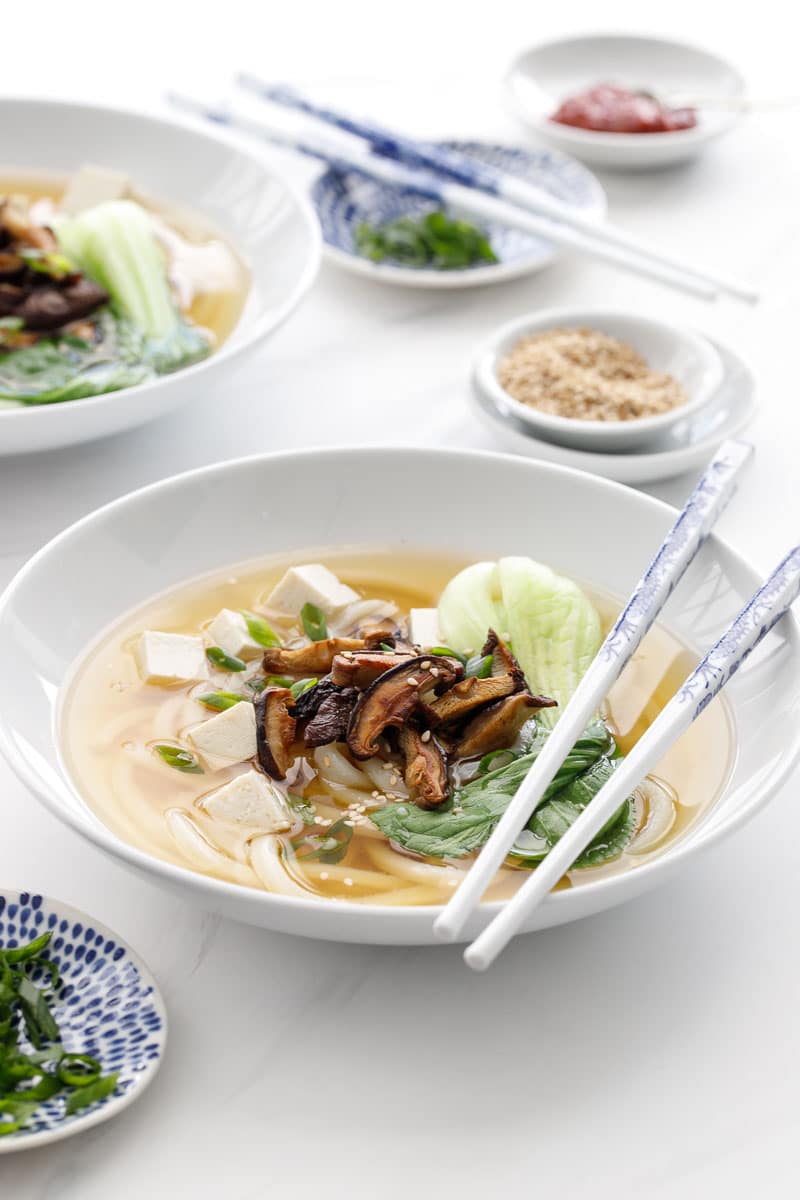 While this soup is quite simple to assemble, you'll want to make sure you have a few Japanese pantry-staples on hand:
We purchased these bonito flakes directly from Japan (heads up: it's a huge bag! But if you plan to make dashi-based soups a lot you'll go through it faster than you think) but you can also find them on Amazon.
Kombu is a specific variety of dried seaweed. Wakame is another that works too (it actually softens into thin sheets that you can then slice and serve in your soup).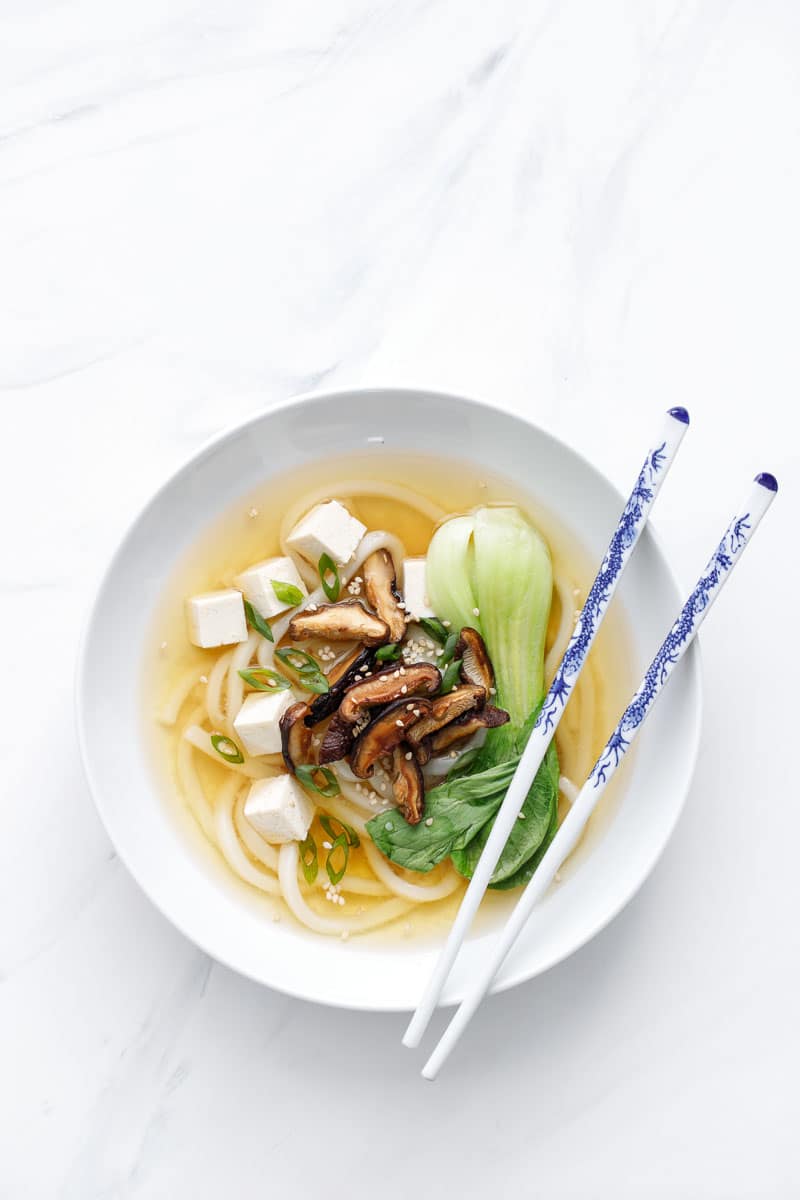 I also think this soup would be great with a bit of shredded chicken breast in place of the tofu, or maybe a nice filet of soy-glazed slamon even. The boy choy is always a classic in Japanese soups, but lightly steamed or roasted broccolini, shaved radishes, or even a few more varieties of raw or roasted mushrooms could round out the veggie portion of the dish.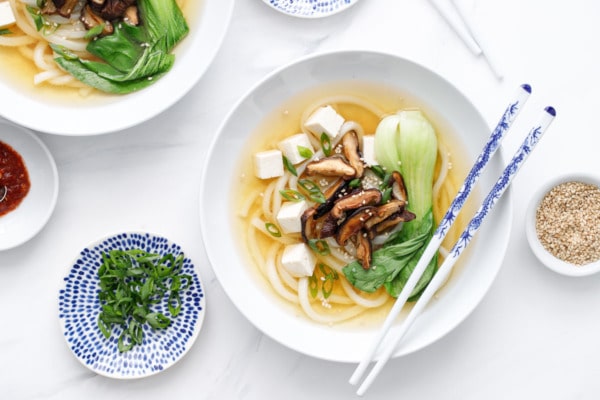 Ginger Miso Udon Noodle Soup with Roasted Mushrooms
Japanese comfort food at its best: a light and slightly salty white miso broth with just a hint of ginger, swimming with thick, chewy udon noodles, cubes of firm tofu, steamed baby bok-choy, and roasted shiitake mushrooms.
Ingredients:
1 2-inch piece kombu (dried kelp)
1 cup dried bonito flakes
2 tablespoons white miso paste
1 teaspoon finely grated fresh ginger
8 ounces shiitake mushrooms
1 tablespoon soy sauce
1 teaspoon sesame oil
4 servings frozen udon noodles (you can also use dried, but trust me that frozen are so much better!)
4 baby bok choy, halved and steamed
4 servings firm tofu, cut into cubes
sesame seeds and thinly sliced green onion, for garnish.
Directions:
In a medium saucepan, combine 6 cups water with kombu and bring to a simmer. Add bonito flakes and simmer for 5 minutes to allow the flavors to absorb. Remove from heat and strain through a fine mesh sieve to remove solids. This is your basic dashi broth; keep it warm if you are using it immediately, or feel free to make it ahead of time and refrigerate/freeze until ready to use.
Whisk about 1/2 cup of warm dashi broth with miso paste in a small bowl until smooth. Pour into saucepan with remaining broth. Stir in ginger. Season to taste with additional soy sauce or miso as desired.
Meanwhile, preheat oven to 400 degrees F. Line a baking sheet with aluminum foil and spray lightly with cooking spray. Toss mushrooms with soy sauce and sesame oil and spread in a single layer on the baking sheet; bake for 10 to 15 minutes or until mushrooms are shrunken significantly in size and starting to brown.
Cook noodles according to package instructions. Drain and divide among serving bowls. Ladle broth over noodles. Serve with steamed bok choy, cubed tofu, and top with sesame seeds and thinly sliced green onion, if desired.
Did you make this recipe?
Let us know what you think!
Leave a Comment below or share a photo and tag me on Instagram with the hashtag #loveandoliveoil.