If you love pistachio gelato, you'll love these delightful little cookies, with a rich chocolate shortbread and a center of luxurious pistachio cream.
Thumbprints are one of my all time favorite cookie recipes, and this chocolate pistachio one is no exception; dare I say I love it even more than my go-to jam-filled thumbprints? Chocolate shortbread paired with a creamy pistachio filling takes this old favorite to a whole new level.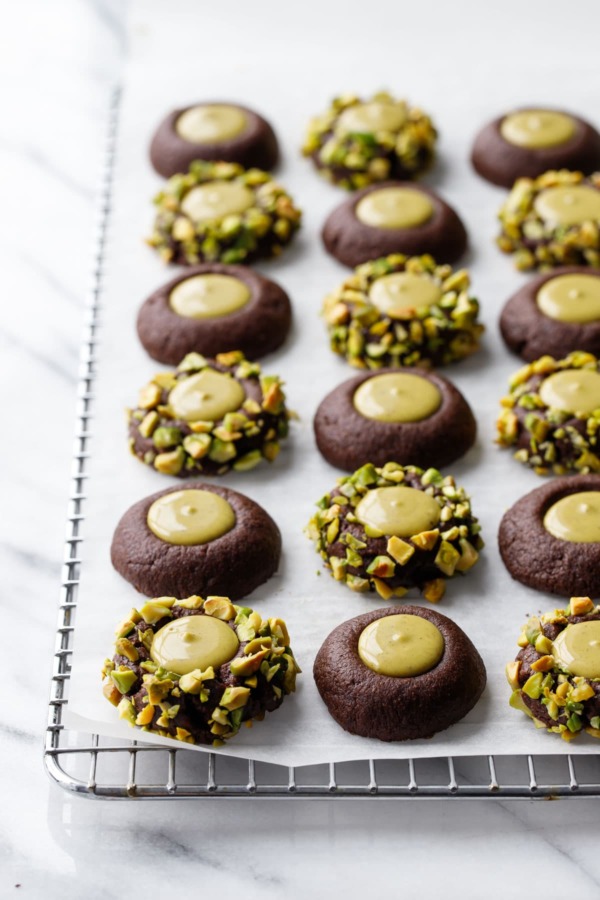 Rewind to last year in Venice when three gelati a day was not an unusual occurrence. But out of all the cups and cones and scoops, the one that stuck out the most was the Manet flavor from SuSo (called that, I assume because it is truly a work of art). With a rich and creamy hazelnut base and a ribbon of salted pistachio gianduja swirled throughout; it was, to put it simply, life changing.
On our last day we all agreed we needed one last scoop (ok, three scoops). As we were waiting in the tiny, unassuming shop, trying to decide which of the many other delicious flavors to round out our cones (because a scoop of Manet was a given), I noticed a small stack of jars on a shelf in the corner. Upon closer inspection I discovered that this was the stuff, the magic pistachio concoction used in the Manet gelato. I immediately grabbed a jar (I paid for it, promise) which I lovingly wrapped in my fluffiest sweatshirt and carted back home with me to the states.
…where it has since sat in the fridge, untouched, for nearly 9 months.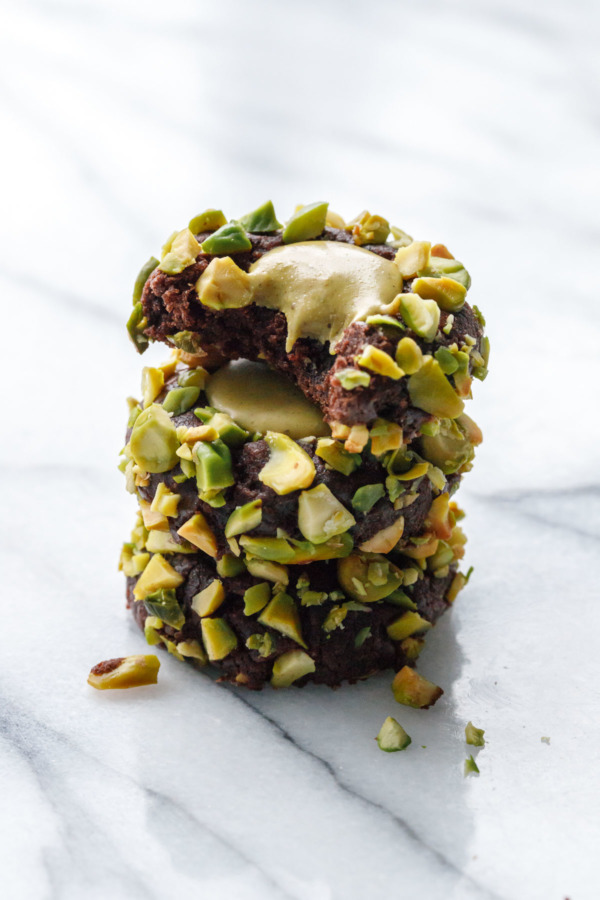 Please tell me I'm not the only one who 'savors' special delicacies like this? Hoarding them, not wanting to use them up, until, inevitably, they expire. Whether it be Swiss chocolate or Japanese KitKats or Portuguese sardines, I fully admit it: I'm a hoarder. Such a travesty, and I'm really working hard to fix this fatal flaw about myself, trying not to hoard the goodness I bring home from my travels, but rather enjoy it and not let it go to waste.
So I set about using this little jar of wonder. And when I say little, I do mean miniscule. Far too small to use in a batch of homemade gelato, for instance.
However the idea of a pistachio thumbprint, a chocolate pistachio thumbprint, fluttered through my mind, and once it had, I couldn't unthink it. It engulfed my thoughts, sending me on a wild internet search for pistachio pastes and creams and butters from all corners of the globe.
I couldn't rest until this cookie became a reality.
And, oh, what a wonderful reality it is.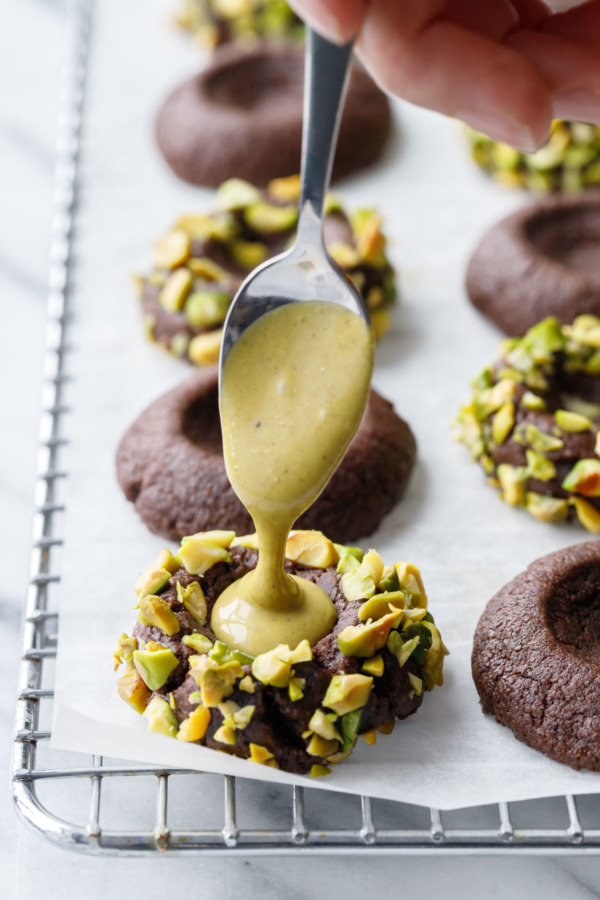 The chocolate shortbread is rich and buttery, somewhere in between a sable and a sugar cookie.
I rolled half the cookies in finely chopped pistachios, and left the other half plain for contrast. I like the extra crunch the nuts bring to the party, however the naked ones were just as delicious (because, let's face it, the filling is really the star of the show here).
Speaking of that filling: it's surprising how simply mixing pistachio butter and white chocolate produces something this divine. Almost velvety in texture, soft to the bite but firm enough that it won't ooze onto your fingers, with a mellow pistachio flavor and just the right amount of salt to offset the subtle sweetness. Dare I say it tastes a bit like pistachio gelato, with a bit more salt and a lot less brain freeze.
I added a touch of pistachio extract to amp up the pistachio flavor even more (pistachio extract being the primary flavor of pistachio gelato, since actual pistachios are really quite mild). This is totally optional, but a little bit in both the cookies and the filling makes for a truly delicious bite.


Funnily enough, the jar that inspired it all didn't actually make it into the final recipe. As much as I love the pistachio gianduja from SuSo, it turns out the consistency is far too thin for these cookies, it obviously being better suited to more frosty applications. (Don't worry, I shan't let it go to waste!)
Instead, I set about creating a filling with a similar flavor profile but a better consistency for this particular recipe, made from pistachio butter, white chocolate and a bit of sugar and salt.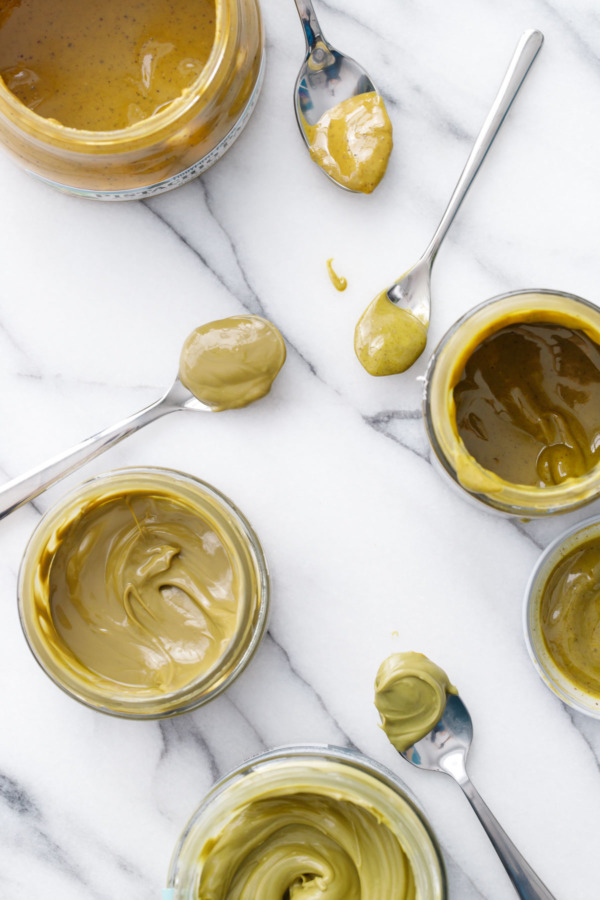 Pistachio cream, paste, butter… what's the difference?
There's no hard and fast designation, but generally, pistachio butter is just plain pistachios with a bit of oil and/or salt.
Pistachio paste is typically sweetened, often with added flavoring like almond extract and green coloring. This is what gelato makers use to flavor their frozen creations, and it's surprisingly hard to find outside of giant food-service sized tubs.
Pistachio cream, on the other hand, is heaven in a jar. It's a sweetened pistachio spread similar in consistency to nutella, sweetened and enriched with cocoa butter, milk powder, and other ingredients (in other words, basically pistachio and white chocolate since the main ingredients of white chocolate are, in fact, cocoa butter, milk powder and vanilla). Pistachio cream varies quite a bit from brand to brand. I bought a few different kinds and liked Pariani and Fiasconaro brands the best (the former had a more robust flavor, while the later was a prettier green color).
Since pistachio cream isn't exactly cheap (or easy to come by), and I didn't want this recipe to be reliant on such a specialty product, I decided to made a semi-homemade version with pistachio butter and white chocolate. It's essentially a white chocolate pistachio gianduja (normally a mix of milk chocolate and hazelnut) and let me tell you is it fantastic and I can imagine myriad delicious ways in which to use it (pistachio truffles, anyone)?
I tried a few different brands of pistachio butter, and ultimately liked the richer green color of the one from The Pistachio Factory the best. Fiddyment Farms makes a lovely tasting butter too, albeit less saturated in color (they actually call it a paste, but it's not sweetened at all, just pure pistachio). You can also make your own pistachio butter very easily using just raw pistachios and a pinch of salt.
The white chocolate also has the added benefit of setting as it cools, like a creamy truffle center, making for a cookie that can be stacked or piled without getting filling everywhere (can you say, perfect party cookie?) If you used straight pistachio butter or jarred pistachio cream, the filling would stay more fluid and you'd need to be more careful transporting or storing the cookies.
That said, you can certainly use pistachio cream right out of the jar in these cookies to save yourself some time. Or, on the opposite end of the spectrum, you could even make a totally from-scratch version starting with homemade pistachio butter (home appliances can't achieve the same smooth texture as store-bought, so your centers will be more rustic).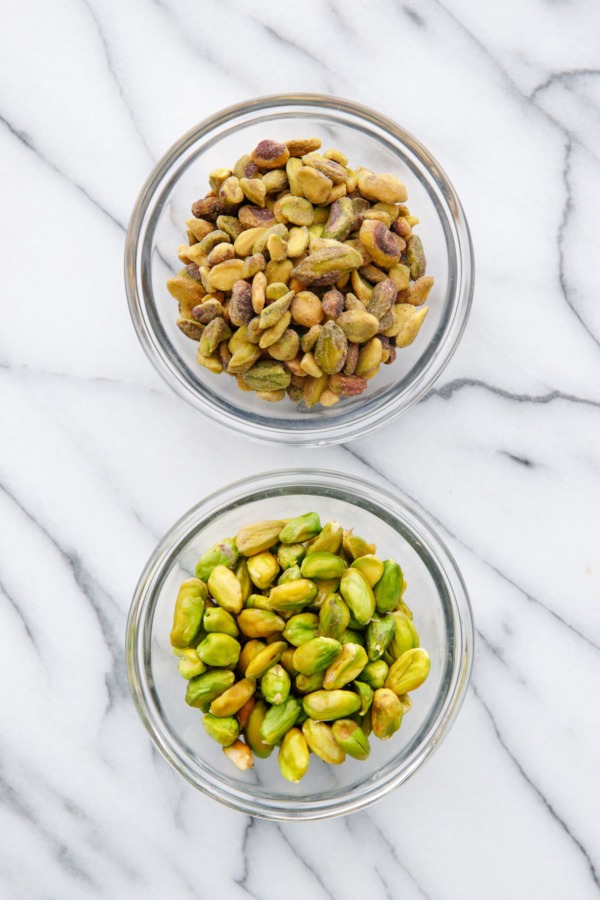 But Lindsay, how'd you get your pistachios so green?!?
I'm sure you've noticed that if you buy a bag of pre-shelled pistachios, even raw ones, they are usually seriously lacking in the color department. I mean, that top bowl of nuts is disappointing, to say the least.
Baking Tip: for prettier, greener pistachios, start with raw in-shell pistachios rather than shelled. Blanch and peel to reveal the electric green kernels underneath.
Indeed the secret to vibrant green pistachios is to start with raw, whole pistachios. Remove the shells, then blanch the nuts in boiling water for 30 seconds. Drain, rinse in cold water, and then peel (the blanching should make the thin brown skins easier to remove). I've seen recipes say you can rub the blanched nuts with a clean kitchen towel to more quickly remove the skins, but that didn't work very well for me so I peeled them one at a time. Yes, it's a tedious process (and now you know why high quality pistachio spreads are so pricey).
After peeling, spread the nuts out to dry on a layer of paper towels, then grind into nut butter or finely chop for a vibrant green garnish.
If you're making homemade pistachio butter, this will produce a much more vibrant final product. However, if you opt not to blanch and peel the nuts first, you'll end up with a butter that's more brown in color, but still perfectly delicious.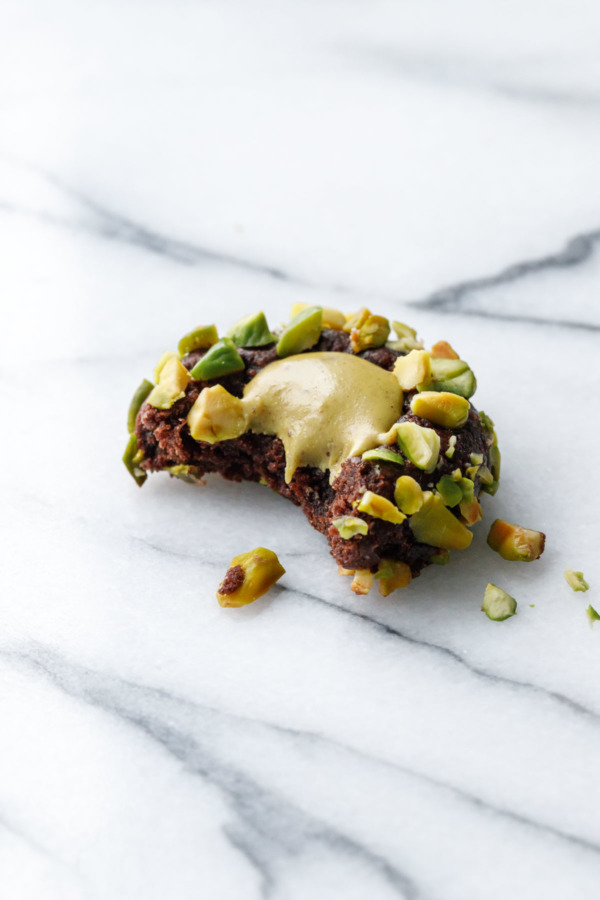 One quirk about these cookies to note: much like my jam thumbprints, these cookies, for whatever reason, bake up better on a light to medium colored cookie sheet. I baked a few cookies on three different cookie sheets just to test, and sure enough, the batch baked on the heavy aluminum cookie sheet turned out the best. Darker/nonstick cookie sheets tended to get a bit ruffly around the edges and crispier on the bottoms.
If you're having issues with these cookies spreading a bit too much, try a different cookie sheet before you try anything else. You can also try chilling the dough briefly. Cool room temperature dough is ideal here, it should still be fairly pliable or the cookies will crack when you shape them.
For me at least, refrigerating/freezing the shaped cookies before baking them didn't produce any noticeable differences, but if your kitchen is on the warm side it certainly wouldn't hurt.
Also: now that I have all these various pistachio products sitting around you can bet your bottom dollar I'll be baking some gelato!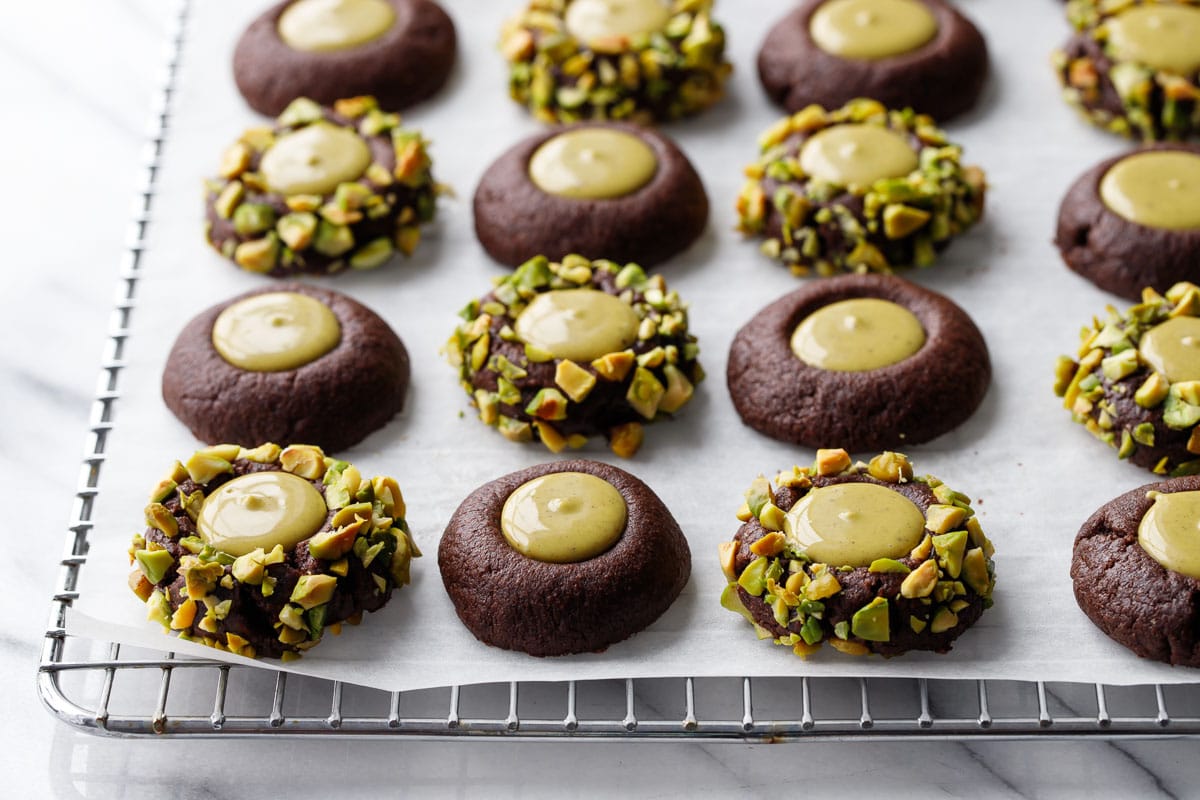 Chocolate Pistachio Cream Thumbprints
If you love pistachio gelato, you'll love the chocolate pistachio thumbprints, with a rich chocolate shortbread, nutty pistachios, and a center of luxurious pistachio cream.
Ingredients
For Chocolate Thumbprints:
10

tablespoons

/

142

g

unsalted butter

,

at room temperature

⅔

cup

/

140

g

granulated sugar

1

large egg yolk

,

reserve the white if you will be rolling in nuts

1

teaspoon

vanilla extract

¼

teaspoon

pistachio extract

,

optional

1 ¼

cups

/

156

g

all-purpose flour

⅓

cup

/

33

g

dutch-processed cocoa powder

,

sifted

½

teaspoon

fine sea salt

½

cup

/

60

g

coarsely chopped pistachios

,

optional, for rolling (this is enough to coat half the cookies, if you want to roll all of them, use a full cup)
For Pistachio Cream Filling:
1.5

ounces

/

43

g

white chocolate

,

chopped

3

tablespoons

/

48

g

pistachio butter

2

teaspoons

/

4

g

powdered sugar

,

sifted

⅛

teaspoon

fine sea salt

⅛

teaspoon

pistachio extract

,

optional

⅛

teaspoon

vanilla powder

,

optional
Instructions
Preheat oven to 350 degrees F. Line a light or medium-colored heavy-weight baking sheet with parchment paper or a silicone baking mat.

Beat together butter and sugar with an electric mixer on medium-high speed until light and fluffy, about 2 to 3 minutes. Beat in egg yolk, vanilla and pistachio extract.

Sift together flour, cocoa powder, and salt until evenly distributed. Add to mixing bowl with butter mixture, and mix on low speed until just incorporated and mixture comes together into a stiff dough. If your dough seems too crumbly, you can add 1-2 teaspoons of milk as needed to bring it together, however know your cookies might spread a bit more as a result.

Roll dough into 1-inch balls and arrange on prepared baking sheet.

For plain cookies, flatten balls slightly with your thumb or the back of a round 1/2 teaspoon measuring spoon, leaving an indentation in the center. You don't want to press all the way down, just enough to form an indentation without the dough around it cracking. Dip the back of your measuring spoon in flour first so it doesn't stick.

For nut-coated cookies, lightly dip the ball of dough into reserved egg white, then roll between your palms until it's thinly coated with egg white. Roll in chopped pistachios until evenly covered, then place on baking sheet, then press with your thumb or measuring spoon to indent.

Bake cookies for 10 to 12 minutes or until centers are set and slightly puffed and edges are slightly darker in color. Remove baking sheet from oven.

While the cookies are still warm, redefine the indentations with the same measuring spoon you used initially. They will have puffed a bit while baking, so doing this gives you room for your filling.

While the cookies are cooling, make your filling. Place white chocolate in a small, microwave-safe bowl. Warm in the microwave on 50% power, stirring every 30 seconds, until melted and smooth.

Stir in pistachio butter, powdered sugar, sea salt, pistachio extract and vanilla powder until smooth.

Spoon 1/2 teaspoon of filling into the center of each cookie, taking care not to overflow the thumbprint (you might need slightly more or less filling per cookie depending on the size of your indentations).

Let cool at room temperature for about 2 hours until set, or speed up the process by refrigerating the cookies for 10 to 15 minutes until centers are no longer shiny.

Cookies will keep in an airtight container at room temperature or in the refrigerator for up to 5 days.
All images and text ©
for Love & Olive Oil.
Did you make this recipe?
Let us know what you think! Leave a Review below or share a photo and tag me on Instagram with the hashtag #loveandoliveoil.