Your favorite chicken parmesan is now an easy-to-make pasta bake! Full of melty mozzarella cheese and a simple, flavorful tomato sauce, this satisfying weeknight dinner recipe might just be a new family favorite!
There's a reason why chicken parmesan is an Italian-American classic. I mean, you really can't go wrong with chicken, tomato sauce, and melty cheese. This recipe takes those same bold flavors and adds pasta. It's like a mix between lasagna, chicken parmesan, and a nice and melty mac 'n cheese (complete with the bubbly mozzarella and toasted breadcrumbs on top for added crunch).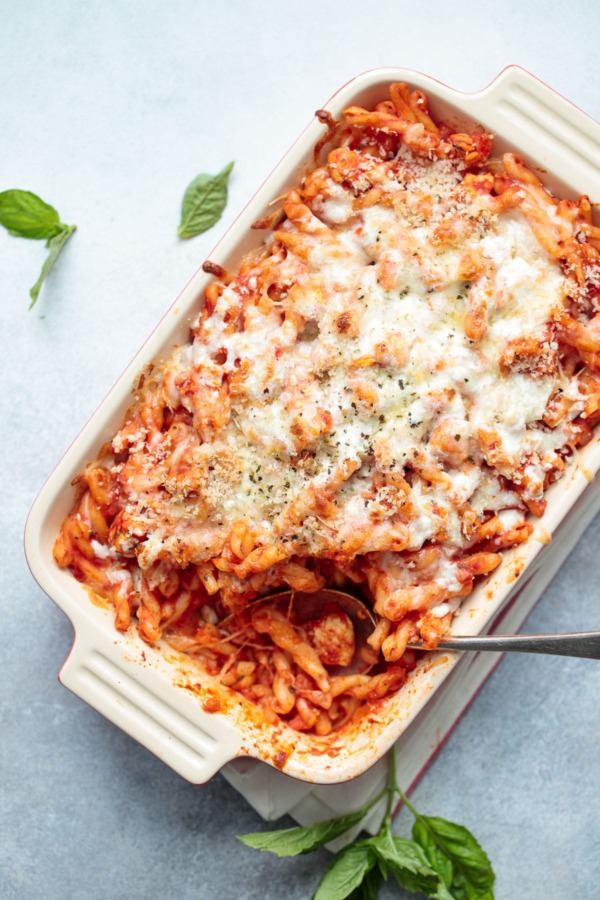 This recipe was created in partnership with Delallo®, our go-to brand for authentic Italian flavor, including pastas, sauces, and specialty imports.
In terms of weeknight dinner recipes, this one checks all the boxes: an easy recipe that yields plenty of leftovers (kill two meals with one recipe? I'm in!) and is ready to eat in under an hour (though only half of that time requires your active attention, so I'd still consider it a quick recipe.)
The whole dish is assembled on the stovetop, the pasta boiled in one pan and the shortcut homemade tomato sauce cooked in the same pan as the chicken, and then layered in a baking dish with plenty of shredded mozzarella and parmesan cheeses. We've topped it with a sprinkle of Panko breadcrumbs and a dash of Italian seasoning for good measure.
Taylor loves recipes like this that finish in the oven: it means he's able to get all the dishes completely done (all of two pots and one spoon needed to make this) before we even sit down to enjoy a hot meal.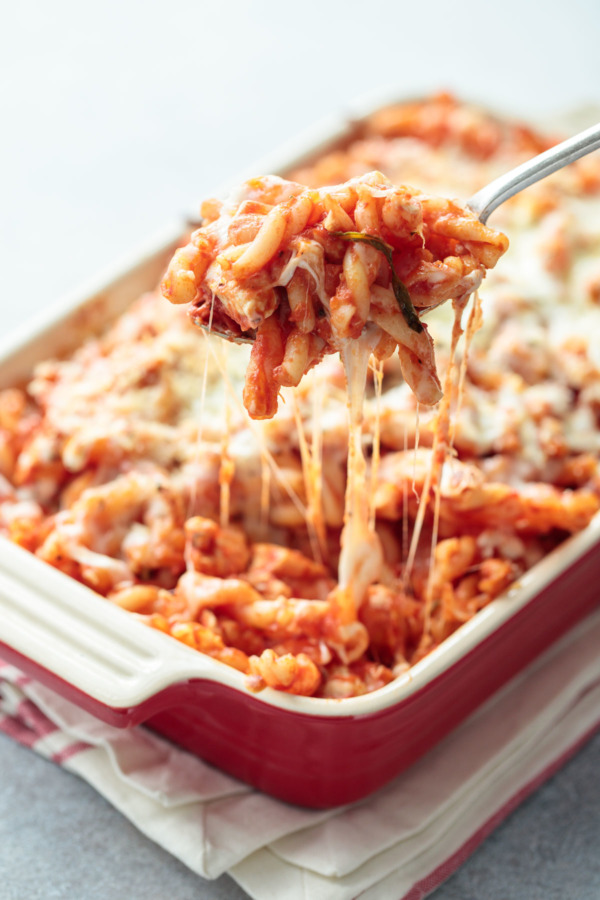 Because the ingredients list is so minimal, it's important that each ingredient be the best and most flavorful you can find. Take tomato puree, for instance. They are not all created equal. DeLallo's new Passata Rustica Rich Tomato Purée is thick, velvety and robust, about as close as you can get to a ripe summer tomato in a can (excuse me, jar – and what a gorgeous jar it is!) It's easily the best canned tomato purée I've ever tried.
A tomato purée this good really doesn't need much to become a luscious tomato sauce: a bit of garlic and onion, fresh basil, and some salt and pepper and that's about it. Talk about an easy homemade tomato sauce in no time.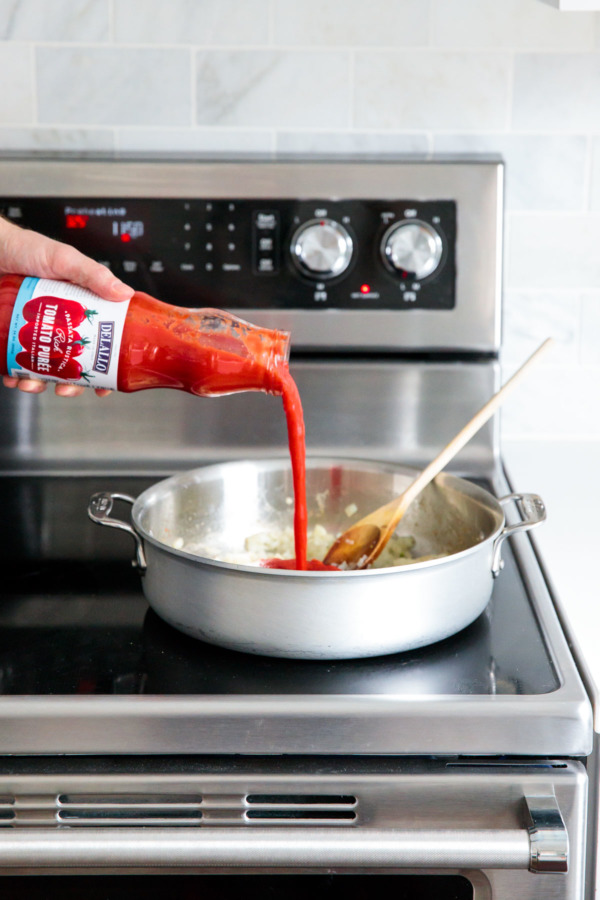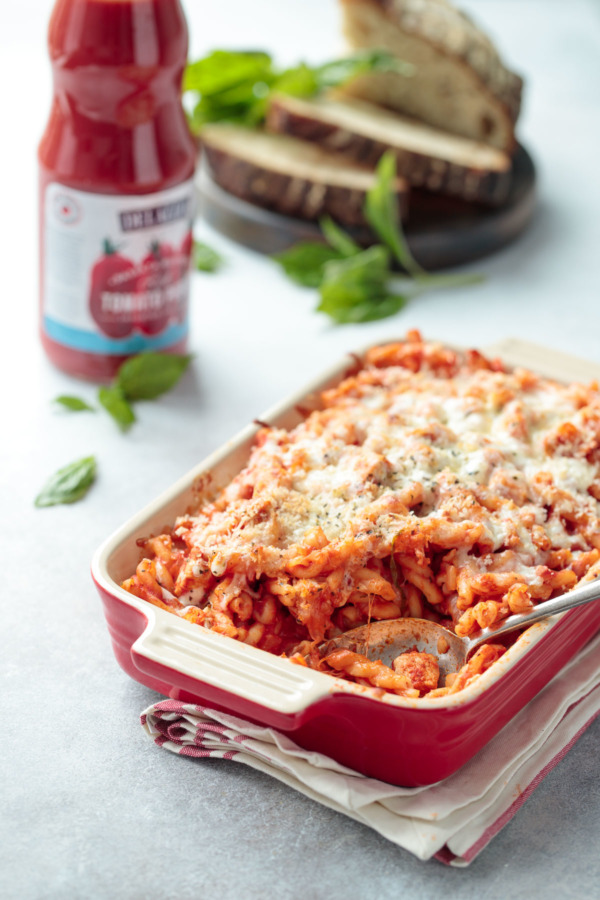 This recipe makes enough for 8 hungry people, served in a 13-by-9-inch (3 quart) casserole dish. It also keeps very well if you want to assemble it in two smaller casserole dishes (like we did – the dish above is a 2 quart casserole and holds about 2/3 of the full batch) and refrigerate or even freeze the other one for another day.
If you are baking the pasta from chilled, add 10 to 20 minutes to the cook time to ensure it is hot through and the cheese is fully melted (if you're unsure if it's done in the middle, stick a digital thermometer into the center – it should read about 130-140 degrees).
Cheesy Chicken Parmesan Pasta Bake
Your favorite chicken parmesan in an easy-to-make pasta bake! Full of melty mozzarella cheese and a simple, flavorful tomato sauce, this satisfying dinner recipe might just be a new family favorite!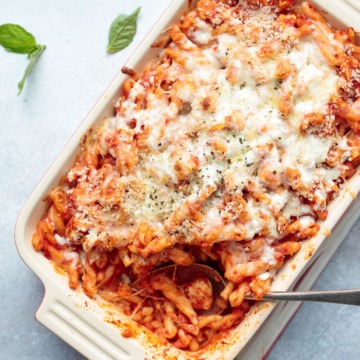 Ingredients:
2 tablespoons olive oil
1 large onion, chopped
3 large garlic cloves, finely chopped
1 (24 ounce) jar DeLallo Passata Rustica Rich Tomato Purée
2 medium chicken breasts (about 1 pound), cut into bite-sized pieces
1 tablespoon chopped fresh basil
salt and black pepper, to taste
1 pound dried pasta (we used DeLallo Organic Gemelli Pasta)
2 cups shredded mozzarella cheese
1/3 cup finely shredded parmesan cheese
1/4 cup panko breadrcumbs
dried Italian herb seasoning blend
Directions:
Preheat oven to 350 degrees F. Lightly spray a 3 quart casserole dish with cooking spray. Bring a large pot of salted water to a boil.
Heat oil in a large skillet over medium-high heat. Add ontion and garlic and sauté for 6 to 8 minutes or until softened and fragrant. Add tomato purée and bring to a simmer. Add chicken and simmer for about 10 minutes or until sauce is thickened slightly and chicken is just cooked through. Stir in fresh basil and season generously with salt and pepper.
Meanwhile, cook pasta in boiling water until not quite al-dente (subtract 2-3 minutes from the cooking time listed on the package, in the case of the DeLallo gemelli we used, we boiled it for exactly 7 minutes—it will finish cooking in the oven). Reserve a cup or so of pasta water before draining the pasta.
Using a large slotted spoon, strain pasta and transfer to sauce. Add a few splashes of pasta water and stir until evenly pasta is evenly coated with sauce.
Transfer half of the pasta to the prepared casserole dish, spreading into an even layer. Sprinkle with half of mozzarella and half of parmesan cheese. Top with remaining pasta, followed by the rest of the cheese. Sprinkle with breadcrumbs and Italian herb seasoning.
Bake for about 20 to 30 minutes or until cheese is melted and bubbly and pasta is heated through (if your pasta was cool or cold when you put it in the oven–for example if you made the pasta ahead of time and refrigerated it overnight–it will likely need more time). If desired, broil for 2 to 3 minutes at the very end until cheese is browned in spots. Let cool for 5 minutes before serving.
Did you make this recipe?
Let us know what you think!
Leave a Comment below or share a photo and tag me on Instagram with the hashtag #loveandoliveoil.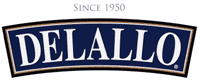 Disclosure: This post was created in partnership with DeLallo. As always, all opinions written are purely our own. We're incredibly grateful for opportunities like these that allow us to continue sharing delicious recipes with you, so thank you for supporting us and the brands we love.