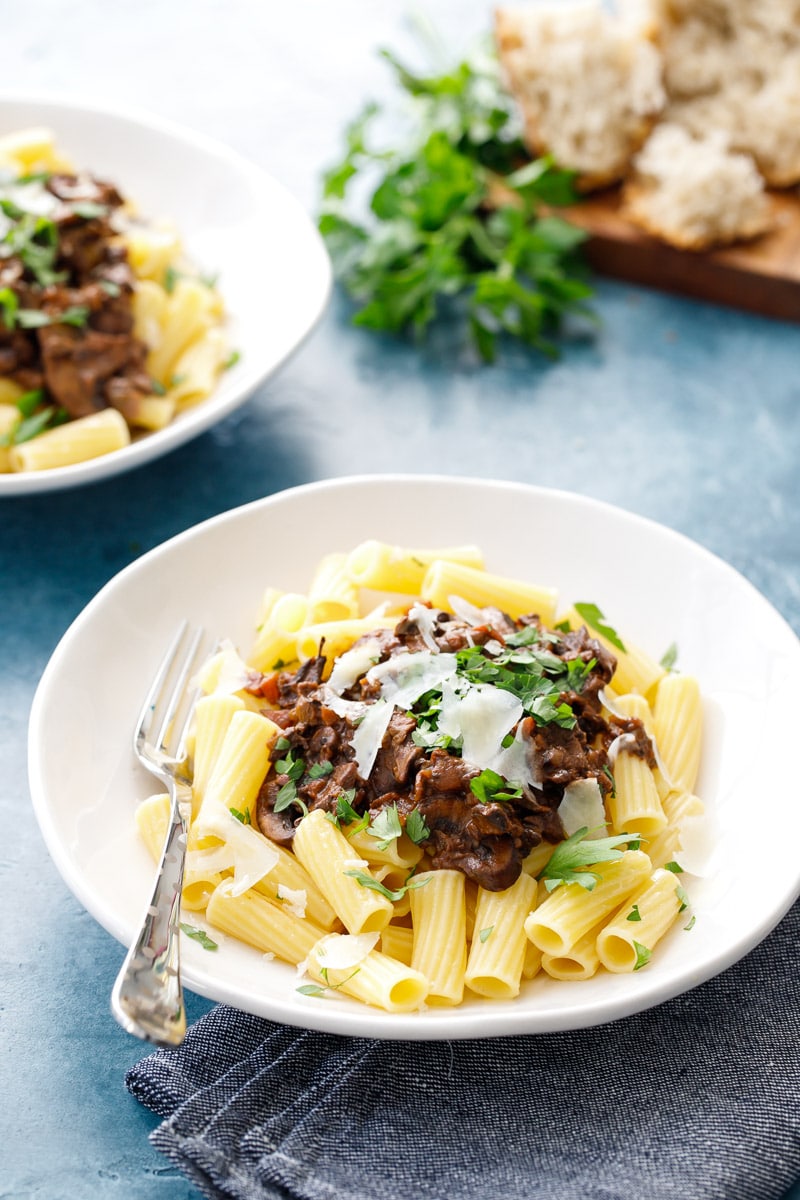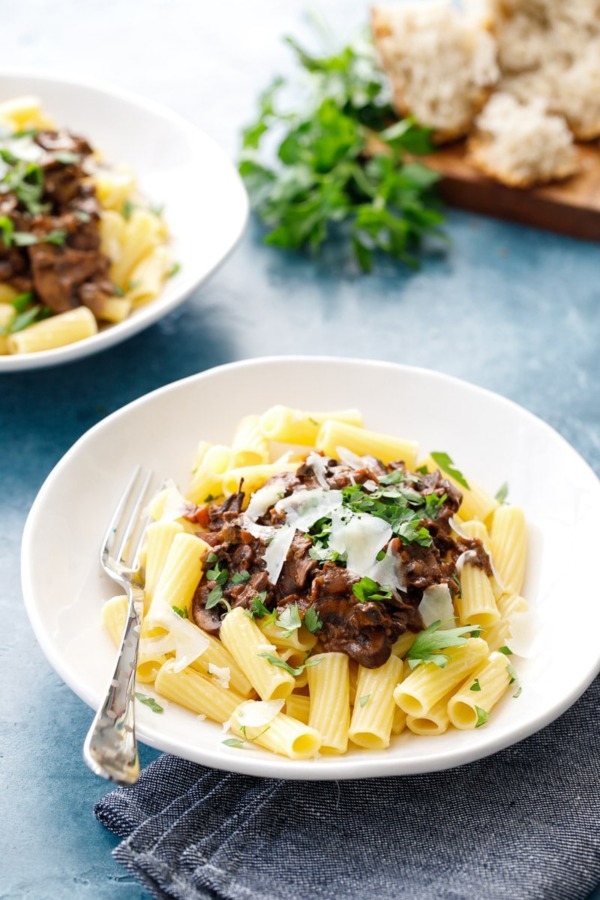 What is the difference between ragu and ragout anyway?
Both are robust and flavorful and more than satisfying on a cold winter night. But the similarities end there.
Ragù is an Italian meat-based pasta sauce with a little bit of tomato/tomato paste (but not overwhelmingly tomato like a marinara would be). Think bolognese.
Ragout, on the other hand, is a thick and chunky French stew, meat or veg-based and cooked long and slow until the flavors are rich and robust. It's not necessarily a sauce, but is often served over pasta.
This recipe falls is somewhere in between, and I've changed the title of this post more than a few times because I simply couldn't decide what to call it.
The mushrooms make for an ultra-flavorful meat alternative that is in no way lacking in the flavor department; and there is a little bit of tomato paste in there for added depth and consistency (score one for ragu). That said, the French ragout is a bit more all-encompassing in terms of meat/no-meat flexibility, and the last thing I want to do is piss off the Italian-authenticity police (which pushes me more towards team ragout). And while I'd certainly consider it more of a pasta sauce than a standalone stew (advantage: ragu), there's no denying it'd be a pretty darn good topping for risotti, potatoes, or even grilled chicken (ragout evens the score).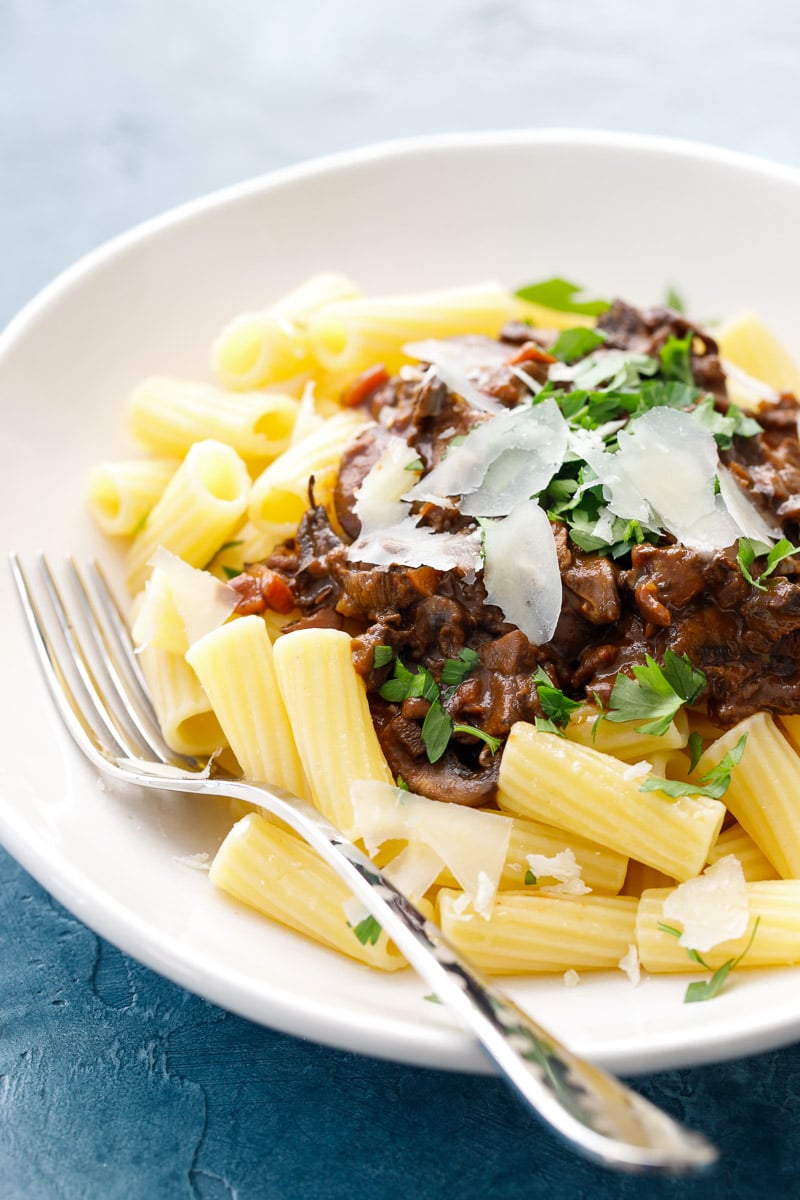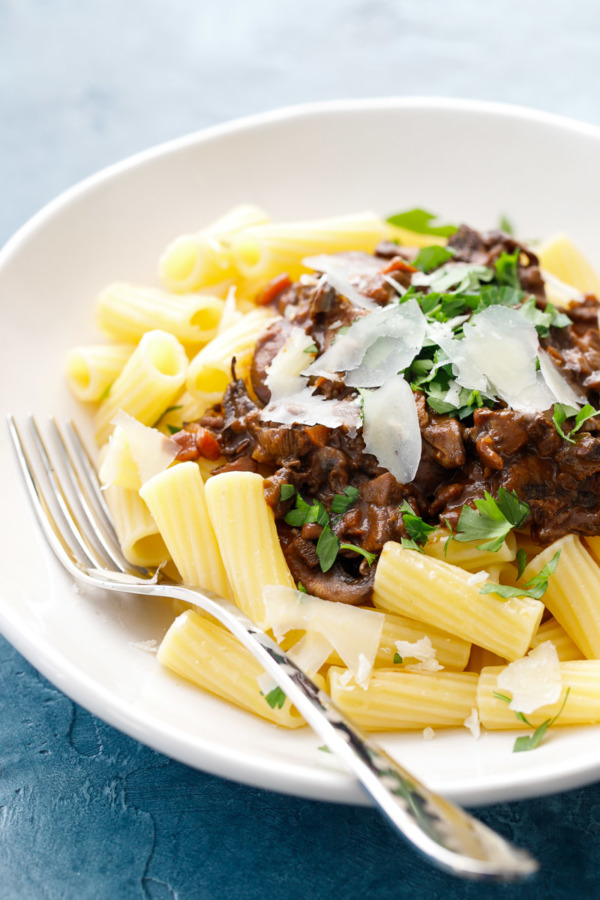 Whether you call it a mushroom ragout served over pasta, or a meatless ragu with wild mushrooms, what's obvious here is that a lack of meat does not mean lack of flavor. In fact, I'd argue this ragout is nearly TOO flavorful (if there is such a thing?) Mushrooms, of course, being one of the greatest sources of natural umami this side of soy sauce… The way to bring out even more of that flavor? Cook them down until they surrender their succulent richness and devour.
Meat lovers and mushroom haters alike can even get behind this dish, it's that good.


We used an assortment of 4 kinds of mushrooms here, including crimini, shiitake, and oyster (a balance of both cost efficiency and flavor) as well as dried porcini mushrooms.
Whatever you do, even if you use a full pound of button mushrooms if that's all you can find, don't skip the dried mushrooms. They add a depth and richness as we use both the rehydrated mushrooms themselves (finely chopped) and the liquid they steeped in to enhance the flavor even more. Trust me on this one.
Mushroom tip: if you have any international/Asian markets in your area, they often have mushrooms at a fraction of the cost of Whole Foods (seriously, $5 for 3 ounces of mushrooms??) And since you need an entire pound of mushrooms here, paying half as much is certainly a bonus.
We left our mushrooms sliced, for a robust, chunky sauce that's still identifiable as mushroom-based. If you prefer a finer texture, just throw your 'shrooms in the food processor and give them a quick whirl. Same for the mirepoix (onion/carrot/celery mix) – you could certainly food processor that as well if you just don't feel like chop chop chopping.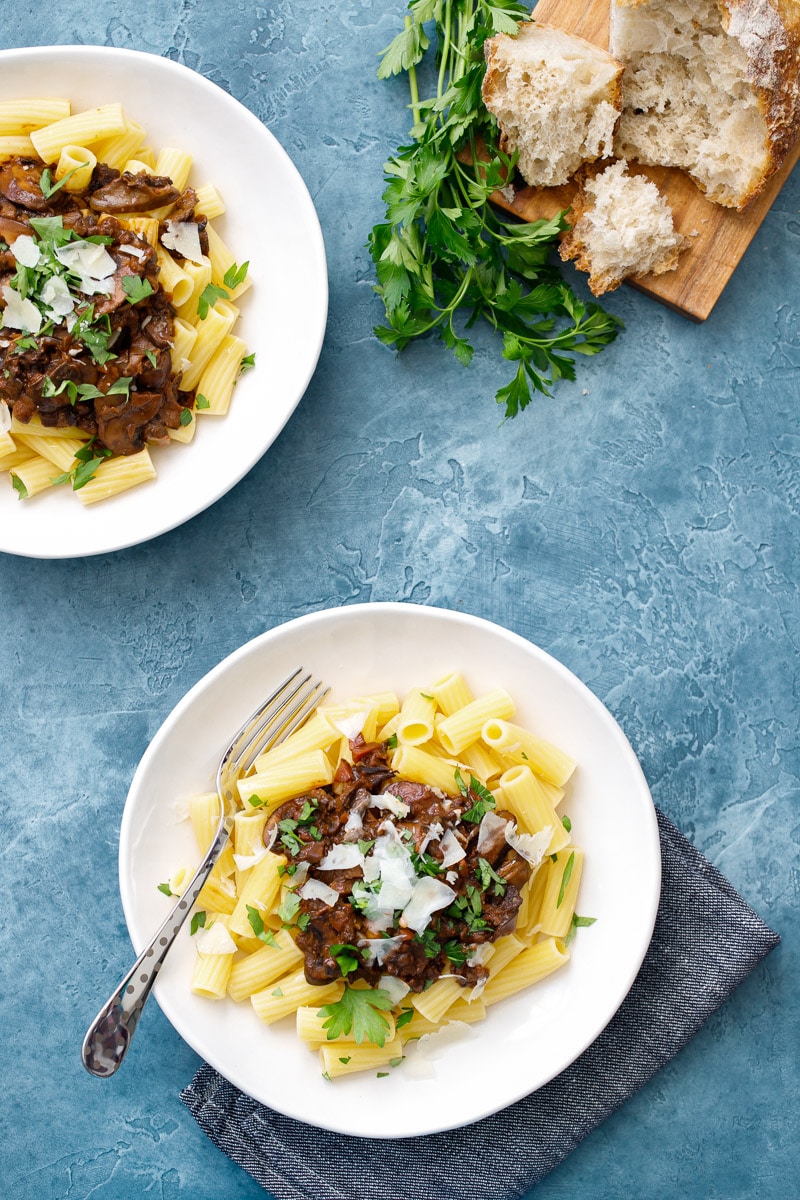 This recipe makes a hearty 4 servings, 6 servings if you serve it alongside something else or slices of crusty bread. It'd be a great freezer-friendly meal too, if you wanted to make a big batch (just make sure your pan is big enough to hold the full volume of raw mushrooms) and then freeze in serving-size containers to thaw and serve later.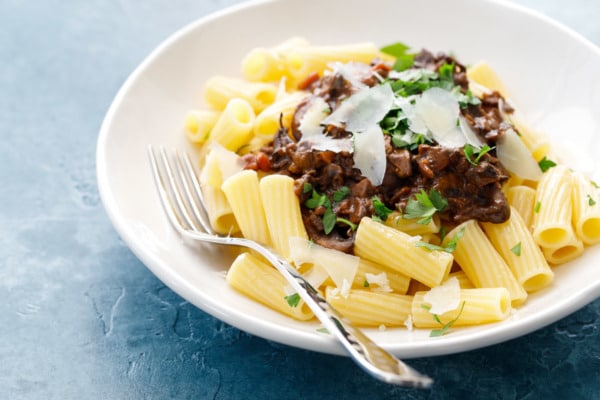 Wild Mushroom Ragout
This hearty and flavorful ragout is entirely vegetarian; featuring 4 different kinds of mushrooms for a seriously flavorful dish. Serve over pasta or any other carby-base of your choice!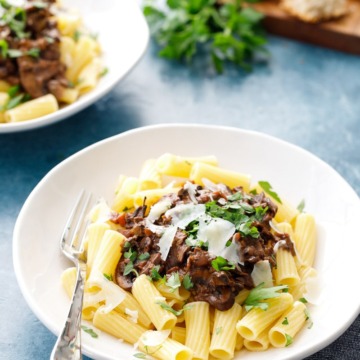 Ingredients:
1 cup dried porcini mushrooms
2 tablespoons olive oil
2 tablespoons butter
1 medium carrot, finely chopped
1/2 medium onion, finely chopped
1 celery stalk, finely chopped
3 garlic cloves, minced
1/2 teaspoons red pepper flakes
1 pound mixed mushrooms (I used a mix of crimini, shiitake, and oyster), sliced or coarsely chopped
1/2 cup marsala, madeira or dry sherry wine
1/4 cup tomato paste
1 tablespoon sherry vinegar
salt and pepper, to taste
1 pound dried rigatoni, prepared according to package instructions
freshly chopped parsley, for serving
shaved parmesan cheese, for topping
Directions:
Pour 1 1/2 cups near-boiling water over porcini mushrooms and let steep for 20 to 30 minute or until softened. Strain, reserving liquid, and finely chop mushrooms. Set aside.
In a large stock pot or dutch oven set over medium-high heat, heat olive oil and butter until melted and sputtering. Add onion, carrot and celery and cook for 5 minutes until starting to soften. Season with a generous pinch of salt and pepper. Add garlic and red pepper flakes and sauté for 3 to 5 minutes until fragrant.
Add mushrooms and cook, stirring occasionally, until mushrooms have cooked down to less than half their original volume and turned a rich golden brown, about 15 to 20 minutes.
Add wine, tomato paste, and 1 cup of reserved mushroom steeping liquid and cook until liquid is saucy and velvety in texture, about 10 minutes more. Feel free to add additional mushroom liquid or pasta water as desired to achieve a looser consistency.
Stir in sherry vinegar, and season to taste with salt and pepper.
Serve over pasta (or other base of your choice) and top with chopped parsley and shaved parmesan, as desired.
Did you make this recipe?
Let us know what you think!
Leave a Comment below or share a photo and tag me on Instagram with the hashtag #loveandoliveoil.