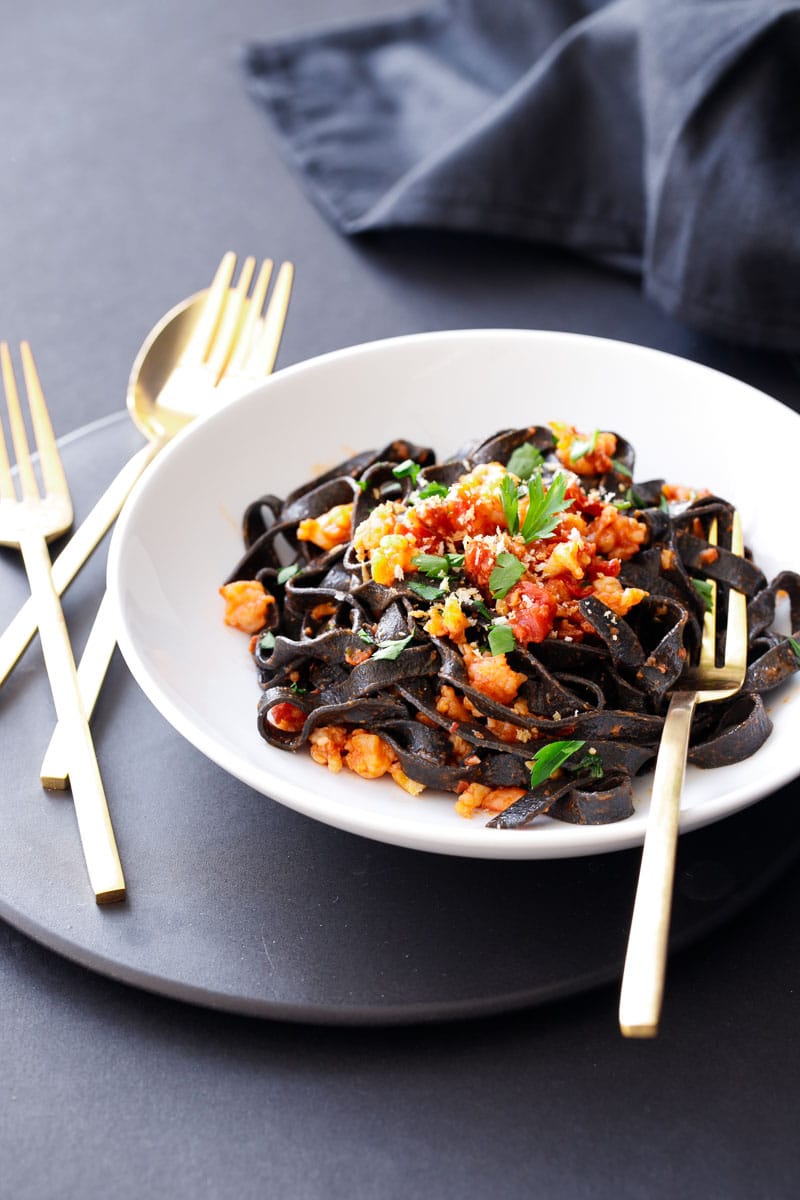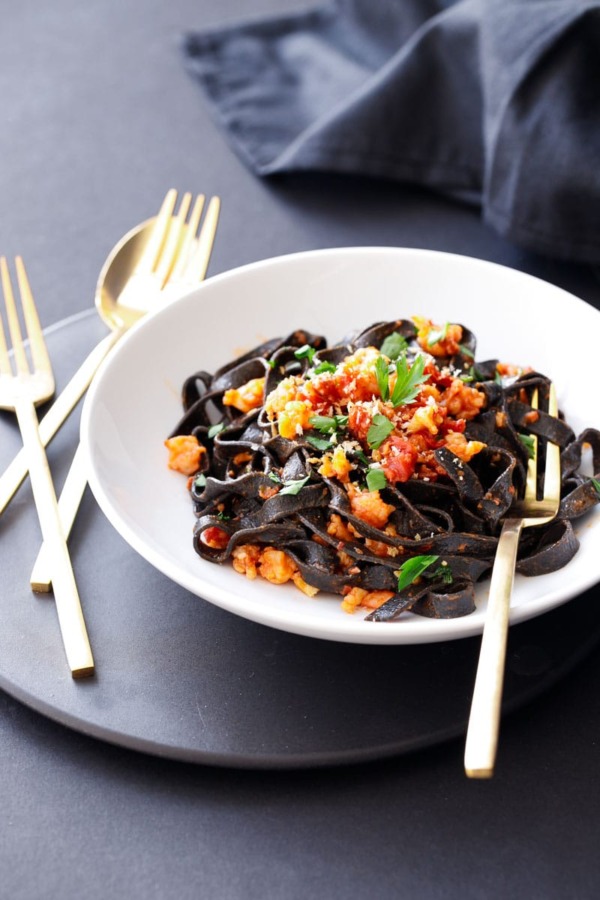 You're probably wondering what we did with that dramatically colored squid ink fettuccine we made earlier this week…
Well, this is it.
Since the squid ink pasta has a mild brininess to it (it actually smells stronger while you're making it than it tastes in the final dish, but it's still an underlying flavor that shouldn't be ignored), it's definitely best used within the context of more seafood.
One of our favorite cookbooks has a recipe for a frutti di mare (fruit of the sea) pasta with squid ink spaghetti that would be a seafood lover's dream. I also think it'd be great with a crab fra diavolo-style sauce, with tomatoes and spicy red pepper flakes.
We went a slightly different route, a twist on surf and turf, if you will, combining shrimp with spicy Spanish chorizo along with garlic, red pepper flakes, and tomatoes for a fiery red sauce that compliments the squid ink pasta perfectly in both color and flavor.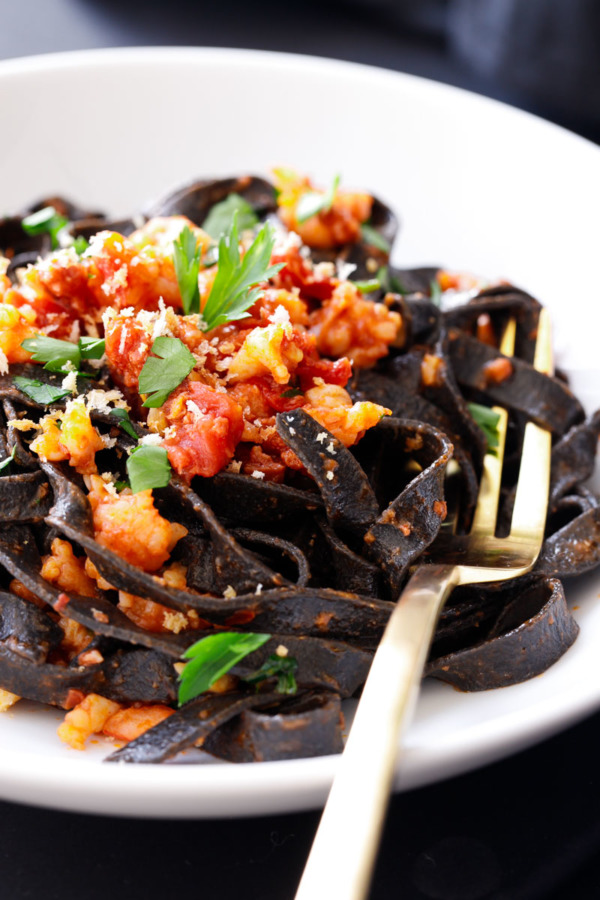 If you make your homemade squid ink noodles ahead of time (it can be dried or frozen – one batch of pasta makes enough for two 4-serving meals), then you can easily throw this recipe together in under 30 minutes. That's my kind of dinner recipe.
If you want to use dried pasta instead, simply cook it according to the package directions, and adjust the timing of the sauce accordingly: ideally you want the pasta cooked to al dente at the same time that the shrimp is fully cooked through.
Pro Tip: Whenever you cook pasta (fresh or dried), always set aside a cup or so of the cooking water before you drain your pasta. This starch-laden water is your new pasta secret weapon: a splash or two will improve the consistency and help the sauce and the pasta stick together.
When sourcing your chorizo, look for dried Spanish chorizo (like salami) instead of raw Mexican chorizo (which carries a much different flavor profile). The most notable flavor in Spanish-style chorizo is the paprika, lots and lots of paprika, with garlic and other spices mixed in. While we wanted the flavor profile of Spanish chorizo, we chopped and pulsed ours in a food processor before cooking to give it more of the texture of ground meat and make it more cohesive with the rest of the sauce.
If you can't find Spanish chorizo, a spicy salami such as linguiça or sopressata or other dry-cured meat, or even Nduja (a spreadable spicy cured meat) would be the closest substitution. You can even get chorizo on Amazon (seriously, they sell everything) if you can't find it locally. Trust me, it really makes the dish.
While we used diced tomatoes here, plain tomato puree or sauce will work here as well (use whatever tomato product you have on hand). Tomato sauce will make a smoother, sweeter result while the diced tomatoes will be chunkier and more rustic. If you use sauce, maybe toss in a few fresh quartered cherry tomatoes with the shrimp for texture.
We topped our pasta with some lightly toasted panko breadcrumbs, which adds a nice textural crunch.
Spicy Squid Ink Fettuccine with Shrimp and Chorizo
Homemade squid ink pasta tossed with a spicy tomato sauce made with Spanish-style chorizo and fresh shrimp. Top with fresh parsley and toasted garlic breadcrumbs to complete the dish!
Ingredients:
2 tablespoons olive oil
2 ounces dried Spanish chorizo*, casing removed
1/2 pound shrimp, peeled and deveined and finely diced
2 garlic cloves, minced
1/4 teaspoon red pepper flakes
1 cup canned diced tomatoes and their juices or plain tomato sauce
1 tablespoon tomato paste
1 tablespoon chopped fresh parsley, plus more for topping
12 ounces fresh squid ink fettuccine
toasted panko breadcrumbs, for topping (optional)
Directions:
Bring a large pot of salted water to a boil.
Chop chorizo into 1/2-inch chunks. Pulse in a food processor until coarsely ground into rice-sized pieces.
Heat olive oil in a large sauté pan over medium heat. Add chorizo and cook for 2 to 3 minutes or until starting to crisp. Add garlic and red pepper flakes and sauté until fragrant, about 1 minute.
Add diced tomato and tomato paste and stir to coat; simmer for 3 to 5 minutes until thickened.
Add shrimp and cook until opaque, about 2 to 3 minutes. Stir in parsley.
While shrimp is cooking, cook fresh pasta in boiling salted water for 3 to 4 minutes (more or less depending on the thickness of your pasta) until al-dente. Drain, reserving 1/2 cup of pasta water, and transfer pasta to skillet.
Toss to coat with sauce, adding a splash or two of pasta water as needed to thin out the sauce.
Divide among serving bowls. Top with additional fresh parsley and toasted panko breadcrumbs, as desired.
* This recipe calls for dried Spanish-style chorizo, which is very different from the raw Mexican-style chorizo you often see. If you can't find it, a spicy salami such as sopressata is the closest substitution.
Did you make this recipe?
Let us know what you think!
Leave a Comment below or share a photo and tag me on Instagram with the hashtag #loveandoliveoil.