Topped with flavorful sautéed tofu, fresh carrot and radish, fried shallots, peanuts, and a sprinkle of fresh cilantro, these Vietnamese-inspired noodle bowls are as vibrant in flavor as they are in color.
The striking blue cellophane noodles, steeped in butterfly pea flowers to achieve their rich color, transform before your eyes when mixed with the acidic sauce. Just in case you needed an excuse to play with your food.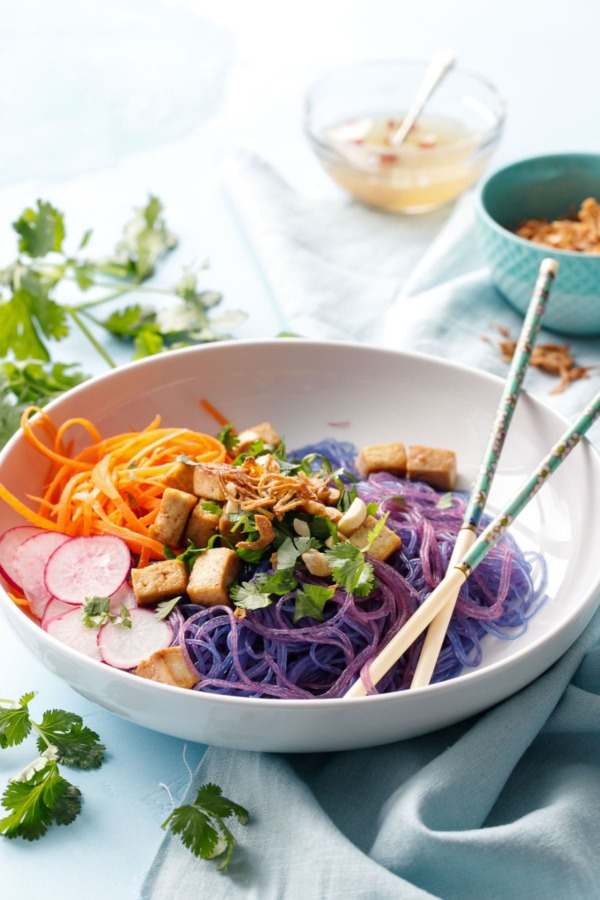 For whatever reason, I've been fixated on the idea of blue noodles. (Again, this obsession with naturally colored foods will not go away).
I first tried to make some homemade udon noodles, colored blue with butterfly pea powder. The result, while delicious, didn't necessarily look appetizing (the blue wasn't nearly strong enough and the noodles sort of looked like mauve gummy worms).
So I scrapped the idea of homemade noodles, and experimented with dyeing noodles blue by cooking them in a butterfly pea tea, essentially butterfly pea flowers steeped in hot water. I tried a few kinds of noodles, but these mung bean noodles absorbed the color the best.
Honestly it's sort of hard to decipher the millions of different kinds of noodles out there, but if you ask at your local Asian market for glass or cellophane noodles, you should be good to go. Bean vermicelli or bean threads are another name you might see on the packaging.
Specifically, I used Pine Brand Bean Vermicelli from Thailand, but there are lots of different brands that would work here.
We served the noodles with a simple Vietnamese-inspired sauce, made with lime juice, fish sauce, sugar, and a bit of fresh garlic and chili. The sauce is very acidic, which is exactly what you need to trigger the color changing properties of the butterfly pea.
Topped with some shaved veggies, sautéed tofu, fried shallots and fresh cilantro, the bowl as a whole reminds me of Vietnamese spring rolls (and in fact, the sauce recipe is based off of a Vietnamese spring roll dipping sauce).
It's cool and refreshing and perfect for the warmer days of spring and summer.
For the photos, I tossed some of the noodles in the acidic sauce, and then mixed these now pink noodles in with the blue ones for a gradient-like effect.
It's not an instant color change like the magic lemonade (since the acid has to absorb into the noodle, essentially), but give it 30 seconds or so and you'll see the difference in color, from rich blue violent to vibrant magenta.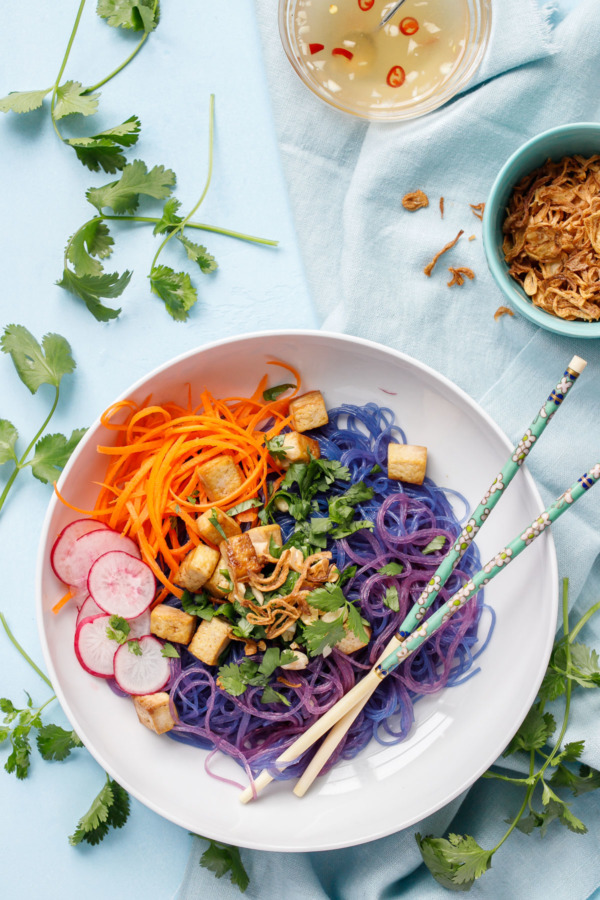 No butterfly pea flowers? You can also achieve this same magical effect using red cabbage. Not sure what sort of flavor it would impart on the noodles, but it's worth a try!
You can certainly make this recipe with regular white noodles, no doubt it'd be just as delicious, and only a little less fun.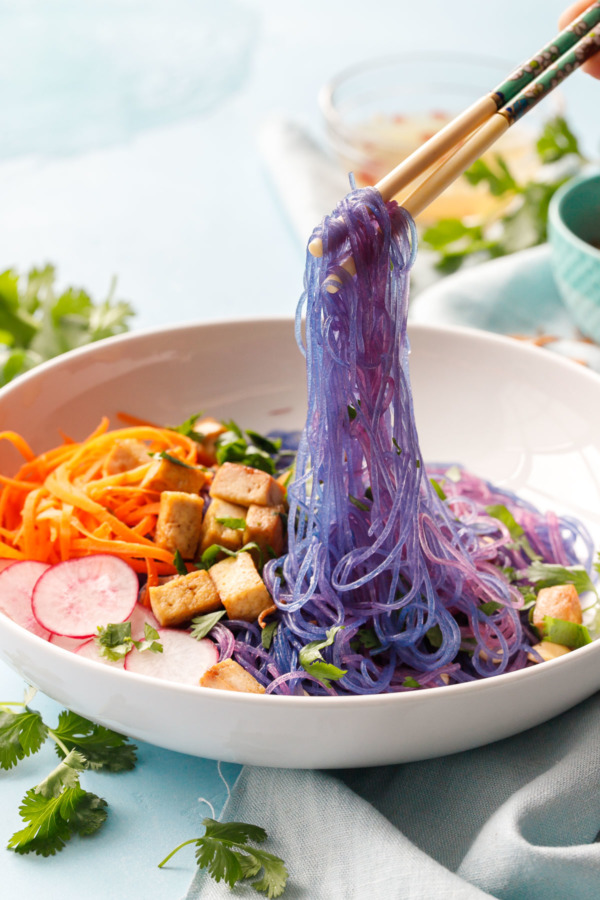 I've only just discovered the magic of prepackaged fried shallots. I always thought fried shallots were a delightful addition to salads and asian dishes, but frying them was a mess and it was far too easy to burn them. I never realized that you could buy giant tubs of fried shallots (or red onions, as they are often labeled) in Asian markets just about everywhere. Talk about a revelation!
Magic Cellophane Noodle Bowls
Vietnamese-inspired noodle bowls that are as vibrant in flavor as they are in color, topped with sautéed tofu, fresh carrot and radish, fried shallots, peanuts, and a sprinkle of fresh cilantro.
Ingredients:
1/3 cup dried butterfly pea flowers
1 bundle (about 2 servings worth, or 80 grams) mung bean noodles (also called cellophane or glass noodles)
For Sauce:
1/4 cup water
3 tablespoons lime juice
2 tablespoons granulated sugar
1 garlic clove, finely minced
1 thai chili, thinly sliced
1 teaspoon fish sauce (or more to taste)
For Sautéed Tofu:
8 ounces extra firm tofu, drained well and cut into 1/2-inch cubes
1 tablespoon soy sauace
1 tablespoon brown sugar
1 tablespoon rice vinegar
1 teaspoon sesame oil
vegetable oil, for sautéeing
To Assemble:
2 radishes, thinly sliced
1 carrot, shaved
chopped fresh cilantro
fried shallots
chopped peanuts
Directions:
Fill a small saucepan part way full with water (you only need enough water to cover the noodles by 1 inch or so. Too much water and the color will be diluted). Add butterfly pea flowers and bring to a simmer. Reduce heat to low, cover and simmer for 10 minutes or until the water is rich cobalt blue.
Place noodles in a heat-proof bowl. Pour over boiling water and let sit for 7 minutes. Return to saucepan over medium heat and boil for 30 to 60 seconds more or until noodles are cooked through and completely clear in color (cooking times might vary depending on the specific brand of noodles you buy – I'd recommend following the instructions on your noodle package, just with the blue water, to ensure your noodles are properly cooked!)
Drain noodles and set aside.
For sauce, combine water, lime juice, sugar, garlic, chili and fish sauce in a small bowl. Whisk well to combine. Set aside or refrigerate until ready to use (sauce can be made ahead of time as needed).
To prepare tofu, whisk together soy sauce, brown sugar, rice vinegar and sesame oil.
Heat a large nonstick skillet or wok over medium-high heat. Add vegetable oil until hot and shimmering. Add tofu cubes. Cook until cubes are just starting to brown, about 3 minutes, then flip and cook for a few minutes more. Add sauce and bring to a simmer until slightly thickened and syrupy.
To assemble, divide noodles among serving bowls. Drizzle with sauce (the color of the noodles will change from blue to pink – for an extra cool effect, toss half the noodles with sauce to turn them pink, then mix them in with the still blue noodles). Top each bowl with tofu along with radish, carrot, fresh cilantro, and a sprinkle of fried shallots and peanuts. Serve at room temperature.
Did you make this recipe?
Let us know what you think!
Leave a Comment below or share a photo and tag me on Instagram with the hashtag #loveandoliveoil.