I need snacks. I can't physically make it from breakfast to lunch without one. Maybe that means I'm eating the wrong thing for breakfast, or maybe it's just my body, but I have to eat every 3-4 hours otherwise I feel queasy and shaky.
So I've been buying bars. Energy bars in every size and shape and flavor. Some are better than others, but they all have one thing in common: they are expensive. And often full of sugar and other shtuff that I don't necessarily want to be eating.
The RX bars are some of my favorites, namely the chocolate sea salt flavor. I figured, since the recipe is written right there on the package, why not try a homemade version?
These are the result.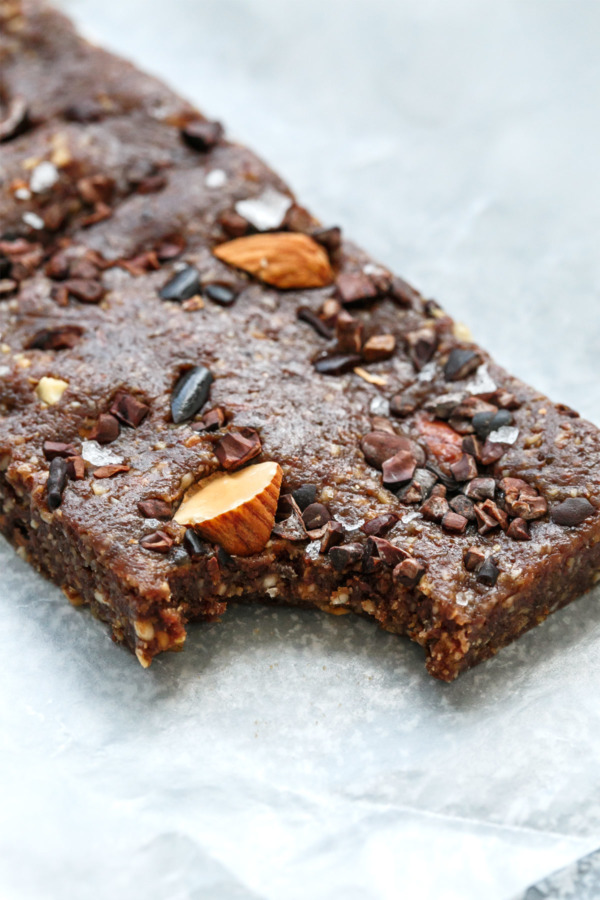 They're not identical to the original, I find the flavor much nuttier with a slightly grittier texture not unlike almond butter. So I won't call them a copycat recipe, but rather 'inspired by' the RX brand. The ingredients are the same, the nutrition is pretty darn similar (according to my calculations these might actually have a bit more protein per bar, 14 grams worth) but I assume because of the limits of home equipment, I'm not able to get the same smooth, dense consistency as the commercial ones.
You'll find these bars much softer, which I like (since they won't rip out your husband's temporary fillings… oops). But the softer texture does mean they need to be refrigerated, which means they are better for at-home snacking and not the kind of the you want to pack in your purse for a long, hot day outside.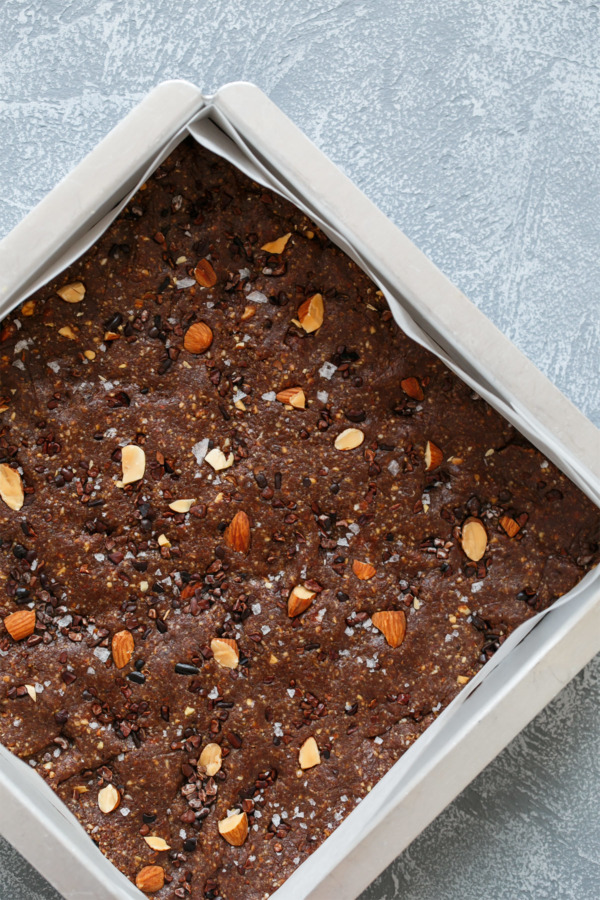 I found a food processor worked best here, first grinding the nuts to almost the consistency of almond butter, then adding the dates (my attempts to do this in a blender were less than successful, it's simply too thick).
I added cocoa powder for flavor and topped the bars with a sprinkle of sea salt and some cocoa nibs for crunch. I also think shredded coconut would be a nice addition, or maybe some dried fruit or dark chocolate chunks.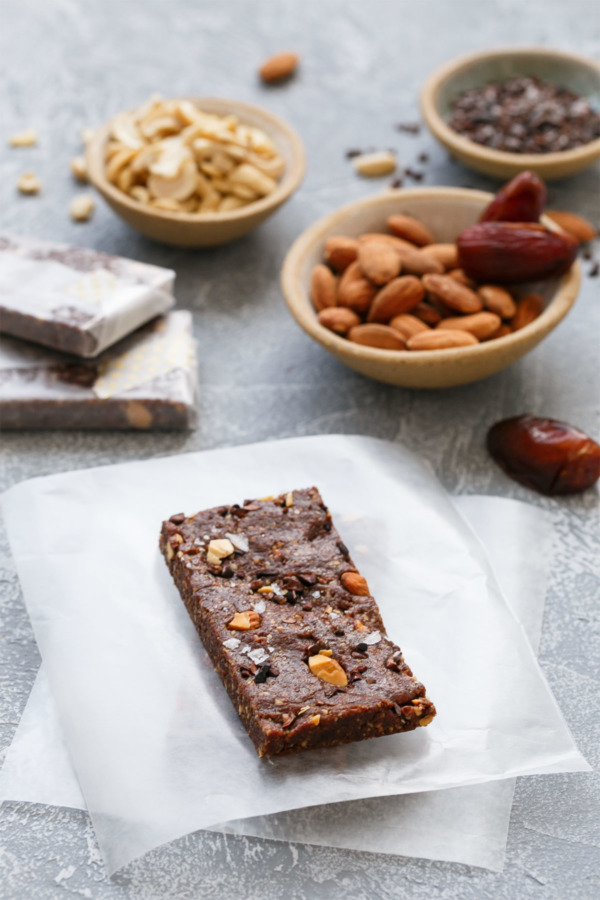 While not vegan, these bars are paleo and gluten, dairy, and refined sugar free (all the sugar and sweetness here comes from the dates).
I used egg white protein powder (actual egg whites would add too much liquid and result in a too-soft consistency). I like the Trader Joe's brand, but any unflavored egg white protein powder should work here. I can't say what would happen if you used another type of protein powder; I feel the egg white protein gives the bars much of their structure and substance, without it the bars might not hold their shape.
(If you're at Trader Joe's anyway picking up protein powder, be sure you check out their pitted Deglet Noor dates in the nut/dried fruit section. They are seriously the best value for the money and a huge time-saver being that they are already pitted.)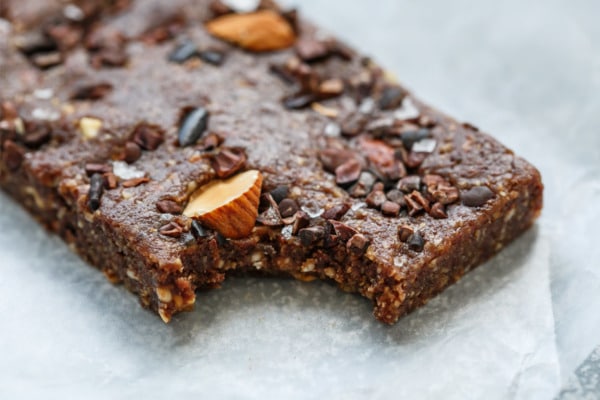 Chocolate Sea Salt Protein Bars
Using the same simple ingredient list as your favorite brand, these homemade energy bars are paleo, gluten free, and refined sugar free (all the sweetness comes from the dates!)
Ingredients:
1 cup whole almonds, plus more for topping if desired
1 cup raw cashews
1 cup (6 ounces) pitted dates
3/4 cup egg white protein powder
3 tablespoons unsweetened cocoa powder
2-4 tablespoons water, as needed
cacao nibs, for topping
flake sea salt, for topping
Directions:
Combine almonds and cashews in a food processor. Process on high until nuts are finely ground and begin to turn into butter, 3 to 5 minutes.
Add dates, a few at a time, and process until well incorporated, then add egg white powder, cocoa powder, and 2 tablespoons of water and process until mixture forms a crumbly dough. You should be able to pinch some of the mixture between your fingers and have it hold its shape. If it is still crunbly, add another tablespoon or two of water (this will depend mainly on how dry/soft your dates are).
Pour into an 8-by-8-inch baking sheet lined with foil or parchment paper. Press firmly (use a tart tamper if you have one, or the base of a sturdy glass or flat-bottomed measuring cup) to press into an even layer in the bottom of the pan. The more you can compact the mixture the more sturdy they will be.
Sprinkle with chopped almonds, cacao nibs, and sea salt; press toppings into dough.
Refrigerate for 30 minutes or until firm. Remove bars from pan and cut into 8 bars. Wrap individually in waxed paper and refrigerate for up to 3 days or freeze for up to 1 month (in an airtight bag).
Did you make this recipe?
Let us know what you think!
Leave a Comment below or share a photo and tag me on Instagram with the hashtag #loveandoliveoil.