We're back! Well, we've actually been back for 2 weeks now but I'm just now starting to feel like myself again (when you get hit by crazy jet lag AND a cold at the same time… well, I needed a serious vacation to recover from my vacation). Anyway, it may be a few weeks still until I can get my Japan posts up (sifting through and editing 3,700+ photos is no easy task), but in the meantime, here's a little treat to tide you over… a peek into the crazy world of Japanese Kit Kats!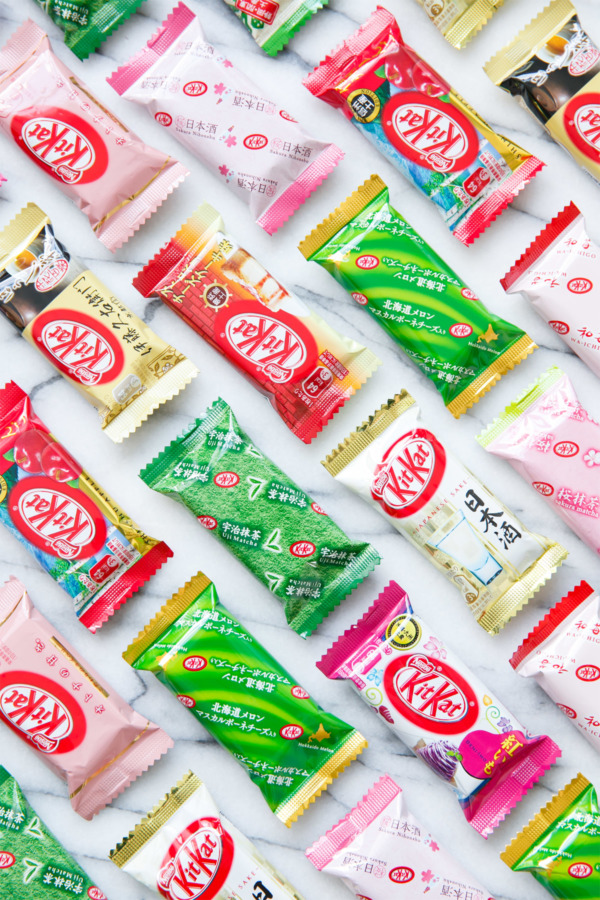 I had heard about Japan's obsession with Kit Kats but didn't really think much about it until a few days into our trip when I found a bag of Sake Kit Kats at a candy store in Tokyo.
I'll admit, I've never been particularly excited by Kit Kats (give me a Reese's or a Snickers or Mr. Goodbar any day!) Here in the US they are just so… boring.
In Japan, however, it's an entirely different story.
Why is a candy that is so often relegated to the Halloween reject pile here in the US so popular over there?
Well, it's partly coincidence, in that Kit Kat sounds awfully similar to the Japanese phrase kitto kattsu, or "you will surely win." Because of this it is often given as a good luck gift to students before their university exams. Nestle capitalized on this similarity, and the Japanese tradition of omiyage (or the gifting of regional specialties to family and co-workers after trips) and has since released over 300 limited-edition seasonal and regional flavors since 2000.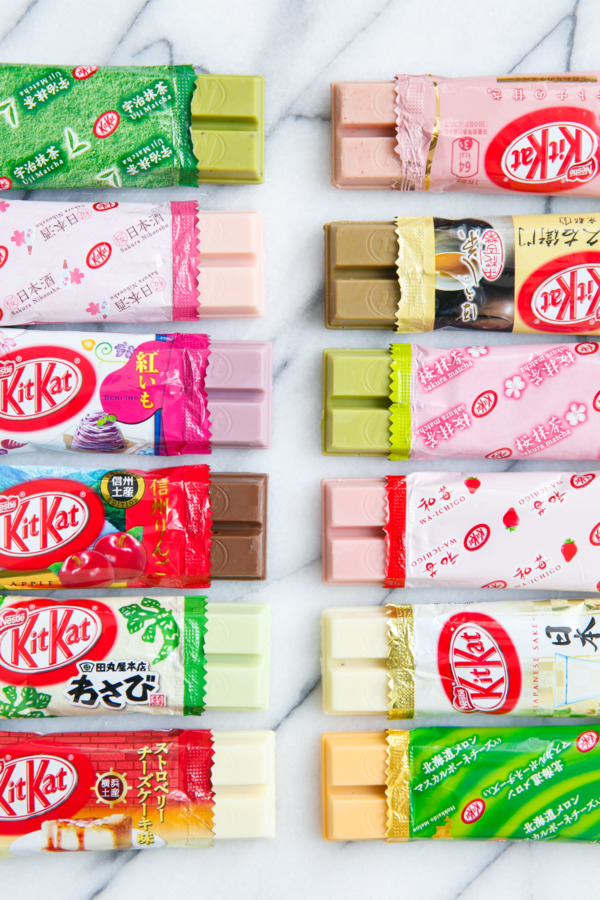 I made it my personal mission while in Japan to find as many of these unusual Kit Kat flavors as possible. Every time we'd pass a store that sold candy, I'd pop in to see what flavors they might have.
It's a good thing I travel with a foldable duffel bag, as my candy stash grew well beyond what my carry-on could hold and we ultimately had to check a bag on the way home.
I ended up finding and sampling a total of 14 different Kit Kat flavors. I could have upped that number to 17 or 18, but I opted not to buy the plain dark chocolate, for instance, and basic matcha (which I know you can get in Nashville at K&S). Also, I passed on the rum raisin (my views on raisins should be no surprise here).
As for which ones were my favorites, well, oddly enough the weirdest sounding flavors, including Wasabi, Melon, Purple Sweet Potato, and Hojicha Tea were some of the best. Others (I'm looking at you, Strawberry Cheesecake) were actually kind of gross.
Seriously though, I think we need to petition Nestle to do this in the US. Why should Japan have all the fun?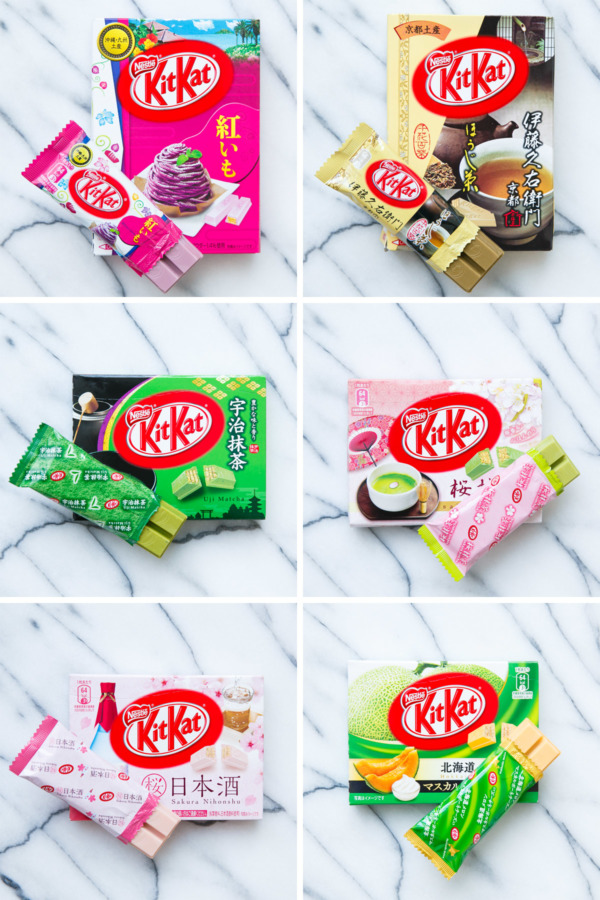 Tasting Notes
Beni-imo (Purple sweet potato) – I never would have guessed it in a blind taste test, but if I closed my eyes and really concentrated, the sweet potato flavor was definitely there. Surprisingly good, I liked this one a lot!
Hojicha Tea – This one surprised us by being one of our favorites. It actually tastes just like the toasty brown tea that is nearly as prevalent throughout Japan as its green cousin. I wish I had gotten a bigger box of these!
Uji Matcha – There are a number of different Matcha Kit Kats you can find in Japan, including a regular and a more 'premium' variety, and then this one, which is specifically listed as Uji Matcha (Uji being the region outside of Kyoto where some of Japan's finest matcha tea is produced). I didn't taste test the other matcha ones to compare, but this one had a lovely grassy flavor to compliment the sweetness of the white chocolate coating.
Sakura Matcha – I really liked this one, though I really couldn't taste the matcha or the cherry blossom. Oddly, there was a faint undertone of cinnamon or nutmeg, noticeable enough that Taylor thought this one tasted like eggnog.
Sakura Sake – White chocolate with a hint of sake and subtle floral undertones. Very sweet, but I liked the flavor of this one a lot (and you could actually taste the cherry blossom). I'm totally digging all the sakura-flavored treats that were nearly as abundant this time of year as the blossoms themselves.
Hokkaido Melon – Weird, but surprisingly good! No idea how they made white chocolate taste like fresh cantaloupe… it was slightly unnerving, but delicious too. Very sweet and fruity.
Strawberry – (Not pictured) Very sweet, and very berry. More of a fake, exaggerated berry flavor than the raspberry (which actually tasted like real fruit). Good, but I'd choose the other flavors over this one.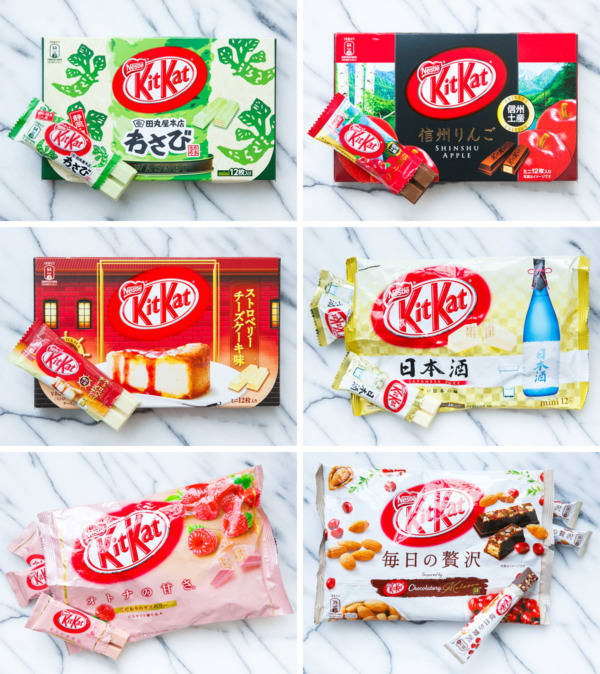 Wasabi – Possibly the flavor most likely to cause a few nose crinkles (it just sounds gross), but this one was surprisingly good. You could definitely taste the wasabi flavor, though not in a sinus-burning kind of way (luckily).
Apple – I'm not sure I'd have chosen Apple as the flavor to go along with dark chocolate (instead of the white chocolate-base that all the other flavors used). It tasted like apple, for sure, crisp and fruity, and wasn't as overly sweet as the white-chocolate flavors, but I didn't love the combination. Strange.
Strawberry Cheesecake – My least favorite, probably because it smelled like sour cheese (ew). It tasted slightly better, very sweet white chocolate with a hint of strawberry filling.
Sake – Sweet white chocolate with a slightly boozy undertone. It's actually non-alcoholic, made with white chocolate and sake powder (I didn't know such a thing existed!) You really have to love white chocolate to like this one.
Raspberry – There is no denying this one tastes like raspberry, and real fruit at that. The tart berry does a good job of offsetting the sweetness of the white chocolate.
Cranberry Almond – Rich dark chocolate with crispy bits embedded in the top of it. Quite good, actually, though it seemed like it should be more of a holiday flavor instead of a spring one. Maybe it was a holiday once since I found it in a bargain basement candy store. Oddly, this was the only single-stick variety, all the others came as doubled-up minis.
Butter Cookie – (Not pictured because I ate it on the train.) Basically a very buttery white chocolate. Oddly enough, this one comes with instructions on the back to bake it in a toaster oven, which apparently creates a caramelized layer on top. I didn't have a toaster oven handy to test that, however, so I just ate it plain. Wishing now I had grabbed two boxes, so I could try baking it now that I'm home!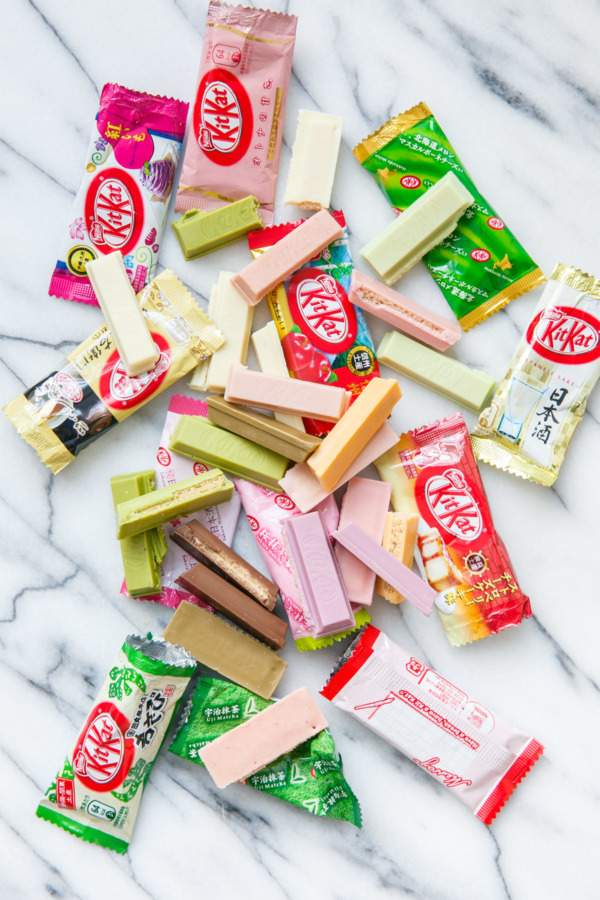 Where to Buy Them:
Train Stations. Japan's train stations are filled with little shops and many convenience stores, and if you're looking for Kit Kats, that is a great place to start. I picked up a box of the Baked Butter Cookie Kit Kats in a store in Odawara station, a snack for our train ride to Kyoto.
Narita Airport. There are a ton of duty free shops in the Narita airport, and they all sell 10-box bulk gift packs (I saw Melon, Matcha, and Sake) far too big to fit in my carry on. However, after asking around I discovered a convenience shop called Key Point, located in the shopping center outside of security in Terminal 1 (United terminal) that sells single boxes, and there I picked up the Uji Matcha, Melon, Sakura Sake, Sakura Matcha, and Strawberry.
Souvenir candy shops. Kit Kats are a common gift item in Japan, and there are many souvenir candy shops in train stations and tourist areas that sell gift-ready boxes. I stopped in one shop in Tokyo station (across from Ramen Street at the Yaesu Underground Exit) and picked up the Purple Sweet Potato, Brown Tea, as well as larger boxes of the Wasabi, Apple, and Strawberry Cheesecake flavors there.
Convenience stores. Seven-Eleven, Family Mart, etc. will usually carry a few flavors of Kit Kats. I found the dark chocolate and matcha to be the most common, but also spotted strawberry and raspberry on occasion.
Bulk candy stores. These stores sell bigger size packages of discount candy, and they'll often have bags of a few different flavors. I found the Sake in a shop in Tokyo's Kappabashi Kitchen Town, and the Raspberry and Cranberry Almond in a store in the underground shopping mall below Kyoto's Shiyakusho-mae Station.
Amazon. As it turns out, you can get a good number of these flavors on Amazon, including Sake, Wasabi, Apple, Beni-Imo, and Strawberry as well as some flavor assortments. They're not cheap, but if there's a particular flavor you're just dying to try and you don't have a trip to Japan planned in the near future, it's a good option.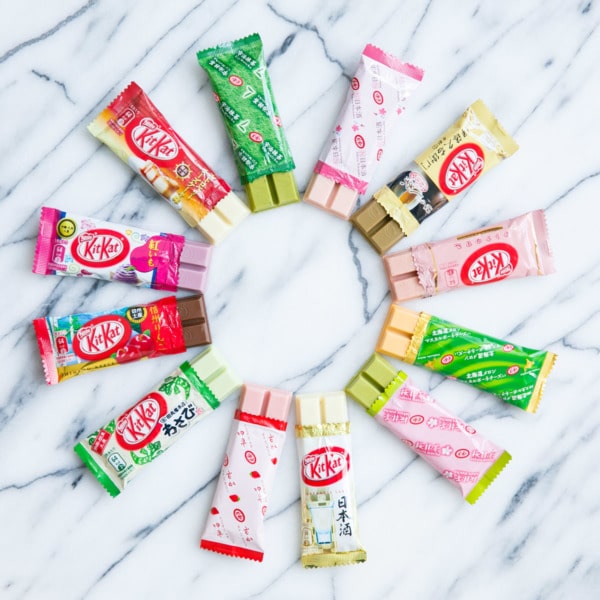 Have you tried any of these crazy Kit Kat flavors? What was your favorite? Or if you haven't tried them, which flavor sounds the best? Tell me!