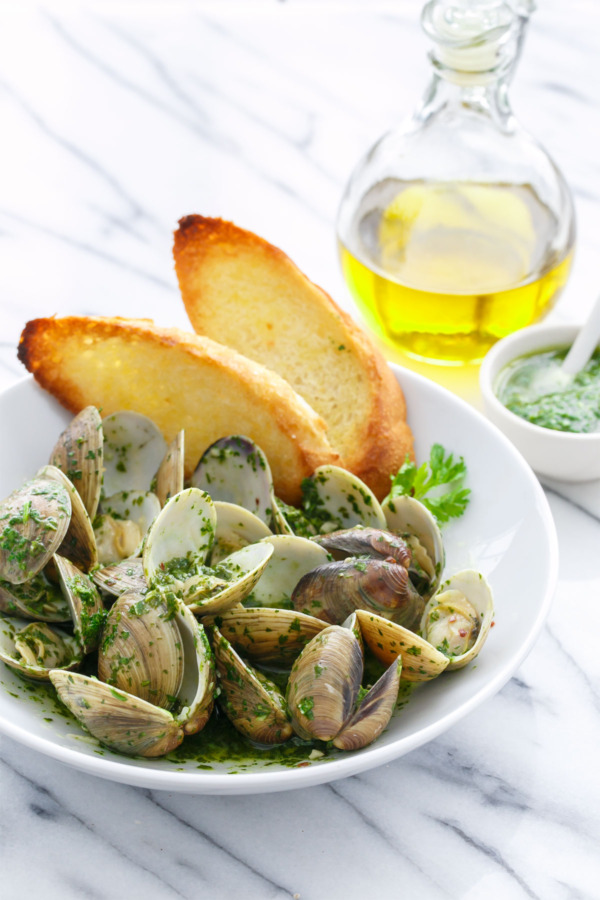 This recipe was created in partnership with Olive Oils from Spain. Thanks for supporting us and the products we love!
Did you know that one out of every two bottles of olive oil consumed in the world contains Spanish olive oil? Indeed, Spain has one of best climates in the world for olive cultivation, more than 260 varieties to be exact, so it's no surprise that some of the world's best olive oils come from its fertile soil.
It's also interesting to note that Spain has one of the longest life expectancies in the world.
Coincidence?
I think not.
This recipe makes the most of the delicious (and healthful) qualities of olive oil in one quick and easy (and utterly impressive) dish.
Just in the last few months I've fallen head over heels for clams. It all started with that amazing lamb & clams recipe from earlier this summer. It really didn't take much to get me hooked on these salty little molluscs. Granted, I'm still not quite there on oysters (it's a texture thing), but clams, when cooked properly (trust me, it's easier than you think!) are tender and briny and not at all gooey or rubbery.
The other thing I love about clams? They are so, so quick to prepare. Just try a cook to chicken breast in that amount of time (I'll save you the effort: you can't). That's why when you want something ridiculously quick and easy, but also downright impressive, there's no better option than fresh clams.
The most common preparation is to quickly steam the clams in white wine, garlic, and olive oil, where they'll pop open to let you know they're done. We then upped the flavor by tossing the steamed clams with a green mojo sauce.
No, not the sauce that Austin Powers lost (har har). Rather, mojo sauce is a herb-and-vinegar-based sauce from the Canary islands region of Spain, and comes in both red and green variations. This green version, made with cilantro and parsley and a generous amount of delicately fruity Olive Oil from Spain, is very similar to the Argentinian chimichurri sauce, which is also cilantro-based. Feel free to add a jalapeno or other green pepper to the mix too if you want to add a little spice. And, because I know you're out there, you can use all parsley in this recipe too if you really can't stand cilantro.
Serve this dish with some slices of crusty bread, brushed with more Olive Oil from Spain (of course) and lightly toasted. It's perfect for sopping up that leftover sauce (seriously, it's so good you won't want to waste a drop).
You could also go tapas-style with this dish, serving it to a crowd alongside stuffed olives, fried patatas bravas (with aioli, or the mojo sauce is great on potatoes as well), and a platter of cured meats, cheeses, crackers, and preserves.
Get the full recipe on the Olive Oils from Spain blog »
Disclosure: This recipe was created in partnership with Olive Oils from Spain. To learn more, please follow them on facebook, twitter, instagram, and pinterest. As always, all opinions written are purely our own. We're incredibly grateful for opportunities like these that allow us to continue sharing delicious recipes with you, so thank you for supporting us and the brands we love.