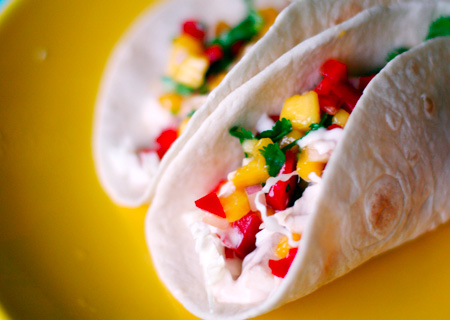 I always love a good fish taco. And as good as our last recipe was, these were better. I love mangos. I love lime. I love cilantro. Combine them altogether in a sweet and spicy salsa on top of some good fish – delicious.
Maybe it's because of some recent sketchy fish experiences we've had with frozen fish, but we've decided to treat ourselves to some nice fresh fish at Whole Foods. Rather than going for the boring old mahi or tilapia, we though we'd try something new we'd never heard of – Amberjack. It was firm enough that it didn't fall apart, but still tender and flaky. It made for some delicious fish tacos, that's for sure! If only Tennessee was closer to the coast so we could have really fresh seafood more often. :)
Fish Tacos with Mango Salsa and Cilantro Lime Sauce
Ingredients:
1 pounds flaky white fish, such as halibut, tilapia, sole, or snapper (we used Amberjack)
4 tablespoons fresh lime juice
2 tablespoons vegetable oil
2 tablespoons soy sauce
For Lime Sauce:
2 tablespoons mayonnaise
1/2 cup low-fat yogurt
2 tablespoons fresh lime juice
1 chipotle chile in adobo sauce, finely chopped
1 garlic clove, finely chopped or pressed
Salt
For Mango Salsa:
1 bell pepper (red, yellow, and/or orange), deseeded and chopped into 1/4-inch squares
1/2 small red onion, finely chopped
1 jalapeno pepper, de-seeded and diced
2 just-ripe mangoes, peeled and chopped into 1/2-inch square chunks
1 handful cilantro, washed, dried, de-stemmed, and chopped
2 cloves garlic, minced
Juice of 1 lime
Salt to taste
To assemble:
10 to 12 corn tortillas, warmed
3 cups shredded cabbage
Directions:
Combine the fresh lime juice with the vegetable oil and soy sauce in a rectangular baking dish (not metal). Add the fish, turn to coat, and set aside to marinate for at least 15 minutes.
For lime sauce, in a small bowl, combine the mayonnaise, yogurt, lime juice, chipotle, and garlic. Season to taste with salt.
For salsa, toss together peppers, onion, mango, cilantro, garlic, and lime juice in a bowl; season to taste with salt.
Remove fish from the marinade and grill or saute over medium-heat until cooked through and browned. Let cool slightly then flake into bite-size chunks.
To assemble, place a bit of fish on a warm tortilla, drizzle with the chipotle-lime sauce, and top with cabbage and mango salsa.
Did you make this recipe?
Let us know what you think!
Leave a Comment below or share a photo and tag me on Instagram with the hashtag #loveandoliveoil.