Coleslaw can be tedious, especially if you are making a big batch of it. Manually slicing all that cabbage and grating all those carrots… it's a lot of work and requires some serious knife skills to achieve a perfect slaw texture. That or you're stuck buying the pre-shredded bagged stuff which often leaves much to be desired.
Luckily, there is a better way with the KitchenAid® Food Processor Attachment. We've put this attachment to the ultimate test today on the Kitchenthusiast™ blog, creating three unique variations on your classic (aka boring) coleslaw. Use a combination of the slicing, shredding, and dicing blades to whip up a Potato Salad Slaw (think coleslaw meets potato salad), an Asian Sesame Slaw, and a sweet Fruit Salad Slaw.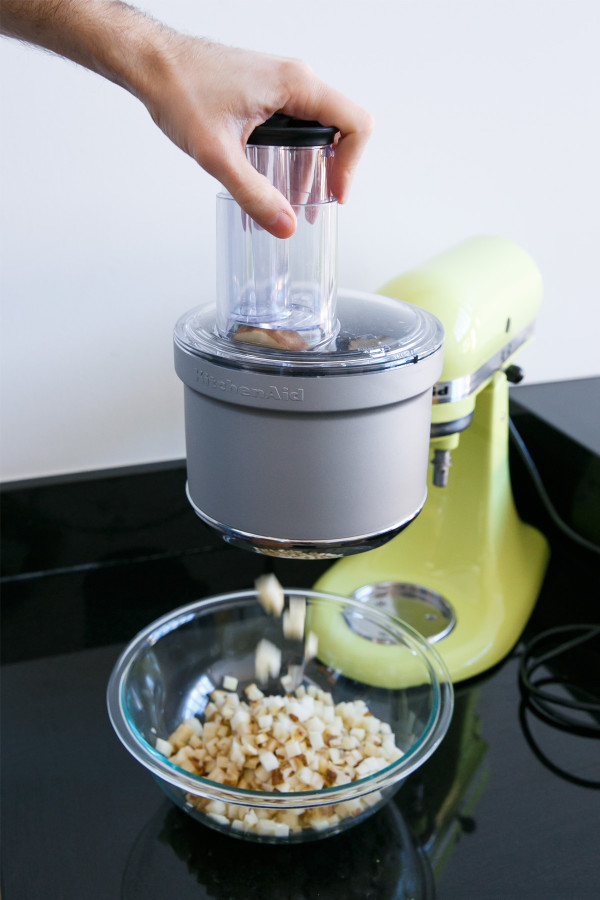 This attachment comes with 3 discs: a slicer, a grater (both fine and coarse), and a julienne disc. Add on the optional Dicing Kit to get the dicing blade, which is quite possibly the biggest time saver of them all, producing picture-perfect 8mm cubes of whatever you run through it. I'd buy this entire attachment just for that one blade; it's that amazing.
I'm particularly fond of the Potato Salad Slaw: part potato salad and part coleslaw, with perfectly diced potatoes mixed with cabbage, onion, and shredded fennel for added flavor and crunch. The dressing is a mayo-based dressing with a bit of tang and sweetness, plus capers and parsley for a touch of sophistication. It's one of those recipes that will quickly become your go-to side dish for football parties, spring picnics, or summer barbecues.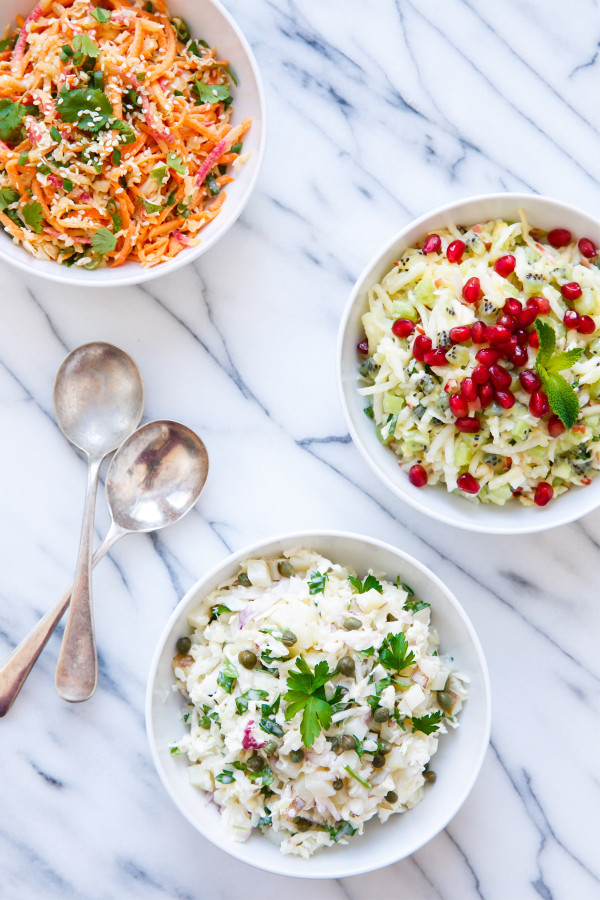 So, what are you waiting for? Whip up one of these Slawsome recipes for your next gathering. You'll never serve boring old coleslaw again!
Get the recipes on The Kitchenthusiast blog »
Potato Salad Slaw
Ingredients:
2 medium russet potatoes, unpeeled and halved (quartered if large)
1/2 head small Napa cabbage, quartered and thick base core removed
1/2 bulb fennel, trimmed, quartered, and cored
1/2 red onion, trimmed and quartered
2 tablespoons chopped fresh parsley
2 tablespoons capers, drained (juice reserved)
For Dressing:
1/4 cup mayonnaise
2 tablespoons sour cream
1 teaspoon reserved caper juice
2 teaspoons dijon mustard
1/2 teaspoon sugar
1/4 teaspoon ground cayenne pepper
Salt and freshly ground black pepper, to taste
Directions:
Run potatoes through the dicing blade of your KitchenAid® Food Processor attachment. Boil in a pot of lightly salted water for 5 minutes or until fork tender. Drain and rinse with cool water to stop cooking process and set aside.
With a clean bowl under the food processor chute, run cabbage through slicing blade set on the thinnest setting (or thicker if you prefer). Run fennel and onion through coarse grating blade. Toss with cabbage, along with chopped parsley and capers.
For dressing, whisk together all ingredients until smooth. Season to taste with salt and pepper. Toss with slaw mixture until evenly coated. Top with additional chopped parsley as desired.
Get the full recipe (and 2 more unique coleslaw recipes) on The Kitchenthusiast blog »
Did you make this recipe?
Let us know what you think!
Leave a Comment below or share a photo and tag me on Instagram with the hashtag #loveandoliveoil.
This recipe was created in partnership with KitchenAid®. All opinions are my own. This post contains affiliate links.