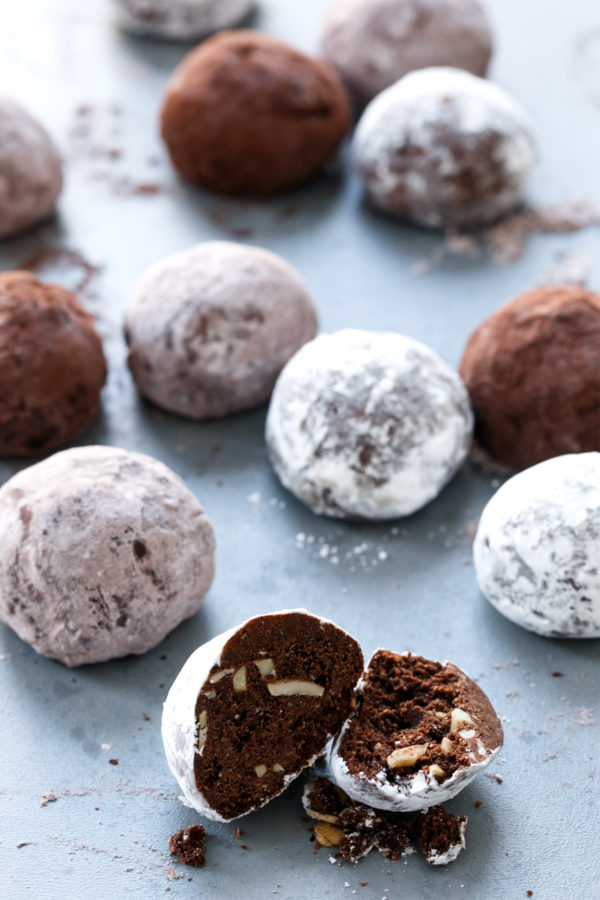 Remember that one time, you left out the sugar in your first batch of cookies, perhaps the one time in recent history when you didn't taste the dough first, taking a giant bite out of a hard nugget of chalky cocoa before you realized?
And then the next batch you remembered the sugar but screwed something else up and your should-be-ball-shaped cookies turned out like wannabe lace florentines (and not in a good way)?
Some days it's obvious the baking gods are not smiling down on me. In fact, on days like these I wonder if they're even looking.
Luckily, this no good very bad baking day happened to be a day when I felt extra motivated to be in the kitchen, so I didn't give up in a fit of frustration, but rather kept on trying, determined to get these cookies right.
It was worth it.
Traditional snowball cookies are spherical shortbread-like cookies, crunchy at first but tender enough to melt in your mouth, sweetened with a generous coating of powdered sugar. I've seen them called a number of things including Snowballs (aptly), Mexican wedding cookies, Russian Tea Cakes (though they are anything but cake), and Polvorones.
This version is a twist on all of the above, with almonds and almond flour as the base and a generous dose of cocoa powder. Dirty snowballs, if you will.
I also added some cinnamon and cayenne for a flavor not unlike my favorite Mexican Hot Chocolate cupcakes, hence the name.
Instead of just dusting the cookies with powdered sugar, I mixed it up with a gradient of cocoa and sugar. Some I dusted with just powdered sugar, some with pure cocoa powder, and some with a blend of the two.
The easiest way to dust a handful of cookies at a time is shake and bake style, or in this case, bake and shake style, using a bag to gently toss the cookies with their sugary coating. It's much easier this way than rolling them around a sugar bowl one at a tedious time.
The hard and crunchy nature of these cookies makes them perfect for shipping cross country, as they're sturdy enough to hold their own after being jostled around in a mail truck for a few days.
And yet hard and crunchy makes them sound unappetizing (being a soft and chewy cookie lover, myself) which they are anything but, that I promise you. Your first thought as you bite into one might be hard and crunchy, but all thoughts of the like promptly disappear as the cookie literally melts away in your mouth, leaving a hint of spice and sultry cocoa and a tell-tale dusting of powdered sugar on your lips. Sneaky cookies they are not. Delicious cookies, on the other hand. Aye, indeed.
Mexican Hot Chocolate Snowball Cookies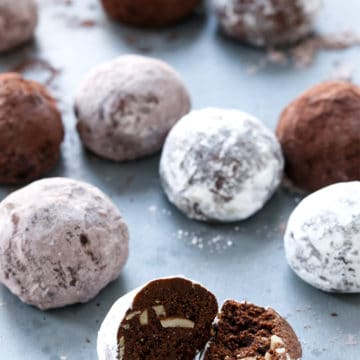 Ingredients:
3/4 cup all-purpose flour
1/3 cup almond flour or very finely ground almonds
3 tablespoons cocoa powder
1/2 teaspoon ground cinnamon
1/4 teaspoon salt
pinch cayenne (optional)
1/2 cup (1 stick) unsalted butter, room temperature
1/2 cup powdered sugar
1 teaspoon vanilla extract
1/4 teaspoon almond extract
1/2 cup lightly toasted sliced or slivered almonds, finely chopped
powdered sugar or a mix of cocoa powder and powdered sugar, for coating
Directions:
Preheat oven to 350 degrees F. Prepare baking sheets by lining with parchment paper or a silicone baking mat.
In a bowl, whisk together flour, almond flour, cocoa powder, cinnamon, salt, and cayenne and set aside.
In a large bowl or the bowl of a stand mixer, beat butter until smooth and fluffy. Add powdered sugar and vanilla and almond extract and beat for 1 to 2 minutes on medium-high speed. Add dry ingredients and mix on low speed until incorporated. Stir in chopped nuts.
Scoop dough by heaping teaspoonfuls and roll into 1-inch diameter balls. Arrange on prepared baking sheet, leaving 1 to 2 inches of space between cookies. Fill up two cookie sheets if you have them, you can easily bake two sheets at once with this recipe.
Bake for 18 to 20 minutes, rotating sheets top to bottom and front to back part way through baking, until tops are lightly cracked and no longer shiny.
Let cookies cool to room temperature. Add a few spoonfuls of powdered sugar and a bit of cocoa powder too (if desired) to a plastic or small paper bag. Add 4 or 5 cooked cookies to bag and shake gently until cookies are completely coated. Remove from bag, tapping of excess sugar. Repeat with remaining cookies.
Cookies will keep in an airtight container for up to 5 days.
Did you make this recipe?
Let us know what you think!
Leave a Comment below or share a photo and tag me on Instagram with the hashtag #loveandoliveoil.