What is there to say about this ice cream?
It's all gone, I'll tell you that much.
Need I say more?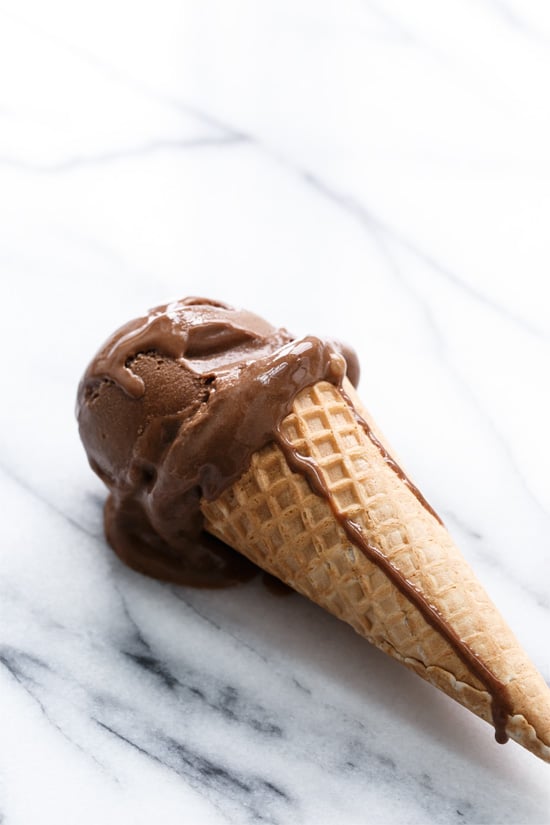 Considering this is my 3rd batch of ice cream this week, I'd say I'm doing a pretty darn good job of embracing ice cream season fully and completely.
Hey, don't judge. I had a quart of good heavy cream in the fridge, and not like it's going to use itself. There's nothing I hate more than wasted cream.
So long as this heat keeps bombarding us (freezer space notwithstanding) I'll make ice cream until the cows come home. Then I'll milk them and make some more.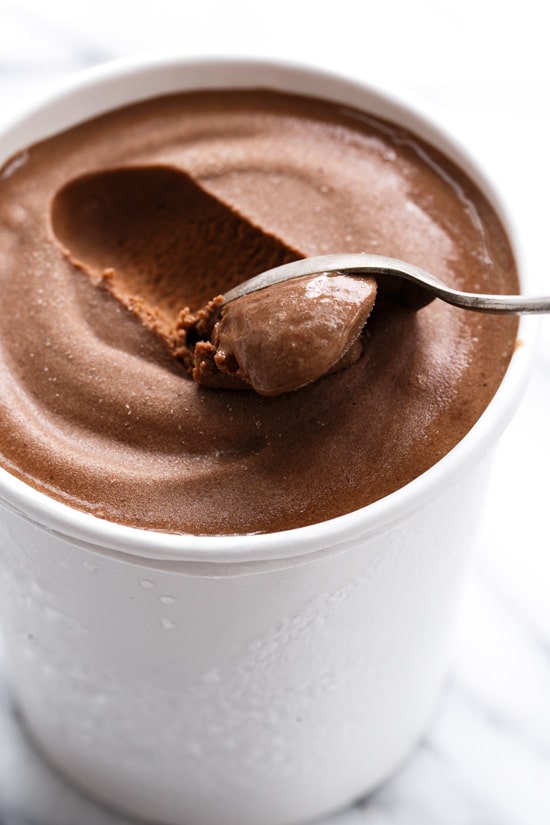 This ice cream has sass; it's anything but plain chocolate. Chocolate and caramel come together and the result is show stopping. It's kind of like that chocolate caramel ganache I made a while back: (almost) unbelievable that the addition of caramel could make chocolate that much better, so decadent that it should be a sin.
I love ice cream with a little heat; the sensation baffles your tongue. Like it can't decide if it's cold or hot and so you better eat some more ice cream just in case. The hint of spice in this ice cream is just perfect, a dash of cinnamon and cayenne pepper the wake up call your mouth was longing for. Sure, you could leave out the spices and go for a straight chocolate caramel (which would be great in its own right) but the spices just take it over the top. Fight heat with heat, I say.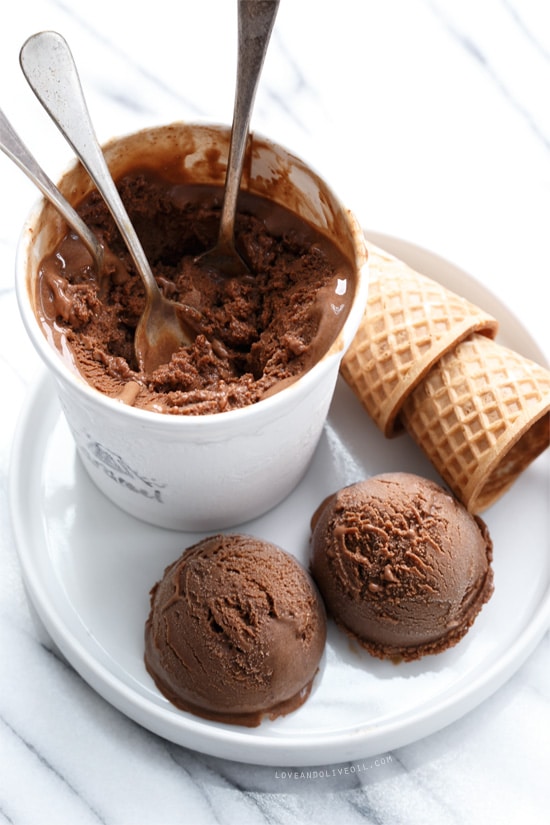 Don't let the dry caramel scare you. Be patient, be on alert (don't turn your back for even a second), and you'll be just fine. The end result is worth it, I promise.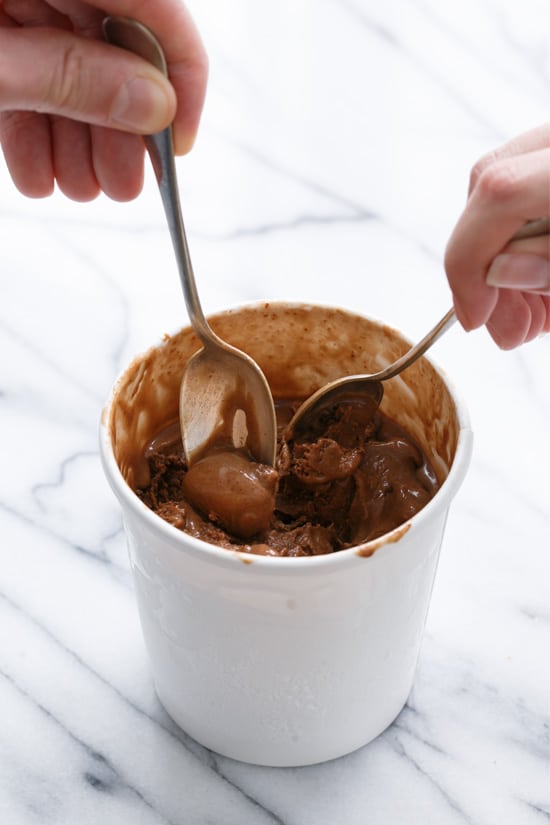 Here's the thing. It's summer. It's 90+ degrees outside, at least 75 inside at any given time. If you see an ice cream photo where the ice cream isn't dripping everywhere, you know something's not right, either the photographer has some space-age sub-zero photo studio or they have artistic superpowers allowing them to get the shot in 5 seconds or less. Or they cheated and gave their melty ice cream a photoshop facelift (shame shame). Shooting ice cream in winter is one thing, when that extra 10 degrees will give me a solid 15 minutes to work with (but really, who makes ice cream in the winter? Oh wait, I do.) But in the heat of summer it's a race to get the shot before everything goes to sh*t, and no amount of planning or pre-freezing everything in sight is going to change that.
Because really. Even with the AC cranked that ice cream isn't going to last long.
I'll tell you what, give me two spoons and it'll no longer be an issue. :)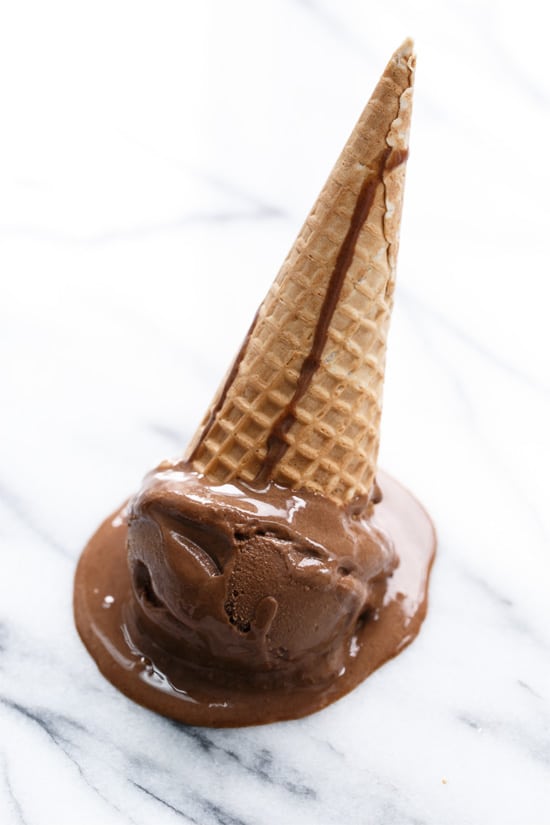 Submit to summer. Embrace the mess. Revel in the chocolate smudges in the corners of your mouth. Go on, lick the drips off your fingers (it's so good you won't want to waste a drop). I give you full permission to dive head first into a bowl (preferably a large one) of this ice cream and eat to your heart's content.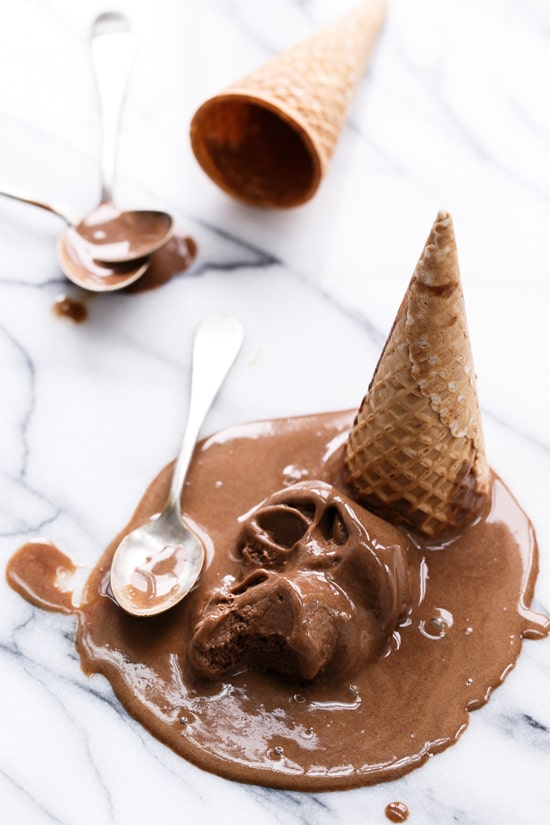 Because isn't that what summer is all about?
Aztec Chocolate Caramel Ice Cream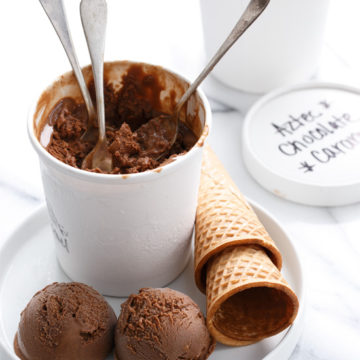 Ingredients:
1 cup heavy cream
1 cup granulated sugar
2 tablespoons unsalted butter, cut into cubes
5 ounces bittersweet chocolate, finely chopped
1 1/2 teaspoons ground cinnamon
1/2 teaspoon fine sea salt
1/4 teaspoon cayenne pepper, or to taste
2 cups whole milk
4 egg yolks
1 teaspoon vanilla extract
Directions:
Prepare an ice bath by nesting a smaller bowl inside a larger bowl filled with ice water. You can also use a zip-top freezer bag set inside a bowl of ice water.
Warm cream in a small saucepan until warm to the touch (do not boil). Reduce heat to keep warm while you prepare the caramel.
Place sugar in an even layer in the bottom of a large heavy saucepan set over medium heat. Keep an eye on it, but once the sugar starts to liquefy around the edges, use a heat-proof rubber spatula to carefully drag the liquid toward the center. Continue to drag the liquid edges toward the center, doing so slowly, until all the sugar is melted and golden brown. If at any point the color begins to get too dark and you still have granulated sugar, lower the heat and gently stir to dissolve the remaining sugar. The final caramel should have a faintly burnt smell and deep amber color. Watch this carefully as caramel can go from not quite done to burnt in a matter of seconds (see more tips for making a dry caramel here).
Remove caramel from heat and slowly pour in warm cream, whisking vigorously the entire time (caramel will bubble up so be careful as it is VERY hot). Continue to whisk, scraping the sides and corners of the pan, until no hard chunks remain. If necessary, return to medium-low heat and whisk until any remaining chunks are dissolved. Add butter and chocolate and whisk until smooth and chocolate is melted. Whisk in cinnamon, salt, and cayenne, followed by milk.
Return mixture to medium heat until it just begins to steam.
In a small bowl, whisk egg yolks. Slowly ladle in some of the warm chocolate mixture, about 1/4 cup at a time, until about half of the chocolate mixture has been incorporated and yolks are warm to the touch. You want to do this gradually; doing so will temper the egg yolks rather than cook them.
Pour entire yolk mixture back into the saucepan and return to medium heat, stirring constantly and scraping the bottom of the pan as you do, until the mixture thickens slightly and coats the back of a spoon, about 5 to 7 minutes (it will measure approximately 170ºF on a thermometer). Do not let it to boil.
Stir in vanilla extract. Pour through a fine mesh sieve (to catch any undesirable chunks) into prepared ice bath, and let sit for 15 to 20 minutes or until cooled to room temperature. Cover tightly with plastic wrap and refrigerate for at least 3 hours or preferably overnight.
When custard base is completely chilled, churn ice cream according to manufacturer's instructions until the ice cream is the consistency of soft serve. Spoon a into a freezer safe container and freeze overnight until firm.
Did you make this recipe?
Let us know what you think!
Leave a Comment below or share a photo and tag me on Instagram with the hashtag #loveandoliveoil.