What do you get when you make sandwich cookies in the shape of your favorite glyph, namely, the ampersand?
Why, ampersandwich cookies, of course.
Get it? Ha!
I crack myself up sometimes.
Ever-obsessed with all things ampersand, I had purchased this cookie cutter on Etsy over a year ago, and have been waiting for an excuse to use it.
In brainstorming flavor options for my ampersandwich cookies, I wanted a flavor combo that would reinforce their conjunctive shape, so peanut butter & jelly seemed extra appropriate. Emphasis on the &.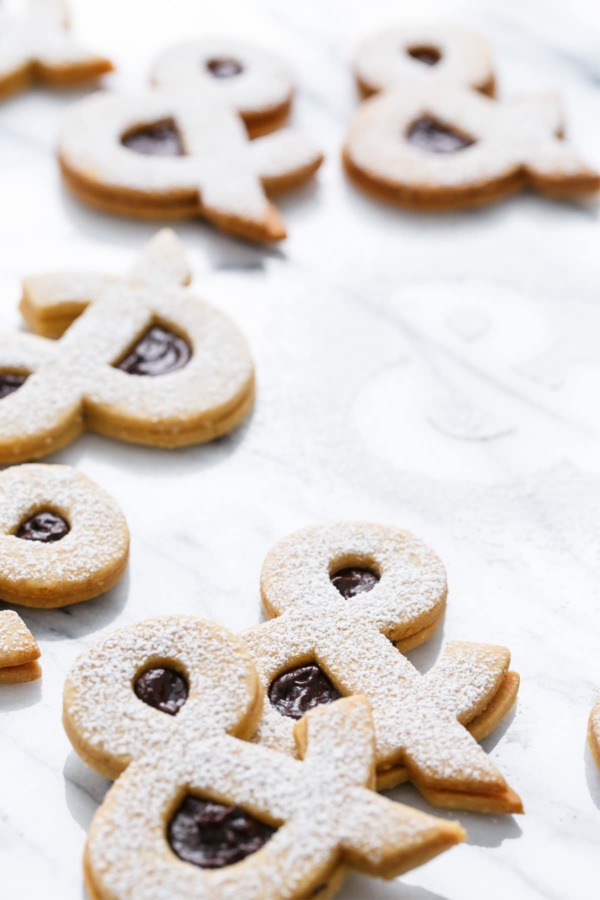 These is not your elementary-school pb&j. The linzer cookies contain finely ground peanuts in place of the typical almonds or hazelnuts usually found in this type of cookie. So no actual peanut butter, though we'll still call them as such because peanut and jelly doesn't have quite the same ring to it. And there are both peanuts AND butter in there so technically it's still accurate.
The fancy jam filling is like chocolate ganache meets strawberry jam. Or chocolate ganache mixed with strawberry jam, if you will. I've been calling it strawberry chocolate ganache, but chocolate strawberry jam is applicable too.
After eating just one of the tender, buttery cookies, you won't be able to resist reaching for another.
& another…
& another…
Until they've disappeared.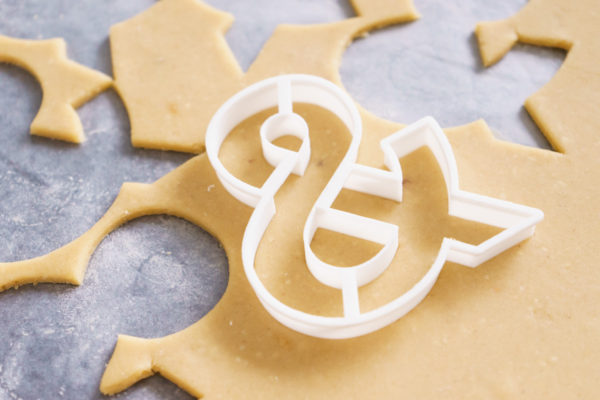 If you plan on making asymmetrical sandwich cookies like these, remember to bake half your cookies upside down. Then you can match up the sandwiches with the ugly bottoms hidden on the inside.
Another consideration if you want to acheive the traditional linzer effect, the bottoms of the sandwich cookies need to be solid, while the tops have the openings for the filling to show through. I cut out my bottom ampersands, flipped them on the cookie sheet, and then replaced the counterspaces.
Of course, you can always go the traditional route and cut out simple circles with stars, hearts, and diamond shaped windows. They'll taste just as good, even if they aren't ampersandwiches.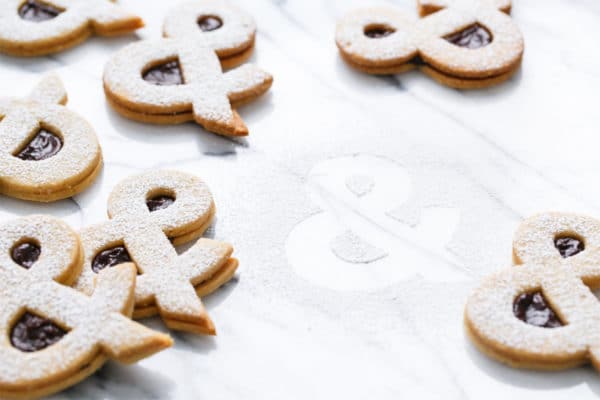 Peanut Linzer Cookies with Strawberry Chocolate Ganache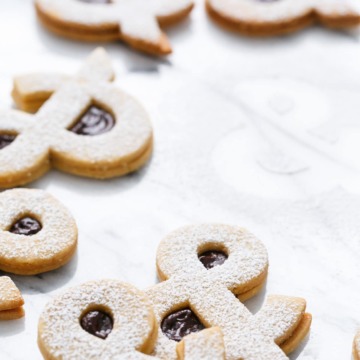 Ingredients:
2/3 cup (3 oz) shelled peanuts
1/2 cup packed light brown sugar
2 1/2 cups (11 oz) all-purpose flour
1/2 teaspoon baking powder
1/2 teaspoon salt
1/4 teaspoon cinnamon
1 cup (2 sticks) unsalted butter, softened
1 large egg
1 teaspoon vanilla
6 ounces semisweet chocolate, finely chopped
1/4 cup strawberry jam
1/4 cup heavy cream
Directions:
In a food processor, pulse peanuts with 1/4 cup of brown sugar until finely ground (but don't overprocess or you'll end up with peanut butter).
In a bowl, whisk together flour, baking powder, salt, and cinnamon and set aside.
In a large bowl or the bowl of a stand mixer fitted with the paddle attachment, beat together butter and remaining 1/4 cup brown sugar at medium-high speed until light and fluffy, about 3 minutes. Add peanuts and mix until well combined, about 1 minute. Beat in egg and vanilla. Add flour mixture and mix on low speed until just combined.
Divide dough in half and shape into flat disks; wrap tightly in plastic wrap and chill for at least 2 hours or until form.
Preheat oven to 350°F. Position oven racks in upper and lower thirds of oven.
Roll out half of dough about 1/8 inch thick, between 2 sheets of lightly-floured wax paper. Cut out as many cookies as possible from dough with larger cookie cutter and transfer to baking sheets, leaving 1 inch between cookies. Bake for 10 to 15 minutes or until bottoms are light golden brown, then transfer to racks to cool completely. Repeat with remaining dough.
To make filling, gently melt chopped chocolate, jam, and heavy cream over the lowest heat setting, stirring until smooth. Spread about 1 teaspoon filling on bottom cookie, and sandwich with top cookie (optionally dusted with powdered sugar beforehand). Repeat with remaining sandwiches.
Did you make this recipe?
Let us know what you think!
Leave a Comment below or share a photo and tag me on Instagram with the hashtag #loveandoliveoil.