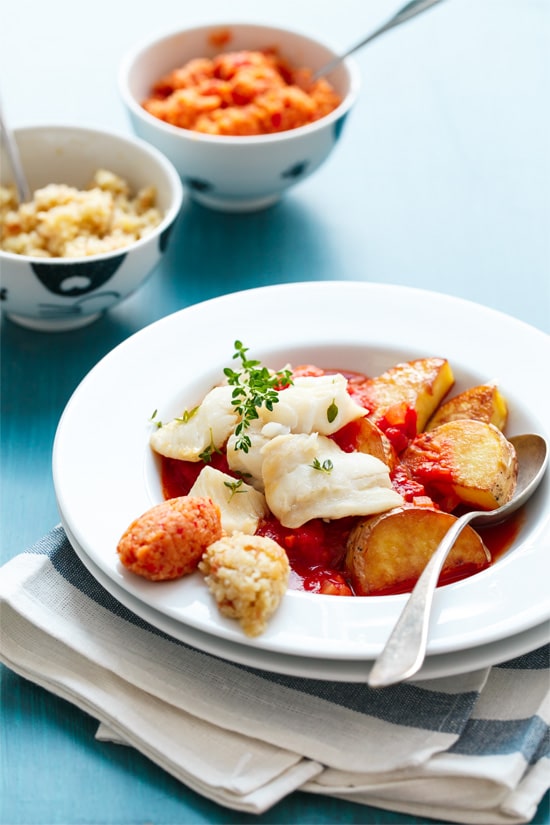 If you had told me before our cruise that the best meal I'd enjoy the entire time would come from a camp stove in the woods, I would not have believed you.
Although if you'd said that I'd struggle with spelling bouillabaisse even after typing it out nearly a dozen times, well, that I'd believe.
I booked the Alaska Fishing & Wilderness Dining excursion almost on a whim, nostalgic for the days I spent fishing on the river with my grandparents. It was definitely out of our comfort zone for sure (we are city folk, through and through) but it turned out to be our favorite excursion of the trip. Even when your line is slack and the fish aren't biting, there's something incredibly peaceful about it: the gentle rocking motion and the sound of the water lapping against the site of the boat is the ultimate form of meditation.
Of course when you do finally get a bite, that's when it gets exciting (not to mention a crazy arm workout… reel faster!)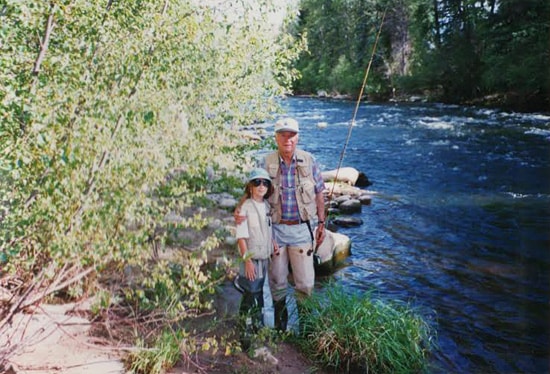 The last time I wore waders, I was about 1/3 the size I am now. I remember feeling as if I was swimming in the giant rubber overalls, shortly before realizing that I actually was swimming: my boots had sprung a leak and were full to the brim with icy river water. No wonder I could barely walk myself out of there, with fifty pounds of water in my boots.
Not much has changed, I still felt like I was swimming in the drab green rubber, donning the smallest size men's boots they had available.
The perks of being petite, I guess.
Luckily, no leaks this time (though I did my best to stay out of the water so as not to put that to the test).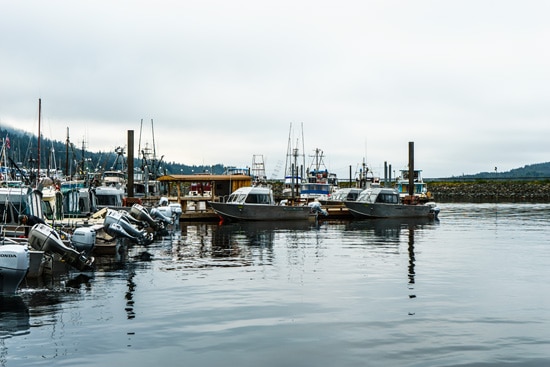 The day started early, the skies foggy and gray, the ocean a cool shade of steely blue. I was grateful for the beanie and gloves they provided us, and the extra warm under-layers we scrambled to purchase before leaving, not knowing exactly what kind of temperatures we'd encounter. It was quite chilly that morning, especially as we zipped across the bay in the little speedboat. The sun came out eventually, and I've never been more grateful for its warmth.
That's my first catch of the day, a scary looking rock fish. We caught a few more smaller fish between the three of us, as well as a few that weren't good for eating and got tossed back into the murky depths. Our guide seemed to imply that it was a surprisingly slow day on the water, that usually his guests went home with big halibuts or red snappers.
Buy hey, as long as we caught enough to eat for lunch, I was more than satisfied.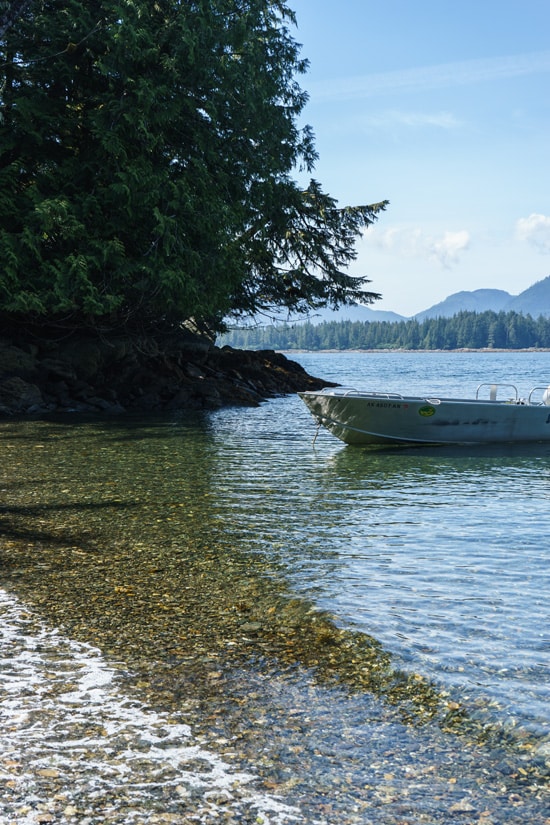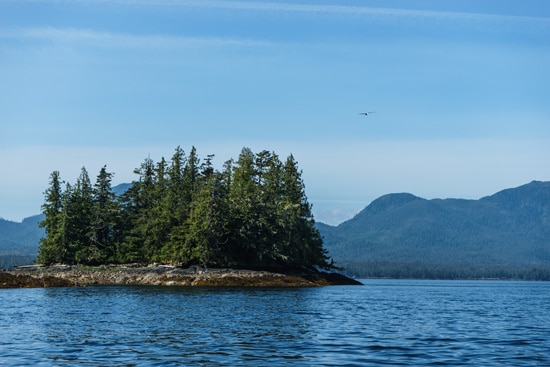 After about 4 hours on the water, we made our way to the rocky shore, our stomachs grumbling and so ready for some well-earned sustenance.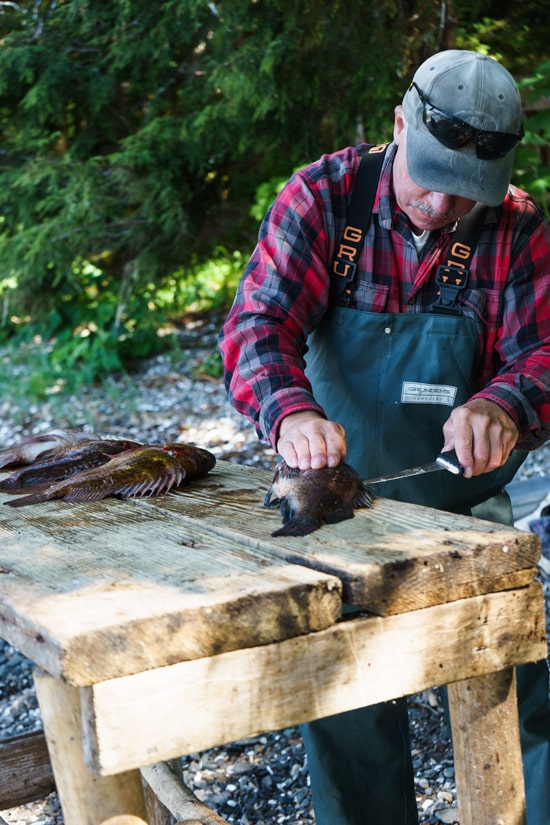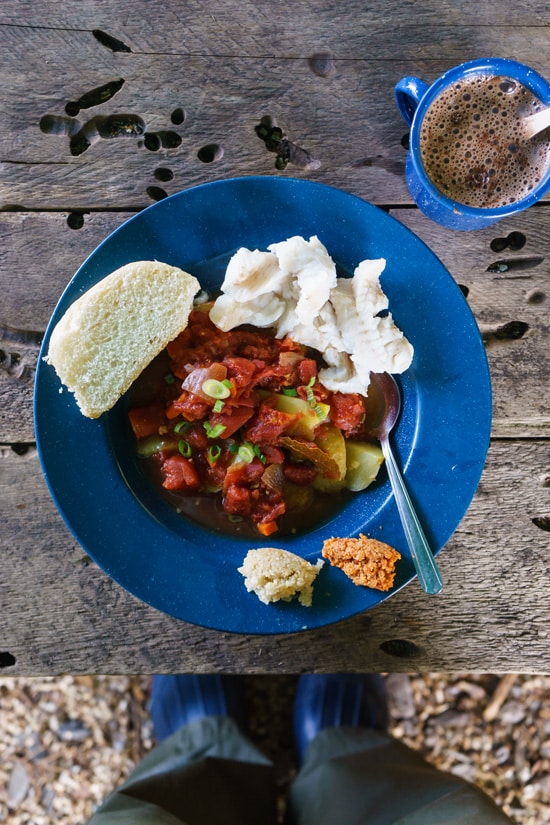 After a quick clean (both us and the fish), we were presented with a heaping bowl of the most satisfying seafood stew I've ever had, rich with tomatoes, hearty potatoes, and the tender and flaky fish served alongside. We devoured our bowls with a voraciousness I've rarely seen in myself (and for Taylor is usually reserved for big meaty sandwiches or chocolate cake).
It was truly perfection.
Camp food has come a long way. This was a far cry from the freeze-dried-mushy-whatever I've always associated with backwoods dining.
Although the enamelware mug full of steaming powdered hot chocolate mix also proves that some things never change. Maybe I was still chilled from the morning spent on the water, but that mug of hot cocoa was pure bliss.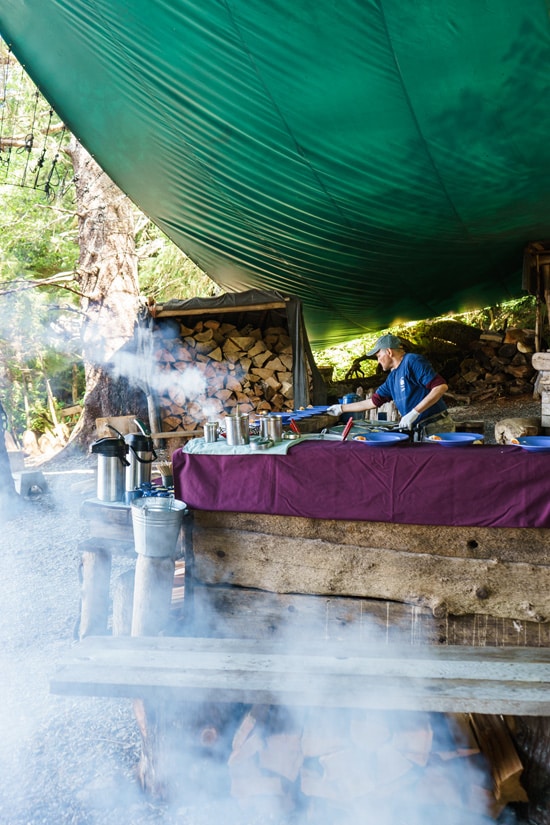 The "kitchen" was actually quite impressive, tucked into the trees beneath a giant green tarp, stacked log counters and a lineup of gas camp stoves to serve as a pretty sweet makeshift kitchen, churning out bouillabaisse by the stockpot-full to feed the hungry guests throughout the day. It's a far cry from the million-dollar stainless steel kitchens of the ship, that's for sure, but proof that amazing food can come from even the most rustic of setups (you know how they say the photographer makes the photo, not the camera? Well the same is true of the cook and their kitchen.)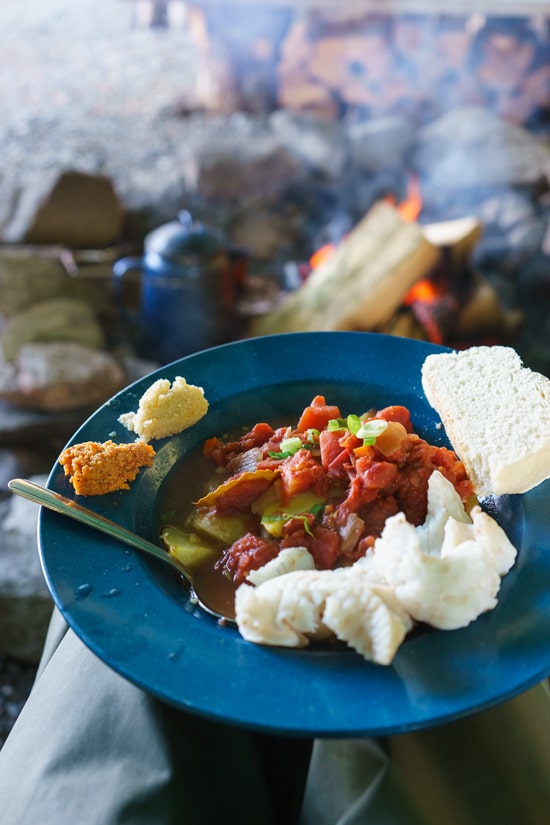 I'll admit, it tasted much better that afternoon, eaten out of a blue melamine bowl in the woods outside of Ketchikan, sitting in front of a smoldering campfire in a pair of waders 3 sizes too big. Sure, the picturesque surroundings contributed to the memories of taste, but I'm sure the homemade fish stock and the freshly caught fish (literally, 20 minutes from line to bowl) made a difference too. Nothing we can buy at Whole Foods can even come close to matching that.
Though we did our best to recreate it at home, and the results were quite pleasing, even without the ultra-fresh fish. This hearty dish would be so satisfying in the winter, a perfect warm you to the bone kind of recipe, but it's surprisingly light too (so we enjoyed it just as much in the heat of summer).
The aioli/rouille is probably the most interesting part of the recipe, and I implore you not to skip it. In my experience, aioli has always been more mayo-like, so the addition of the breadcrumbs really surprised me and made for a perfect textural contrast to the rich stew. The rouille is just a spicy version of the plain garlic aioli. Just that little extra bit of acidity and texture and spice takes the bouillabaisse from good to incredible.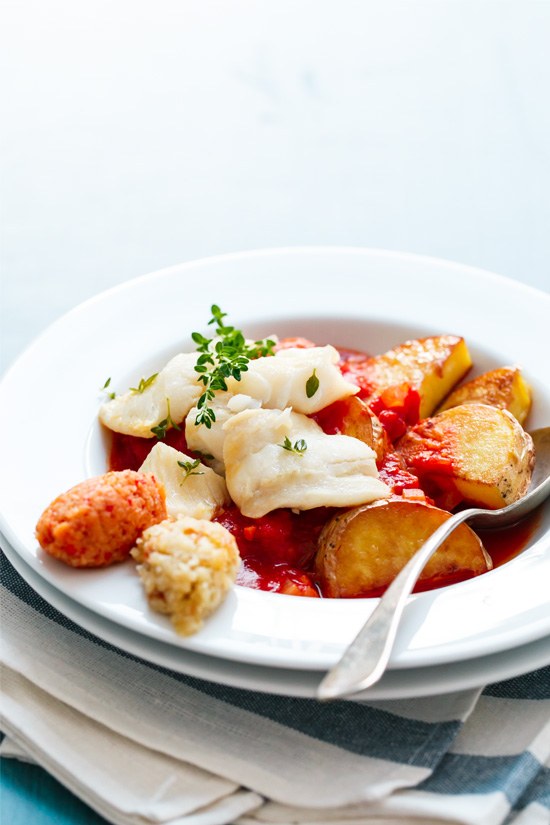 We simplified the recipe a bit, using store bought seafood stock and making the aioli/rouille from a single batch, but you'll still want to give yourselves a good chunk of time for this recipe, in which each part is prepared separately (aioli/rouille, tomato base, browned potatoes, and fish poached in fish stock) and then brought together at the very end. Luckily, though, it makes a lot and can be enjoyed for days (or even frozen to prolong the deliciousness even longer). This version is scaled for 4 hearty servings, but feel free to double it too.
Of note is the method of cooking the fish: gently poached in fish or seafood stock. For those with small apartments like us who often avoid cooking seafood because of the lingering smell, try poaching. Unlike pan-frying, which leaves your apartment smelling like a fish market for days, poaching does a good job of containing the fishy smells to the cooking vessel and no further. Frying the potatoes, however, that's another matter entirely (but I'm not complaining).
Saffron-infused Bouillabaisse with Breadcrumb Rouille
Ingredients:
For Aioli/Rouille:
5 large garlic cloves, smashed
1 teaspoon sea salt
2 tablespoons fresh lemon juice
1 to 1 1/2 cups dry bread crumbs, finely ground
1/2 cup extra virgin olive oil (extra virgin is best, but virgin is OK)
1/2 large piece jarred roasted red bell pepper, drained and rinsed
1/2 teaspoon harissa, or to taste
1/2 teaspoon freshly ground black pepper, or to taste
For Bouillabaisse:
1 pound firm white fish, such as snapper, halibut, or rockfish, cut into chunks
1/4 cup plus 3 tablespoons olive oil, divided
1 teaspoon chopped fresh thyme
1/16 teaspoon saffron threads (about 5 threads)
1/2 medium onion, chopped (about 1/2 cup chopped)
1/4 cup finely chopped fresh fennel bulb
1 medium carrot, chopped (about 1/2 cup chopped)
2 cloves garlic, minced
1 bay leaf
1/2 teaspoon red pepper flakes
1 (28 ounce) can whole tomatoes, drained (juices reserved) and coarsely chopped (you can also use 1 pound of fresh chopped tomatoes)
1 1/2 tablespoons tomato paste
4 cups fish or seafood stock, divided
2 large yukon gold potatoes, halved and sliced into 1/2-inch thick slices
Directions:
For aioli/rouille, mash garlic to a paste with salt using a mortar and pestle, or mince the cloves and mash with the side of a large chef's knife on a cutting board. Place the garlic paste in a food processor. With the motor running, slowly drizzle in oil, pulsing until smooth and emulsified. Add lemon juice and pepper and pulse to combine. Spoon half of mixture into a bowl and set aside. To remaining garlic mixture in food processor, add roasted pepper and harissa and pulse until smooth; add additional harissa to taste as desired. Transfer to another bowl. To each bowl, add about 1/2 cup of bread crumbs, mixing until smooth and paste-like, adding more breadcrumbs or oil as needed to acheive desired consistency. (Can be made up three days ahead of time; cover and refrigerate until ready to use. Bring the sauce to room temperature before serving.)
Toss the fish with 1 tablespoon olive oil and thyme; set aside and let marinate for at least 15 minutes or up to an hour.
Place 1/4 cup of warm water in a small dish. Add saffron threads and let steep for 10 to 15 minutes.
Heat 3 tablespoons of olive oil in a heavy saucepan over moderate heat until hot but not smoking. Add onions, fennel, and carrots and sauté about 3 minutes or until they begin to soften. Add garlic and cook another 3 minutes or until softened and fragrant. Add 2 tablespoons of steeped saffron tea along with bay leaf and pepper flakes and stir to coat vegetables. Add tomatoes and their juices and tomato paste and cook, stirring, about 4 minutes until simmering. Add 1 cup of stock and simmer, covered, for about 45 minutes, until tomatoes are broken down and liquid is reduced.
In a large non-stick skillet, heat remaining 3 tablespoons of olive oil over medium-high heat until shimmering. Add potatoes and cook until beginning to brown, about 10 to 15 minutes. Add remaining saffron tea to give them a rich, golden yellow color. Cover and simmer until fork tender.
While everything else is cooking, bring remaining 3 cups fish stock to a simmer in a medium saucepan set over medium-heat. Add fish chunks and poach until opaque and flaky, about 8 to 10 minutes.
To serve, line the bottom of each bowl with potatoes. Top with a few pieces of poached fish, then ladle about 1/2 cup of tomato mixture and 3/4 cup fish stock (more or less to taste) around the side of the bowl. Serve with warm crusty bread and spoonfuls of aioli/rouille on the side.
Did you make this recipe?
Let us know what you think!
Leave a Comment below or share a photo and tag me on Instagram with the hashtag #loveandoliveoil.
Disclosure: We're excited to share this recipe with you thanks to Princess Cruises, who invited us to experience Alaska (and all its delicacies) aboard the Ruby Princess. As always, all opinions written are purely our own. We're incredibly grateful for opportunities like these that allow us to continue sharing experiences like this with you, so thank you for supporting us and the brands we love.