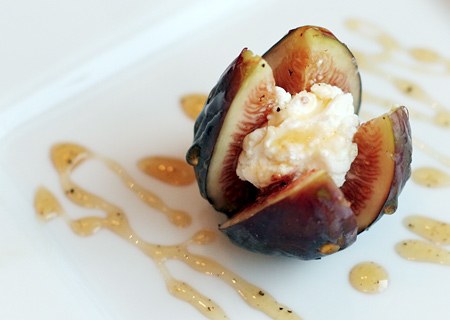 Figs seem to be something of a rarity, especially around here. No sign of them at our farmers' market, meaning they probably don't grow anywhere even remotely near here. But I was lucky enough to spot a pint of fresh figs one week at Trader Joes (where they've since disappeared) and made darn sure they didn't go to waste.
This recipe is simple. Almost too simple, you might think. It doesn't require any heat whatsoever, and very little effort beyond slicing the figs and mixing a bit of honey with some freshly cracked pepper. But boy does it taste good. You know I'm a sucker for anything with goat cheese in it, but a juicy fig, drizzled with a sweet and surprising peppered honey, well, we could have easily made an entire meal (or even dessert) out of just this. In Taylor's words, all you need is a bit of prosciutto and you'd be set (me, I was plenty happy without the prosciutto, but, you know Taylor, he thinks anything is better when it's wrapped/stuffed/sauteed with a bit of pork).
Figs intrigue me, especially after a recipe like this. Growing up they weren't something I ate, well, ever, and my only association with them was Fig Newton cookies (which, in my opinion, shouldn't even be allowed to be called a cookie). But a fresh fig is nothing like the off-colored goo inside those concoctions. I wish they had a longer season, or at least longer than a week or two here in Tennessee, so I could further explore their culinary possibilities.
(and psst!! For those of you that read this blog via email or rss reader, you may want to click on through to the site. I've just given it a pretty substantial facelift – you should take a gander for yourself, and let me know what you think!)
Fresh Figs with Goat Cheese and Peppered Honey
Makes 4 appetizer servings. Recipe from Epicurious.
Ingredients:
1/4 cup honey
1/2 teaspoon freshly ground black pepper
12 fresh figs
1/4 cup soft fresh goat cheese
Directions:
Combine honey and pepper in small pitcher; stir to blend. Starting at stem end, cut each fig into quarters, stopping 1/2 inch from bottom to leave base intact. Gently press figs open. Spoon 1 teaspoon cheese into center of each. Arrange figs on platter; drizzle with peppered honey.
Did you make this recipe?
Let us know what you think!
Leave a Comment below or share a photo and tag me on Instagram with the hashtag #loveandoliveoil.