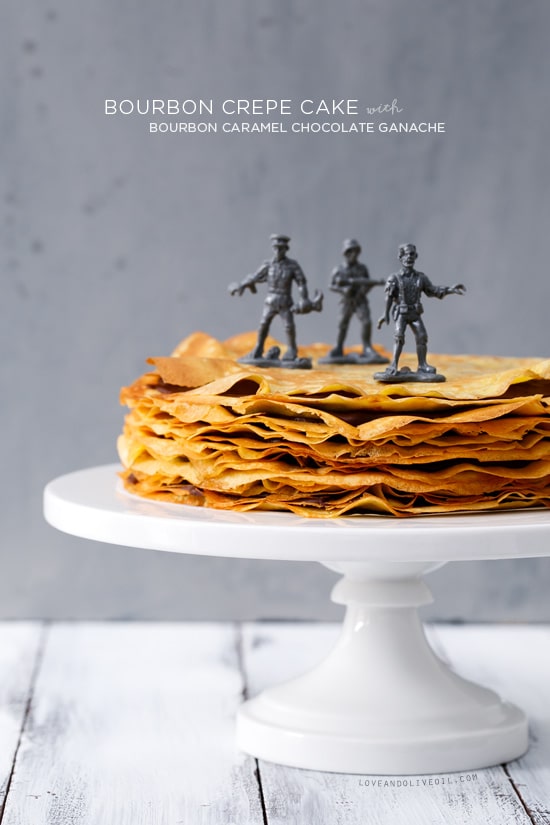 CREPOCOLYPSE!
Sorry, I had to. Zombies really have nothing to do with crepe cakes, but this cake needed some sort of topper and it was either zombies or army men. And since I've already used Taylor's army men, zombies it is.
I guess you could call this invasion of the crepe cakes, considering I got a whopping 17 entries! You guys are ambitious and I love you for it. Sure, the prospect of winning one of these amazing Swiss Diamond crepe pans probably encouraged you more than I did (what can I say, it's an amazing pan, and the 7 of you who I'll be randomly selecting shortly are going to LOVE it). Be sure to click through to the end of this post see the other amazing crepe creations!
For my own crepe cake I went boozy: bourbon-spiked crepes filled with bourbon caramel chocolate ganache. Surprise! I'm baking with bourbon again. At what point do I need to rename this blog Love & Bourbon, because, really? It's getting out of hand.
I have to say that I LOVED this Swiss Diamond crepe pan. When I've made crepes before I've simply used a dinky little nonstick skillet. And sure, it works (any non-stick skillet will, really), but Swiss Diamond is not kidding when they say you don't need any butter/oil/cooking spray with their nonstick pans. Seriously. I didn't use a dollop of butter or a drop of oil when making these crepes, and they came out beautifully speckled and golden brown, with crisp, lacy edges… just like I like them.
Can we all agree to acknowledge that the lacy edges are the best part of a crepe? Especially when two dozen are stacked together in a tower-o-crepe, the lacy edges turn into ruffles that give the crepe cake its dazzling appearance. I mean, people spend hours piping buttercream ruffles on fancy layer cakes, and here you have something just as pretty, au-naturale.
The crepes themselves seemed a bit chewier than crepes I've made before, with a bit more tooth, possibly due to the high proportion of eggs and egg yolks in this particular recipe. They were nice and sturdy though, perfect for filling and stacking, and beautifully golden yellow in color.
But the filling. Oh the filling. I could have eaten this by the spoonful. Why I'd never thought to make a chocolate ganache with warm caramel instead of warm cream, and bourbon-spiked caramel at that, I have no idea. This will be a recipe you'll most definitely see again.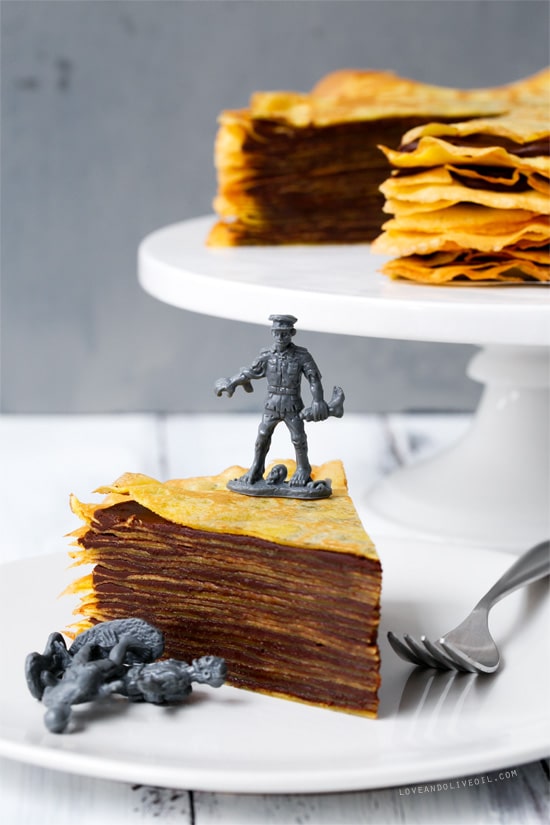 As a few challenge participants noted, a crepe cake is a great way to practice your technique, just because you're making so many of them. While I'm proud to say I only tossed one crepe, by the time you've made upwards of 20 crepes, let's just say you've got the technique down. And face it, even ugly crepes stack together into a gorgeous cake.
Bourbon Crepe Cake with Bourbon Caramel Chocolate Ganache
Ingredients:
For Crêpes:
 1 1/2 cups all-purpose flour
1/4 cup granulated sugar
2 teaspoons kosher salt
4 large eggs
4 large egg yolks
1/2 cup (1 stick) unsalted butter, melted and cooled slightly
2 cups whole milk
3 tablespoons bourbon
For Bourbon Caramel Ganache:
8 oz dark or bittersweet chocolate, finely chopped
1 cup granulated sugar
1 tablespoon corn syrup
pinch cream of tartar
1/4 cup water
2/3 cup heavy cream
1 tablespoon unsalted butter
1 1/2 tablespoons bourbon
1/2 teaspoon vanilla extract
1/4 teaspoon fine sea salt
Directions:
To prepare the crepes: in a medium bowl, whisk together the flour, sugar, and salt. In another bowl, whisk together the eggs and egg yolks. Add the eggs to the flour mixture and whisk until no dry ingredients remain. Slowly drizzle in the lukewarm melted butter, whiskingn constantly, then add the milk and the bourbon, whisking until smooth (if there are any visible lumps, strain the batter through a fine-mesh sievel). Cover tightly with plastic wrap and refrigerate for 1 hour.
Heat an 8-inch nonstick skillet or crepe pan over medium heat. Lightly coat with nonstick pan spray (if necessary, really good non-stick pans won't need any butter or oil). Gently re-stir the batter, then ladle 1/4 cup of batter into the skillet, tilting and swirling the pan until it is evenly coated. Cook for 1 to 2 minutes or until golden-brown. Slide a thin spatula under the edge of the crepe to loosen, then carefully flip. Cook for another 30 to 60 seconds seconds or until golden brown in spots, then transfer to a plate or parchment-lined baking sheet. Repeat with remaining batter (you should end up with about 20 crepes). Lightly cover and refrigerate the crêpes until completely chilled, at least 2 hours or overnight.
To make the ganache filling: Place chopped chocolate in a medium heat-proof bowl and set aside.
Combine sugar, corn syrup, cream of tartar, and water in a medium saucepan. Gently stir over medium-high heat until sugar is dissolved, brushing down any stray sugar crystals on the sides of the pan with a wet pastry brush. Bring to a boil and cook, without stirring, until sugar turns a light amber brown, swirling the pan as needed to ensure even coloring. This should take about 10 minutes. Watch it carefully, as the caramel can go from perfectly brown to burnt in a matter of seconds. Remove from heat and add cream and butter, whisking vigorously until smooth. Whisk in bourbon, vanilla, and sea salt. Let cool for 5 to 10 minutes, then pour warm caramel over chopped chocolate. Let sit for 30 seconds, then gently whisk until chocolate is melted and ganache is smooth. Let cool until it reaches a spreadable consistency.
Place one crepe on a cake stand or serving dish (if you plan to move the cake after assembling, place a piece of parchment paper underneath). Dollop about 2 tablespoons of the ganache onto the center of the crêpe (I used a medium cookie scoop for this and it was the perfect proportion) then spread the filling evenly over the crêpe using an offset spatula. To ensure your crepe cake stays level, try to spread more of the filling towards the edges, so it is slightly thinner in the center. Top with another crepe and gently press to adhere. Repeat with remaining filling and crepes, leaving the last crêpe on the top plain. Chill in the refrigerator for at least 2 hours or overnight to allow it to set before slicing and serving.
Did you make this recipe?
Let us know what you think!
Leave a Comment below or share a photo and tag me on Instagram with the hashtag #loveandoliveoil.
Kitchen Challenge will be back in January with another tempting task, stay tuned!