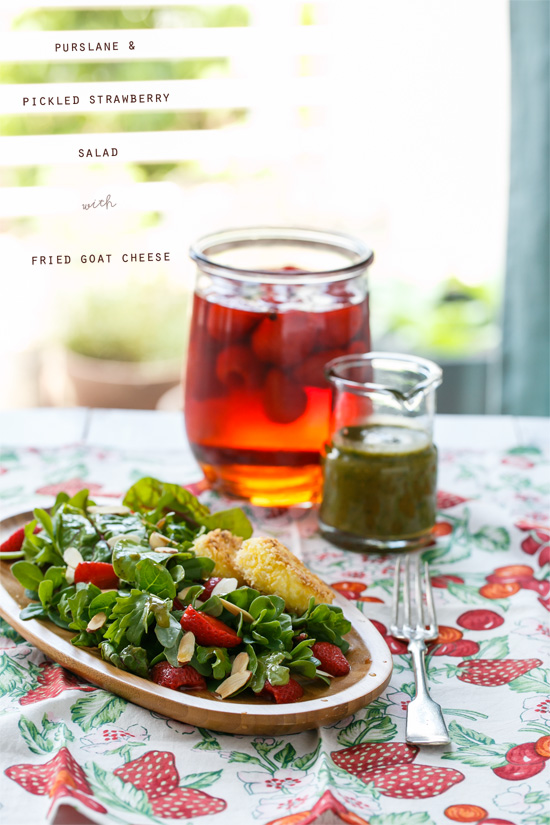 Pickled fruit is not a new concept, but I don't see it utilized nearly often enough. Heck, it's not something I utilize often enough.
Because pickled fruit, is, to put it bluntly, kind of awesome.
Now, don't confused pickled fruit with dill pickles. A 'pickle' is, technically, simply something (fruit or vegetable or otherwise) that has been preserved in a vinegar brine. That we've come to solely associate cucumbers with pickles is a sad thing, there is so much more to pickles than cukes. I wholeheartedly encourage you to think outside the cucumber.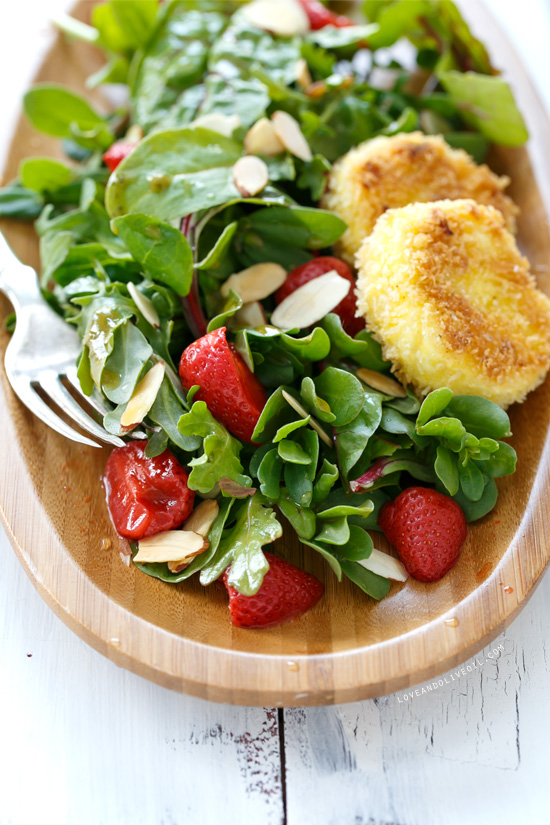 While I've pickled cherries before, pickled strawberries was new to me. I elected to quick-pickle them in the fridge, both to keep them slightly firmer and because I didn't have many strawberries left to spare. The quick-pickled version will keep for a week or two in the fridge. They do soften after brining, and I'm sure that water-bath canning would soften them even further, but I don't see why you couldn't if you wanted them to keep longer.
A strawberry salad seemed like the perfect way to showcase these tart treasures, topped with toasted almonds and fried goat cheese rounds (because fried goat cheese makes everything better).
I mixed a bag of salad greens (this Vive la France! mix is my current favorite) with some purslane from my balcony garden. I bought the purslane for the pretty flowers, not realizing at the time that it is actually somewhat of a pervasive weed around these parts, but also that it is edible. Since the plants have kind of taken off since I planted them in with my tomatoes, I have a feeling we'll be enjoying a lot of purslane salads this summer in an effort to keep the plants in check.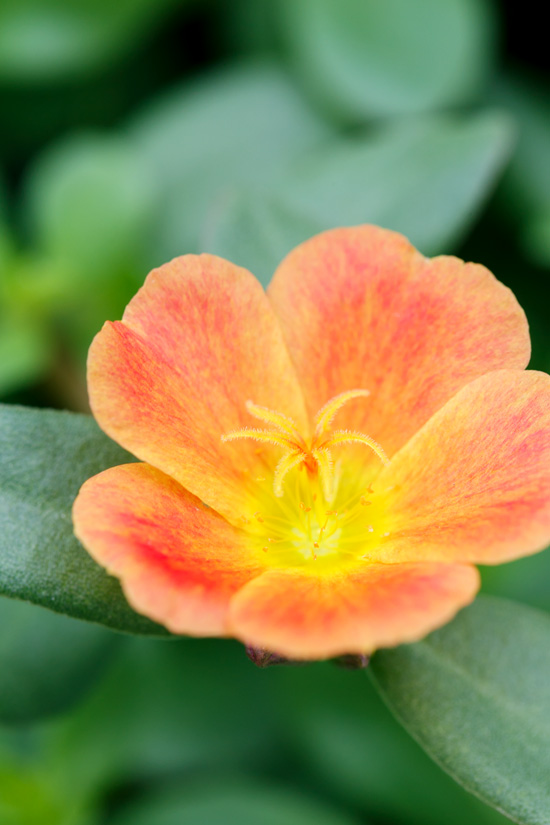 If you have any ideas for what else I can do with this new-to-me green (other than the obvious salads and simply gawking at the neon-colored blooms), I'd love to hear!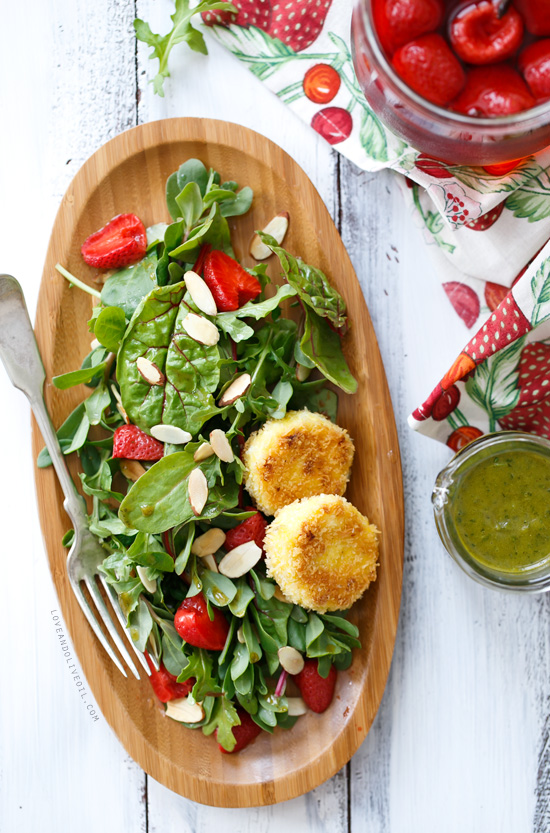 While the pickled strawberries and fried goat cheese might steal the show, the dressing shouldn't be discounted. I wanted something that would compliment the already tart berries and not overpower them, and ultimately decided on a light herb vinaigrette with a combination of parsley, basil, and oregano. While the sherry vinegar makes it look a bit like algae sludge, the taste is bright and tangy and a perfect compliment to the other ingredients in this unorthodox salad.
Purslane and Pickled Strawberry Salad with Fried Goat Cheese
Ingredients:
For Pickled Strawberries:
2 cups fresh strawberries, hulled
1 cup granulated sugar
1 cup white vinegar
1 cup filtered water
2 whole cloves
2 whole allspice berries
5 whole black peppercorns
1 cinnamon stick
pinch salt
For Herb Vinaigrette:
1/4 cup packed fresh parsley
1/4 cup loosely packed fresh basil (about 10 leaves)
1 sprig fresh oregano
3 tablespoons sherry vinegar
1/2 tablespoon honey
1/2 cup extra virgin olive oil
salt and pepper, to taste
For Fried Goat Cheese:
1 (8 ounce) log goat cheese, cold
1 large egg
1/2 cup all-purpose flour
1 cup panko bread crumbs
1/2 teaspoon salt and freshly ground black pepper
1/4 cup olive oil, for frying
For Assembly:
2 ounces mixed salad greens
2 ounces purslane
1/2 cup sliced almonds, lightly toasted
Directions:
To prepare the pickled strawberries, place berries in a glass jar or container. Bring sugar, water, vinegar, and spices to a boil in a saucepan until sugar is dissolved. Pour over berries and let cool to room temperature, then cover and refrigerate for at least 2 hours or up to 1 week to let the berries properly absorb the brine.
To prepare the herb vinaigrette, combine parsley, basil, oregano, vinegar, and honey in a food processor or blender. Pulse until finely chopped. Drizzle in olive oil and blend on low speed until emulsified and smooth. Season to taste with salt and pepper.
To prepare the fried goat cheese, in a small bowl, whisk the egg until frothy. Place the flour in a small, shallow dish. Toss together the panko, salt, and pepper in a another small, shallow dish.
Carefully slice the cold goat cheese into 8 even discs. Lightly coat each slice in flour, tapping to remove any excess. Dip in egg, followed by breadcrumb mixture, gently rolling until disc is evenly coated.
Heat the olive oil in a large non-stick pan set over medium-high heat. Gently place the goat cheese rounds in the pan and fry until golden brown, about 2 minutes per side.
To assemble, gently toss the salad greens and purslane with some of the dressing (to taste). Transfer to a serving platter or individual serving plates. Arrange warm goat cheese rounds on top; sprinkle with quartered pickled strawberries and toasted almonds.
Pickled strawberry recipe from Margo McCormack.
All images and text ©
Lindsay Landis
/ Love & Olive Oil
Did you make this recipe?
Let us know what you think!
Leave a Comment below or share a photo and tag me on Instagram with the hashtag #loveandoliveoil.