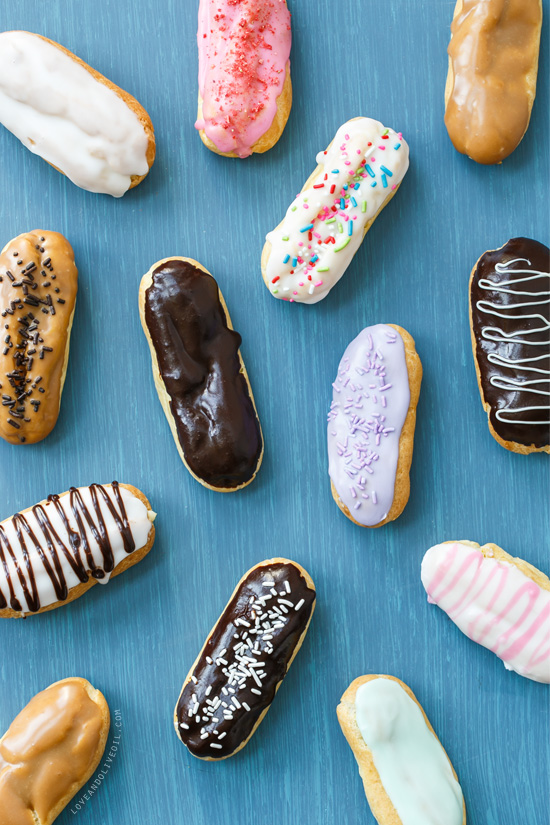 The very definition of an epic mess is when you're left cleaning chocolate from between your toes.
And yes, I probably should have expected that when I set out to recreate my eclair doodle from the announcement post, not quite realizing that 3 different glazes and 6 different colors and 2 different fillings plus drizzles and sprinkles would use up every bowl and spoon in the house. It's one thing to imagine the mess you'll make and another thing entirely to actually make it.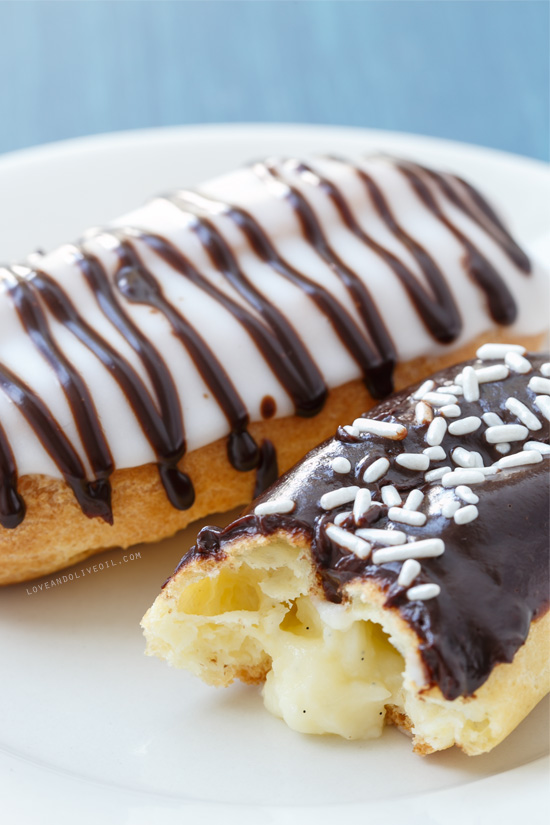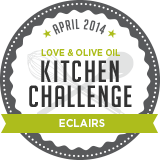 We made two different filling flavors, both based on a vanilla bean pastry cream. One had a touch of almond extract, the other, bourbon. I accidentally made less of the bourbon filling, turning us into prospectors hunting for the hidden gold (aka bourbon). It's like when you take your chances with the box of chocolates, hoping you don't get the nasty coconut one, except we were all hoping we'd choose the bourbon eclair. The almond was good, admittedly, but the bourbon was better.
But, overall? Not too bad. Definitely not something to be scared of, and not nearly as 'challenging' as some of the previous challenges. I think the piping is perhaps the hardest part, but the pastries puff up so much when baked that it pretty much masks any imperfections, and whatever's left gets covered up by the thick chocolate glaze.
If only all of my mistakes could be covered with chocolate glaze…
Pâte à choux. A fancy name for a pretty simple dough that starts on the stovetop, and finishes in the mixer. The result is smooth and shiny, like a thick and elastic cake batter that holds its shape when piped.
Tip: put your pastry bag in a drinking glass, folding down the top over the rim to make for easy loading.
There is no leavening agent in eclairs; rather, they rely on steam to create the crisp outer shells and hollow centers screaming to be filled with sweet pastry cream.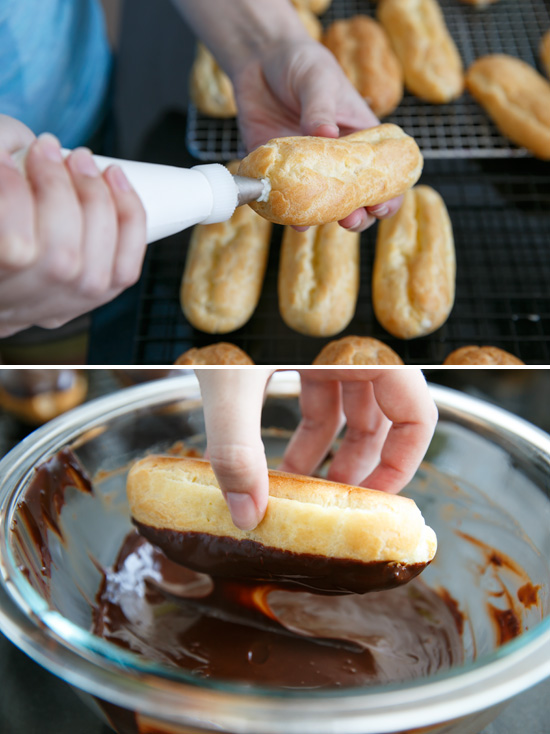 I used a small star tip to 'inject' the filling into the centers. You are supposed to make holes in the sides of the pastries anyway when they come out of the oven (to help release steam and keep them from collapsing), so it's not as hard as it seems. You can also get a specialty 'filling' tip for your pastry bag instead of a star tip, which would make this job even easier.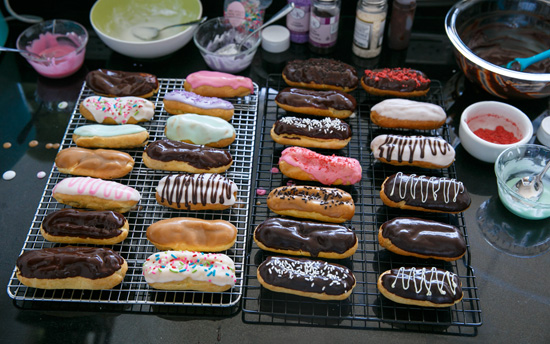 I will say that they are not lying when they say that eclairs are best enjoyed the day they are made: day old eclairs are not pleasant. The chocolate glaze held up at least, although the pastries themselves were a bit soggy. The ones with the powdered sugar glaze (the maple, white, and colored ones) melted and oozed all over the oven (where we stored them overnight because cats). It wasn't pretty.
Luckily we all ate our fill of them before ("mini" means you can totally justify eating 3 or 4, right?) so they didn't all go to waste.
Chocolate-Glazed Eclairs with Vanilla Bean Pastry Cream Filling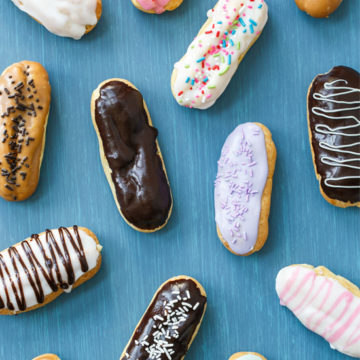 Ingredients:
For Pastry Cream:
2 cups whole milk
2 large eggs
1 large egg yolk
2/3 cup (5 ounces) granulated sugar
1/4 cup cornstarch
1/8 teaspoon salt
1/2 vanilla bean, scraped
2 teaspoons almond extract OR 2 tablespoons bourbon (optional)
For Eclairs:
1/2 cup milk
1/2 cup water
1/4 teaspoon salt
1 teaspoon granulated sugar
1/2 cup (1 stick) unsalted butter
1 cup all-purpose flour
5 large eggs
For Chocolate Glaze:
4 ounces bittersweet chocolate, shaved or finely chopped
1 tablespoon light corn syrup
1/2 cup heavy cream
Directions:
The day before, prepare the pastry cream filling as it needs sufficient time to set.
In a saucepan, bring the milk to a gentle simmer.
In a medium bowl, whisk the eggs and yolk together with sugar, cornstarch, salt, and vanilla bean seeds until combined and no lumps remain.
Slowly whisk a 1/4 cup of hot milk into the eggs; it will be thick at first but will loosen up as the milk incorporates. Continue adding hot milk, 1/4 cup at a time, until about half of the milk has been added and mixture is hot to the touch. Whisk the tempered egg/milk mixture back into the hot milk on the stove. Continue to whisk over medium heat until the mixture thickens and starts to bubble (careful as it will spatter). Continue to cook for exactly one minute to thoroughly out the starchy flavor of the cornstarch. Stir in almond extract or bourbon (if desired).
Pour the pastry cream into a container or heat-proof bowl, pressing plastic wrap against the surface to prevent a skin from forming, and refrigerate at least 2 hours or overnight.
To prepare the eclairs,  preheat oven to 425 degrees F. Line two baking sheets with parchment paper or silicone baking mats.
In a heavy saucepan, combine the milk, water, salt, sugar, and butter and bring to a full boil over medium heat. Add the flour all at once, stirring vigorously with a wooden spoon. Keep stirring until the mixture comes together and dries out slightly so that it pulls away from the sides of the pan, about 3 minutes.
Transfer dough to the bowl of a stand mixer fitted with the paddle attachment or a heat-proof mixing bowl. Add the eggs, one at a time, mixing well after each addition and scraping down the sides of the bowl as needed. When all the eggs have been added, the dough will be thick, smooth, and shiny.
Spoon some of the dough into a pastry bag fitted with a 1/2-inch-round tip. Pipe out tubes about 5 inches long and 1 inch wide, or 3-4 inches long and 1 inch wide for mini eclairs. Leave about 2 inches of space between eclairs as they will puff up quite a bit when baking. If you have any "tails" or imperfections, you can smooth them out with a damp fingertip.
Bake until puffed and just starting to show some color, about 10 minutes. Reduce oven temperature to 375 degrees F and continue to bake until hollow inside and evenly golden brown outside, about 12 minutes more. Remove from the oven and, using a metal skewer, poke a small hole in the end of each shell to allow the steam to escape. Let cool on wire racks.
To prepare glaze, combine chocolate and corn syrup in a heat-proof bowl. Heat the cream until it just starts to bubble (do not let it come to a full boil), and then pour over the chocolate. Let sit for 1 to 2 minutes, then stir gently until smooth and shiny.
To assemble the eclairs, stir the cold pastry cream until smooth. Spoon into a pastry bag fitted with a small star or special filling tip. Using the holes on each end that you made when the eclairs came out of the oven, fill the shells until they start to feel heavy. Do not overfill or they may start to spew filling out the sides.
Dip the top of each filled eclair into glaze, letting excess drip off, then place upright on a wire rack and allow glaze to set. Serve immediately or refrigerate for up to 6 hours. Alternatively, unfilled pastry shells can be frozen for up to 3 weeks. Recrisp in a 450 degree F oven for about 10 minutes; let cool before filling/glazing as instructed.
Did you make this recipe?
Let us know what you think!
Leave a Comment below or share a photo and tag me on Instagram with the hashtag #loveandoliveoil.
Another challenge in the books! I was very impressed with your submissions as well. Although I did have a few cream puff submissions, which weren't technically part of the challenge (cream puffs use the same general techniques but skip over the piping step in lieu of round spoonfuls) but I've included them here nonetheless because they were just so gosh darn pretty.
Beth, Beth's Blue Plate Special
Beth, Beth's Blog
Zainab, Blahnik Baker
Cat, Food Family Finds
Clarisse, The Tummy Train
Erica, Kensington, MD
Eva, Eva Bakes
Gianna, Olive Oil, Salt, & Pepper
Kate, Philippines
Kelly, Cups + Spoonfuls
Liz, The Floating Kitchen
Meriem, Culinary Couture
Sarah, Flour & Spice
Terra, Mckinney, TX
Linda, Bunch with Joy
Stephanie, Mother, I'd Like to Blog
Mabel, Miss Hangry Pants
Thanks for playing along! I'll be announcing the next kitchen challenge in June, in the meantime, happy baking!