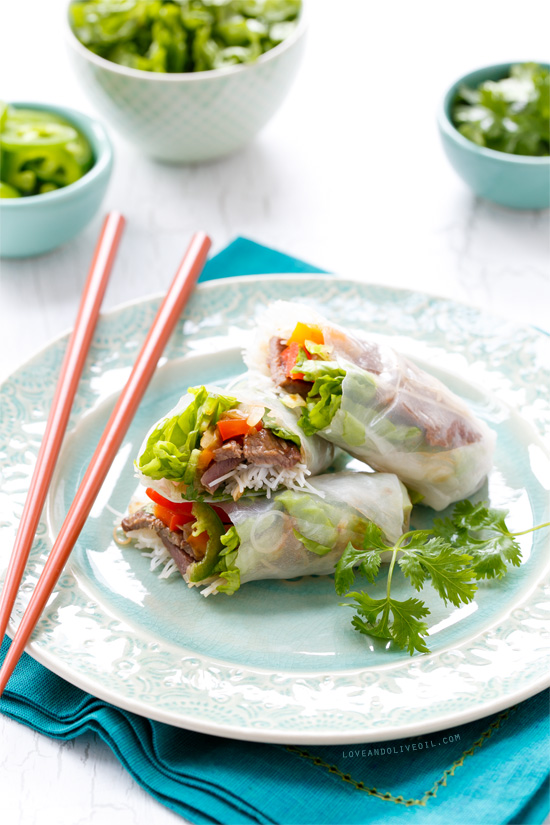 Some recipes are better with company.
The first time I had these Viet Fajitas, Taylor and I were staying with our friends Julie & Curtis in Florida before last year's Food Blog Forum (speaking of which, will I see you in Asheville this August?!) Anyway, she whipped out her trusty camp stove and cooked the fajita filling right on the table, in small batches as quickly as we could devour them. A perfect dish for entertaining, as each guest is responsible for rolling their own and you're not stuck manhandling sticky rice paper wrappers for hours on end.
I think of that night fondly as an evening filled with good friends and good conversation and amazing food.
Taylor, on the other hand, thinks of Disney (that's where we were headed the next day). He's such a Disney addict, in fact, that when we recreated Julie's recipe at home a few weeks ago he would not stop talking about Expedition Everest. Sigh. There's a psychological basis for it, I'm sure, the association of specific foods and flavors with certain memories. And with Taylor, the likelihood that those memories involve Disney is dramatically higher than any other involuntary memory he may have stashed away in his head. I swear Disney takes up like 67% of his brain.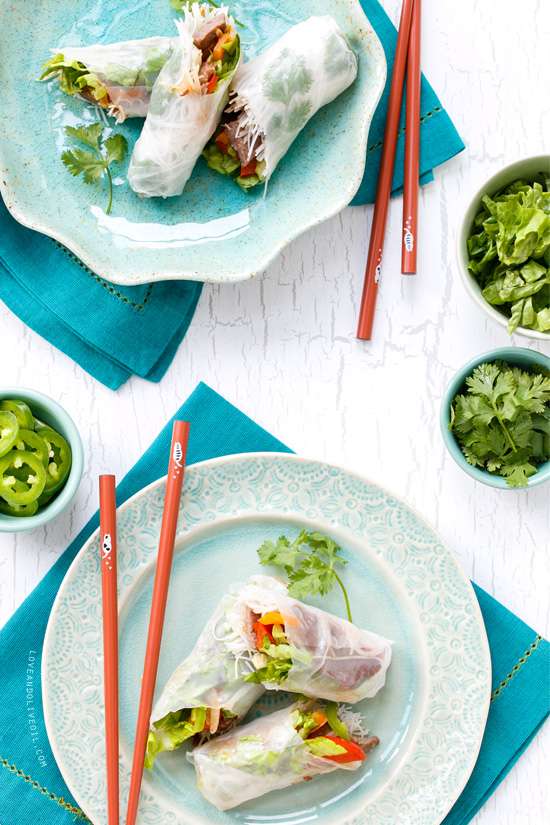 While Viet Fajitas is not the traditional name for this dish (I won't even try to spell or pronounce it), once you see what's inside, the nickname will make complete sense. A sizzling hot filling with peppers and onions, much like a fajita but with traditional Vietnamese flavors, and wrapped in a starchy blanket of rice instead of flour. Just try not to stare at the word "fajita" too long, or your eyes will cross and you'll start typing fatija. Tajifa. No. F-A-J-I-T-A.
What I love about these rolls is you don't even need a dipping sauce like with most spring rolls, because the sauce is built-in to the filling itself, with a flavorful marinade-begets-sauce of lemongrass, oyster sauce, and sesame oil.
My rice paper wrapping skills (or lack thereof) need some serious practice, rice wrappers being uniquely sticky and hard to work with if you don't know what you're doing. I want to try some different brands to see if it makes a difference, but the key is to just barely moisten the wrapper. You do not need to soak it, and the water should only be lukewarm. A quick dip should be more than enough to soften the wrapper to where its foldable, but not overly sticky. Needless to say, I'm still trying to find that perfect balance.
Viet Fajitas
Ingredients:
2 pounds beef (london broil or flank steak), sliced thinly across the grain into 1-inch strips
2 teaspoons chopped lemongrass
3 garlic cloves, chopped
1/4 cup oyster sauce
2 tablespoons sesame oil
1 package of rice vermicelli noodles, prepared according to package instructions
1/4 cup unsalted butter, divided
1 medium onion, halved and thinly sliced
1 red or green bell pepper, sliced into thin strips
1 package of rice paper wrappers
lettuce, cilantro, sliced jalapenos
Directions:
In a baking dish or zip-top bag, toss sliced beef with lemongrass, garlic, oyster sauce, and sesame oil. Marinate for at least 30 minutes or overnight if you have the time.
Cook rice noodles according to package instructions (do not overcook!) Drain thoroughly and and rinse with cold water. Set aside to dry.
Melt 1 tablespoon of butter in a large skillet or wok set over medium-high heat. Cook 1/4 of beef along with some of peppers and onions (taking care not to overcrowd the pan) until browned and cooked through. Repeat as needed with remaining filling, adding more butter and cooking in batches only as big as you can eat while still hot.
Fill a large bowl with lukewarm water. Quickly dip one rice paper wrapper into water until moistened all over (it does not need to soak, just in and out). Set on a surface covered with a damp dish cloth or a cutting board. Arrange lettuce, rice noodles, beef, and toppings in a row about 1/3 of the way down the wrapper, leaving at least 1 inch of empty space on either end. Fold in sides, then roll. Slice in half and serve while still hot. Repeat with remaining filling.
Did you make this recipe?
Let us know what you think!
Leave a Comment below or share a photo and tag me on Instagram with the hashtag #loveandoliveoil.