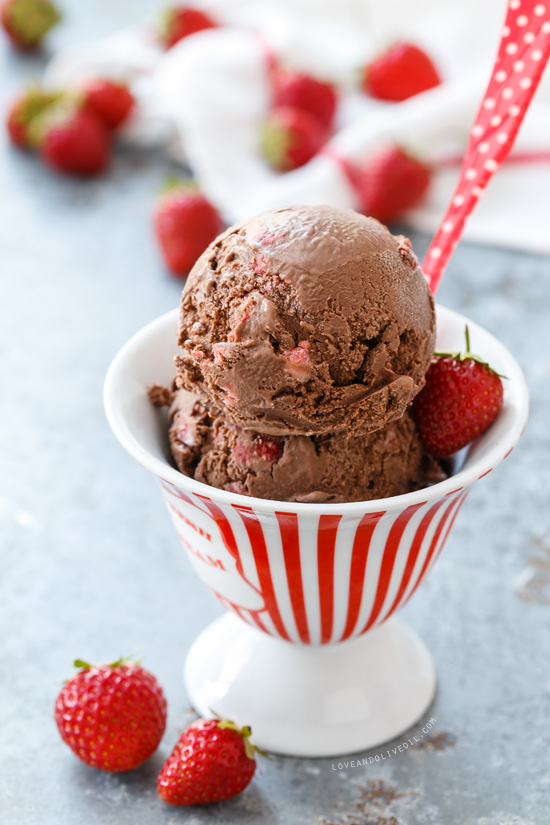 Strawberry season snuck up on me this year. In a good way. We've been so busy that I feel like my mind is a few months behind my body. I'm having a hard time remembering I need to wear shorts now and stop grabbing the winter scarves as I walk out the door. (Our trip to Colorado this week, however, quickly put me back in my place… brrr!)
Luckily I happened upon a facebook update from our favorite strawberry patch that the early berries were ripe for the picking (literally, guess we know the origins of that cliché). Despite the fact that I had a ton of work to do in anticipation of our trip, I couldn't ignore the siren call of the strawberries. And I'll probably go again when we get back because I'm just obsessed like that.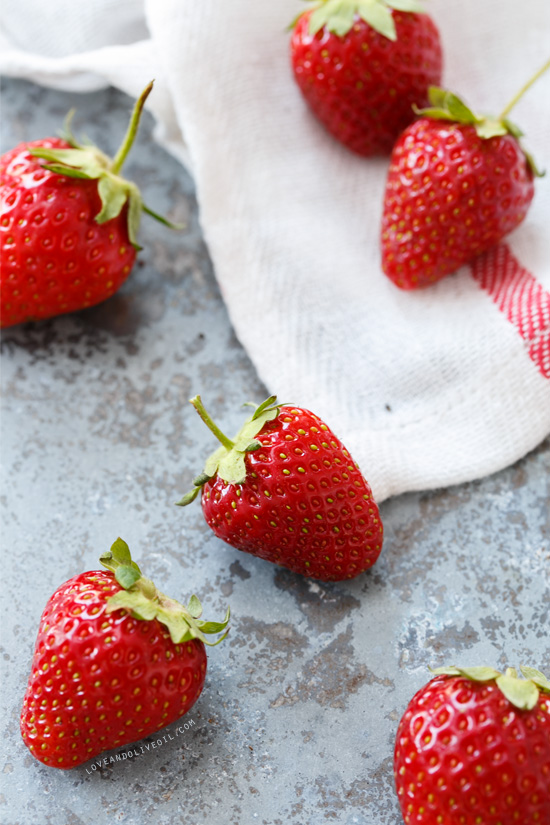 As for what to do with those 7 pounds of beautiful berries, some of them usually find their way into a frozen dessert in one way or another. But since I'm totally not a fruit dessert person, of course I had to find a way to get some chocolate in there too. Because what is good with fruit is going to be even better with chocolate.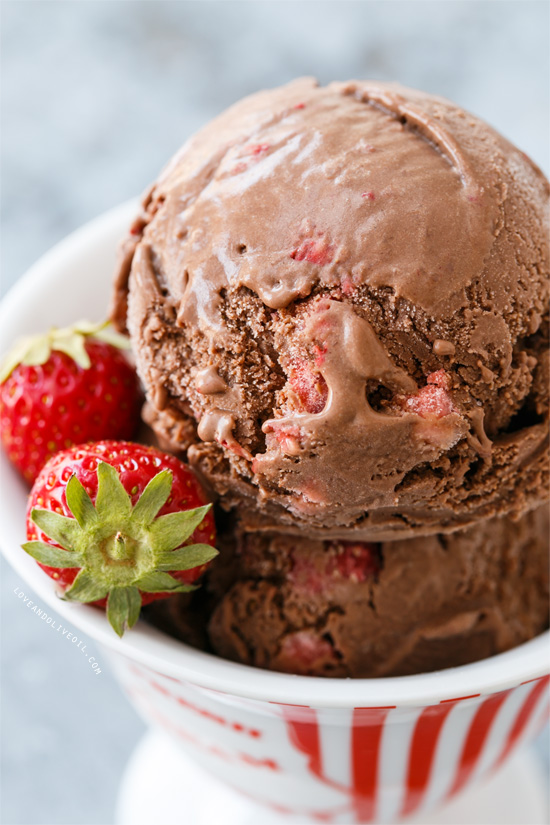 The result is this. Fresh strawberry ice cream meets dark chocolate ice cream (with both cocoa powder and melted chocolate, mainly because I couldn't decide which would give me the richest chocolate flavor so I used both). Granted, the chocolate flavor is stronger than the fruit one, which is why I threw in some strawberry chunks at the end for good measure.
As far as strawberry ice creams go, this one is pretty much top of my list. It may even be the key to household peace: pleasing both the chocolate ice cream lovers AND the strawberry fanatics. If only we could get a vanilla swirl in there we may even attain world peace. With ice cream. Go figure.
Dark Chocolate Strawberry Ice Cream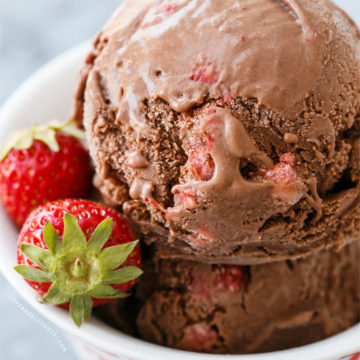 Ingredients:
2 cups (8 ounces) fresh strawberries, hulled
3/4 cup granulated sugar, divided
3 ounces semi-sweet chocolate, finely chopped
1 1/2 cups heavy cream, divided
1 cup whole milk
1/4 cup cocoa powder
1/4 teaspoon salt
3 egg yolks
Directions:
Chop strawberries with 1/4 cup of sugar in a blender or food processor until coarsely chopped. You still want some strawberry chunks in the final ice cream, so don't liquefy it. Just a few pulses should do it. Set aside.
Place finely chopped chocolate in a heat-proof bowl. Heat 1 cup of heavy cream in a saucepan until it just starts to bubble. Pour over chopped chocolate and let sit for 1 minute, then stir until smooth. Pour back into saucepan along with milk, remaining 1/2 cup sugar, cocoa powder, and salt. Cook over medium heat, stirring occasionally, until sugar is dissolved and mixture just starts to steam.
In a small bowl, whisk egg yolks. Slowly ladle in some of the warm chocolate mixture, about 1/4 cup at a time, until about half of the chocolate mixture has been incorporated and yolks are warm to the touch. You want to do this gradually; doing so will temper the egg yolks rather than cook them.
Pour entire yolk mixture back into the saucepan and return to medium heat, stirring constantly and scraping the bottom of the pan as you do, until the mixture thickens slightly and coats the back of a spoon, about 5 to 7 minutes (it will measure approximately 170ºF on a thermometer). Do not let it to boil. Remove from heat and stir in remaining 1/2 cup cream and chopped strawberry mixture.
Pour into a zip-top freezer bag and seal. Place in a bowl filled with ice water, and let sit for 15 to 20 minutes or until cooled to room temperature. Alternatively you can use a traditional ice water bath, with a smaller bowl nested inside a larger bowl filled with ice water. When cool, transfer to refrigerator (cover with plastic wrap if using a bowl) and chill for at least 3 hours or preferably overnight.
When custard base is completely chilled, churn ice cream according to manufacturer's instructions until the ice cream is the consistency of soft serve. If desired, you can stir in a few more coarsely chopped strawberries at this point if you want larger, more visible chunks. Spoon a into a freezer safe container and freeze overnight until firm.
Did you make this recipe?
Let us know what you think!
Leave a Comment below or share a photo and tag me on Instagram with the hashtag #loveandoliveoil.