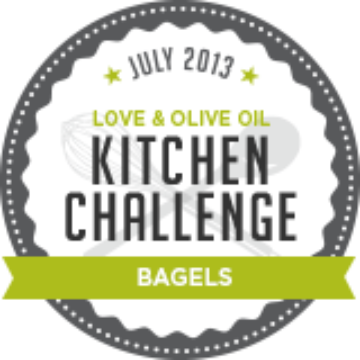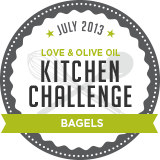 Yeast.
Some people fear it.
If you've had less-than-stellar results with breads in the past, know that it's probably a result of old and long-dead bargain yeast than anything you did to kill it. So don't blame yourself; instead, pick up some new yeast and try, try again.
This month we tackle one of the most elusive yeasted breads (at least for those of us outside of New York): the bagel. And really the biggest difference between bagels and other breads is the boiling. Yes, bagels are boiled before they are baked. It's what gives them that distinctive chewy texture that you don't get in, say, a baguette.
Whether you toast them with butter, stack them high with meat and cheese, or (my personal favorite) smother them with cream cheese and smokey lox, a good bagel is worth the effort (and I don't know about you, but knowing that I can make bagels quicker than I could fly to New York, without the need for any dramamine? I'd call that a challenge worth my time).
The Challenges:
Yeast. Make sure it's fresh. You'll save yourself a good deal of time trying to revive dead yeast. Also be sure you follow your recipe: instant yeast and active dry yeast are not the same thing. King Arthur Flour has a great primer on all things yeast. I've also heard good things about the dried yeasts they sell on their site (and may be ordering some myself!)
Flour. Again, follow your recipe, but most bagel recipes call for high-gluten or bread flour. The extra protein in bread flour means extra gluten, which when shaped and boiled and baked will make for the perfect chewy bagel.
Malt. Some recipes also call for barley malt syrup or non-diastatic malt powder (check online or in health food or brewing supply stores for these ingredients). Molasses and even honey can be used in its place.
Proof. Being that it's the middle of the summer I don't think finding a 'warm' spot to let the dough proof is going to be a problem for any of us. However, if your kitchen is feeling rather chilly, turn on your oven for 30 seconds, then TURN IT OFF. Place your dough inside the oven and close the door. The residual heat from the oven should create the perfect environment for your dough to reach its fullest potential.
Flavors and Toppings. The biggest challenge here might be deciding what KIND of bagels you want to make (poppy and sesame seed is only the beginning), but also what to DO with them once they're boiled and baked.
Resources & Recipes:
Join me!
If you're up for the challenge, make a batch of homemade bagels by Sunday, July 21st. Send me a photo of your results to be included in the roundup. This challenge is simply about getting in the kitchen and challenging yourself to make something new; you aren't required to have a blog to participate, nor are you required to post about it if you do. However, if you do have a blog and post about the challenge, you are more than welcome to use the above graphic if you'd like to spread the word!
I hope you're ready to RISE to the challenge!