Do you know what today is?
It's National Cookie Dough Day, duh.
The holiday I officially declared last year, on the release date of my first book.
This was a recipe that got cut from the book shortly before it went to print. It was a last minute decision, based on the fact that I was not confident enough in my macaron skills to get my own recipe to work. We filled the pages with more images and resources instead.
'Twas a shame too, because it was probably my absolute favorite recipe in there. I really, really love macarons. And when they're filled with almond cookie dough? Well… I'm a goner.
The shells are basic macarons. Unflavored, uncolored, uncomplicated. I used the same base recipe I had success with during the macaron challenge, a basic French style from I Love Macarons, again, drying out the almond flour and whipping the meringue until it just barely forms stiff peaks.
The filling is where it gets fabulous: a creamy (and egg-free!) raw cookie dough, almond scented and speckled with grated dark chocolate.
Is your mouth watering yet?
Happy cookie dough day, everyone! How are you celebrating?
Almond Cookie Dough Macarons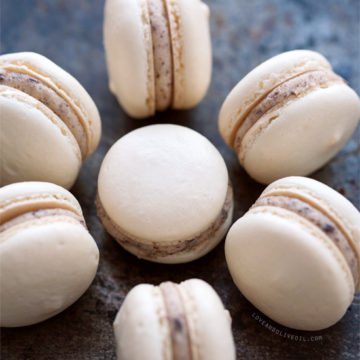 Ingredients:
For  Macarons:
85 grams almond flour or finely ground almonds
150 grams powdered sugar
90 grams egg whites (from about 3 large eggs), room temperature
55 grams superfine or granulated sugar
For Cookie Dough Filling:
1/4 cup unsalted butter, room temperature
2 tablespoons granulated sugar
1/4 cup light brown sugar, packed
3/8 cup all-purpose flour
1/8 teaspoon salt
1/4 teaspoon vanilla extract
1/4 teaspoon almond extract
1 to 2 tablespoon heavy cream (or as needed)
1.5 ounces dark chocolate, coarsely grated using a vegetable peeler (about 1/4 cup grated)
Directions:
In a food processor, combine almond flour and powdered sugar; pulse for 20 to 30 seconds until evenly distributed. Sift at least once through a fine mesh sieve, discarding any larger particles.
Place egg whites in a clean metal mixing bowl or the bowl of a stand mixer. Mix on medium speed until frothy, then slowly add superfine sugar, a little bit at a time with the mixer on medium speed, scraping down the side of the bowl periodically. When all the sugar has been added, increase speed to medium high and whip until meringue is firm and glossy and forms medium-stiff peaks.
Pour half of the almond flour mixture into the meringue and stir, folding and scraping a few times until no dry flour remains. Add the remaining flour and mix, folding and spreading the batter against the sides of the bowl about 15 to 20 times or just until the meringue and flour are incorporated and the batter falls off the spatula in thick ribbons. Do not overmix.
Transfer the batter to a large piping bag fitted with a 1/2-inch round tip, twisting the end of the bag to prevent the batter from leaking. Pipe small circles onto a parchment or silicone-mat-lined baking sheet, leaving about 1-inch of space between them.
Rap the baking sheet firmly on the counter, then smack the bottom of the baking sheet multiple times with your hand to remove any remaining air bubbles. If any pointy 'tips' still remain, you can gently press them down with a lightly moistened fingertip. Sprinkle with cocoa nibs (if using), and set aside to dry.
Preheat oven to 375 degrees F. When macarons are dry (you should be able to just barely touch the surface of the cookies with a dry finger without them sticking), stack the baking sheet on top of another empty baking sheet (this will help them bake more evenly). Reduce the oven temperature to 350 degrees F and bake for 15 to 18 minutes, keeping an eye on them to make sure they do not brown. Remove from oven and let cool completely on a wire rack, then gently remove from baking sheets.
To prepare filling, beat butter, sugar, and brown sugar in a large bowl with an electric mixer on medium speed until light and fluffy. Mix in flour, salt, vanilla, and almond extract on low speed until incorporated. Add cream and beat until fluffy, about 2 minutes, adding more cream if necessary to acheive desired consistency. Stir in grated chocolate. Transfer mixture to a piping bag fitted with a 1/2-inch round tip. Gently pipe about a teaspoon of filling onto underside of half of the cooled cookies, then top with remaining cookies.
Cookies will keep, refrigerated in an airtight container, for up to three days.
Did you make this recipe?
Let us know what you think!
Leave a Comment below or share a photo and tag me on Instagram with the hashtag #loveandoliveoil.