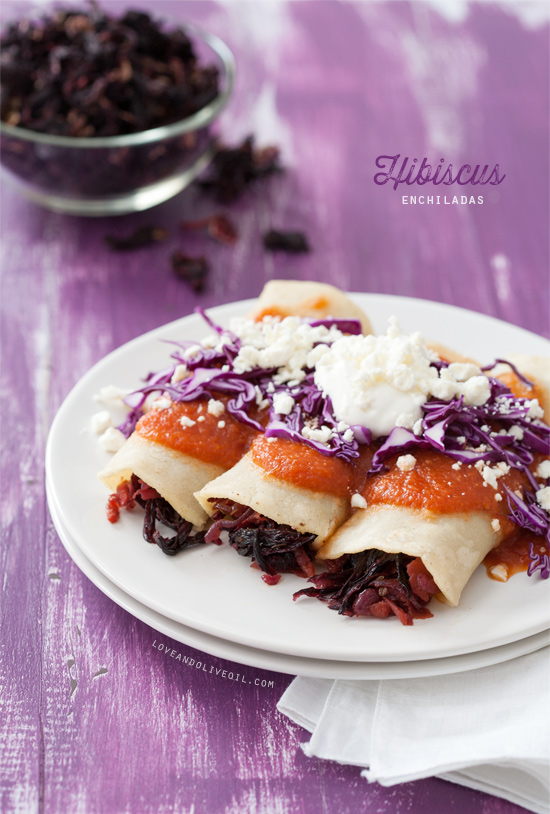 Let's just go ahead and call this what it is, ok?
Hibiscus week.
Seriously, though, I didn't realize a pound of dried hibiscus would be so much. And as a result of my overzealous purchase, these fragrant flowers are finding their way into some unusual places. Savory things and sweet things, drinkable concoctions and edible delicacies. Taylor's even using some in his next batch of beer.
Don't blame me, blame this recipe.
Because I haven't been able to get these enchiladas out of my head since I first saw the recipe nearly 2 years ago.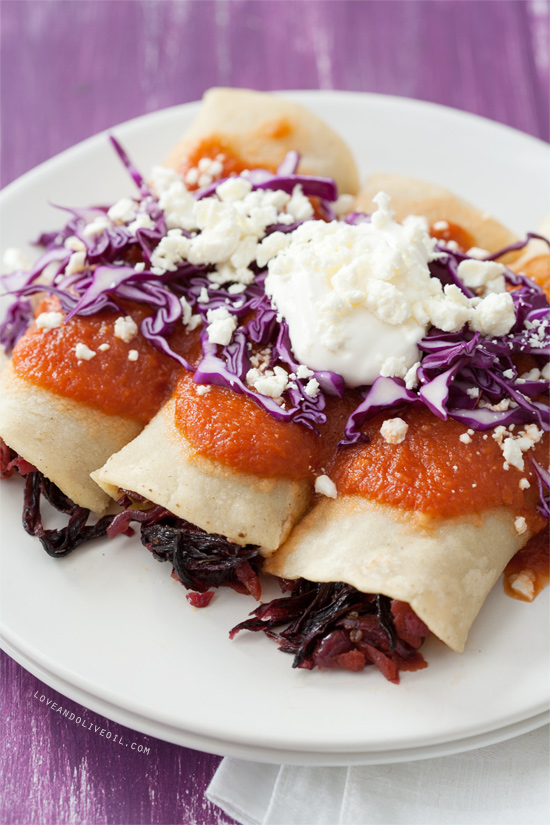 At the time, I had seen some dried hibiscus flowers at Trader Joe's. Or, at least I thought I had. Constantly haunted by visions of hibiscus enchiladas, I swear I scanned the dried fruit section at TJ's every time we went. Weekly. For the last year and half.
Nothing.
Well, plenty of raisins and dried figs and freeze-dried blueberries, but not a trace of hibiscus. They must have been discontinued (like many of the best products at Trader Joe's). That, or I was delusional and never saw them to begin with.
I was still unable to shake the thought of these unusual enchiladas (that would make a good band name, don't you think? The Unusual Enchiladas. I like it.) Anyway, I finally broke down and ordered some dried hibiscus flowers online.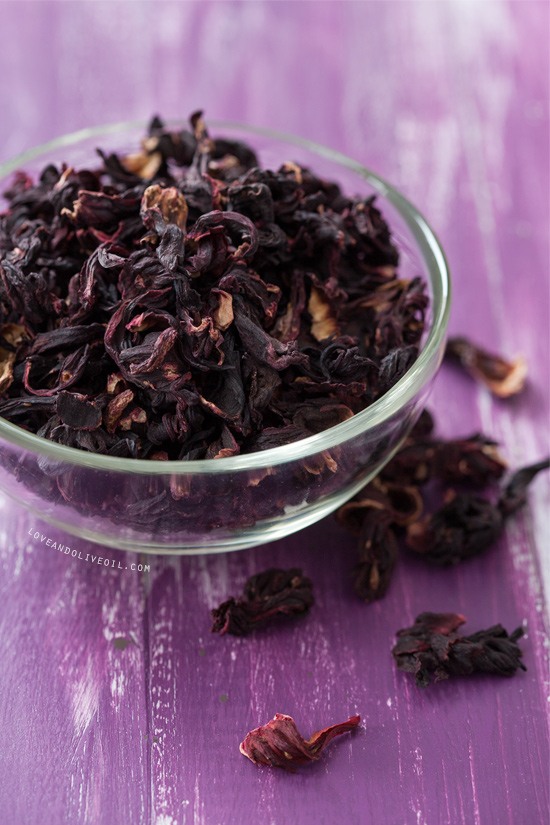 The hibiscus flowers are rehydrated and used inside the enchiladas in place of meat, their chewy texture perfectly suited and equally satisfying along with some shredded carrot and jicama (a Mexican root with a texture like a radish and a sweet, starchy flavor somewhere between a potato and a watermelon). They are topped with a simple chipotle tomato sauce, shredded purple cabbage, sour cream and crumbled cotija or feta cheese.
The verdict? Totally worth obsessing over.
Hibiscus Flower Enchiladas
Ingredients:
For Filling:
1 cup dried hibiscus flowers*
1/4 cup olive oil
1 large onion, thinly sliced
2 large carrots, grated
1/2 cup grated jicama
1/4 cup sugar
1/2 teaspoon ground dried oregano
1/4 teaspoon dried thyme leaves
Kosher salt and freshly ground black pepper
For Sauce:
2 pounds ripe plum tomatoes, cored, halved (or substitute 1 28-ounce can of whole plum tomatoes, drained and halved)
1/2 white onion, chopped
3 garlic cloves, thinly sliced
2 canned chipotle chiles in adobo
2 tablespoons vegetable oil
3 large dried bay leaves
Kosher salt
For Assembly:
Vegetable oil, for frying
12 6-inch corn tortillas
1 cup sour cream
1 cup thinly sliced purple cabbage (from about 1/2 a small cabbage)
1/2 cup Cotija or feta cheese, crumbled
*Dried hibiscus flowers, also called Jamaica flowers, are available at some natural foods stores and at Latin markets, or available online (I purchased mine from Nuts.com).
Directions:
For filling, bring hibiscus flowers and 2 cups water to a simmer in a small saucepan. Remove from heat; let steep until flowers are just tender, 5–8 minutes. Strain, reserving flowers (the liquid can be saved for another use).
Heat olive oil in a large heavy pot over medium heat; add onion and sauté until softened, 3 to 5 minutes. Add softened hibiscus flowers, carrots, jicama, sugar, oregano, and thyme and cook, stirring occasionally, until carrots are tender and liquid is mostly evaporated, about 15 minutes. Season with salt and pepper. Keep warm.
Meanwhile, combine tomatoes, onion, garlic, and chipotle chilies along with 2 cups of water in a large saucepan over medium heat. Cook, stirring occasionally, until tomatoes begin to break down, about 20 minutes. Remove from heat and transfer mixture to a blender, in batches if necessary (be cautious blending hot liquids). Purée until smooth.
Carefully wipe out saucepan; add oil and return to medium-high heat. When oil begins to shimmer, carefully add tomato mixture and bay leaves. Bring to a boil, reduce to a simmer, and cook, stirring occasionally, until thickened, about 10 minutes. Season to taste with salt.
Pour vegetable oil into a large skillet to a depth of 1/4-inch; heat over medium-high heat until shimmering. Working in batches, submerge tortillas and fry, turning once, until just softened, about 30 to 45 seconds (no longer, you do not want them crispy). Transfer to a paper-towel-lined plate to drain. Spoon 1/4 cup of filling down the center of each tortilla and roll to enclose. Spoon chipotle sauce over top and garnish with sour cream, cabbage, and cheese.
Did you make this recipe?
Let us know what you think!
Leave a Comment below or share a photo and tag me on Instagram with the hashtag #loveandoliveoil.