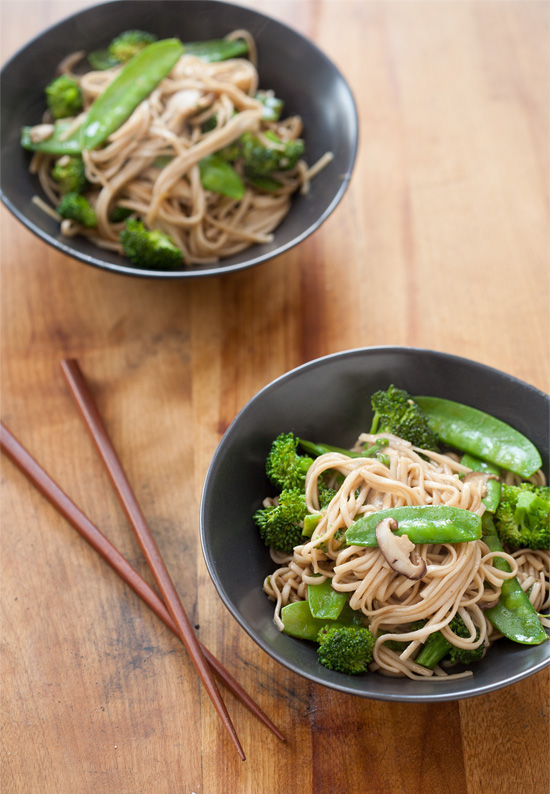 Dinner is often a battle. A battle to beat the clock; to get the dishes done with so we can get on with our night, to get the leftovers wrapped and put away before the cat decides that she likes peas and runs off with a few before we can stop her (as a preventative measure you'll often find the mess cleaned and the kitchen spotless before dinner even hits the table – it's the only way we can eat in peace).
Sometimes I have to force myself, and Taylor, to take a step back and remember that we do, indeed, love to cook, and that making dinner should be an enjoyable process in and of itself, not just something to get over with as quickly as possible.
I forget that sometimes.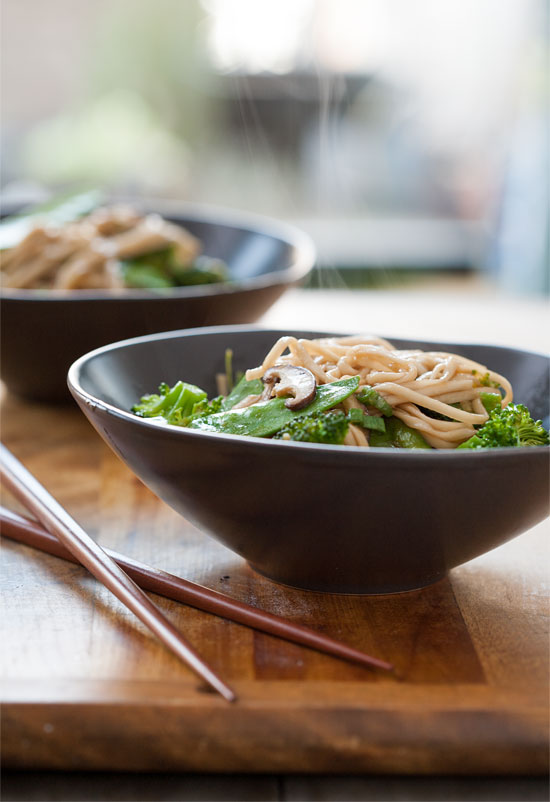 Still, even acknowledging that I enjoy the process of cooking does not mean that I'll ever enjoy cooking recipes that take hours on end. Unless it's Thanksgiving, overly complex processes and lengthy, multi-part concoctions have no place in our kitchen.
Because, let's be honest, you really do need to get on with your night. Even as much as you might enjoy cooking dinner, if it takes more than 30 minutes, it might not be done before 7:00 and god knows you can't cook and really pay attention to your favorite show at the same time.
Such is life.
And such are times when quick dishes like this one are whole heartily appreciated. No, it won't win any awards for the BEST DAMN BOWL OF NOODLES you've ever had. But you know what? I get to cook, enjoy cooking for a whole 30 minutes, and get on with my night.
Use this recipe as a base, and mix it up as you see fit. We added broccoli, and didn't buy nearly enough mushrooms. Carrots or peas or any other veggie would work too. We used lo-mein noodles we found at Whole Foods, but the original recipe called for simply fresh spaghetti or linguine. Use what you can find, and make it your own.
Weeknight Lo Mein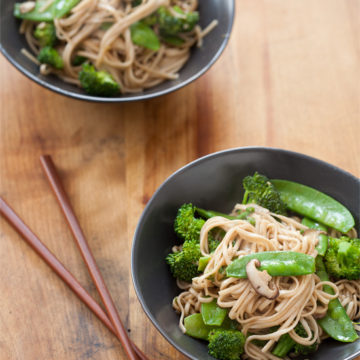 Ingredients:
1/2 cup low-sodium chicken broth
3 tablespoons low-sodium soy sauce
2 tablespoons Chinese oyster sauce
1/2 teaspoon toasted sesame oil
1 teaspoon Chinese chile-garlic sauce, plus more for serving
12 ounces lo mein noodles (or substitute fresh linguine or spaghetti)
1/4 cup vegetable oil
1/2 pound shiitake mushrooms, stems discarded and caps thinly sliced
1 tablespoon minced peeled fresh ginger
1 garlic clove, minced
6 ounces snow peas, trimmed
1 cup broccoli florets
3 scallions, thinly sliced
Directions:
Bring a large saucepan of water to a boil. In a small bowl, combine the chicken broth with the soy sauce, oyster sauce, sesame oil and the 1 teaspoon of chile sauce. Add the pasta to the boiling water and cook until just al dente, 2 to 3 minutes (or according to package directions). Drain.
In a large nonstick skillet, heat the vegetable oil. Add the mushrooms and cook over high heat, stirring occasionally, until tender and browned, about 5 minutes. Add the ginger and garlic and cook until fragrant, about 1 minute. Add the snow peas and broccoli and cook, stirring and tossing occasionally, until the snow peas are barely cooked, about 2 minutes. Stir in the noddles and the sauce along with the scallions. Cook, stirring occasionally, until the sauce is absorbed and the noodles are browned in spots, about 5 minutes. Serve immediately.
Did you make this recipe?
Let us know what you think!
Leave a Comment below or share a photo and tag me on Instagram with the hashtag #loveandoliveoil.