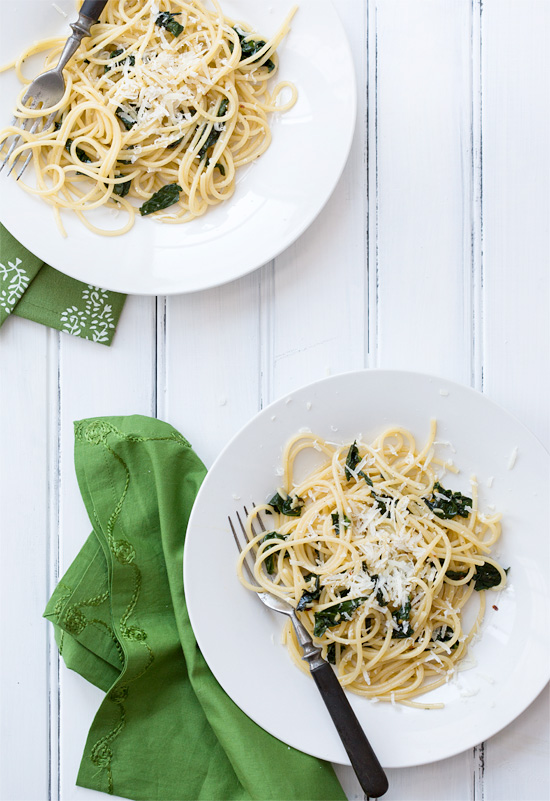 Sometimes I wonder what you guys think of me.
This chick must live on sugar. She must eat chocolate for breakfast, lunch, and dinner.
And sure, I may have posted desserts for the last 42 days straight.
Sorry about that (but you know you liked it).
Here, have some spinach.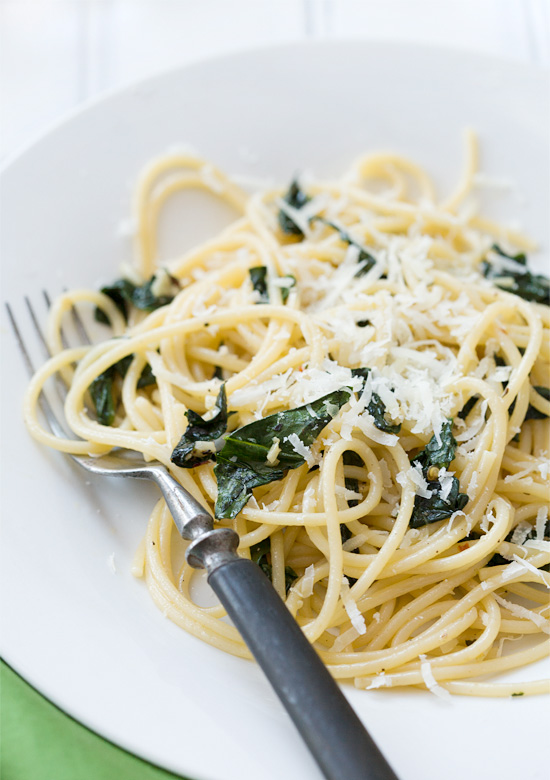 This is a typical weeknight meal for us. Mix a carb/pasta/grain with some sort of vegetation and call it dinner. I have to say I think Taylor nailed this one, the salty pecorino and spicy red pepper flakes the perfect compliment to the lightly sauteed spinach that practically melts in your mouth.
Yes, I did just describe spinach as melt-in-your-mouth.
What's gotten in to me?
But seriously folks, it's that good. And the fact that it is so simple makes it even better. You could use whole wheat pasta too if you were so inclined, but, well, that's just pushing it for me. I mean, spinach! Popeye would love me right now. And not just because my name is Olive Oil (clearly it was meant to be).
Spinach and Garlic Spaghetti with Pecorino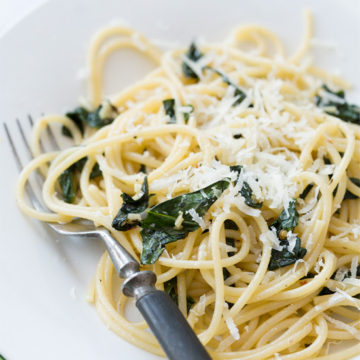 Ingredients:
1 pound spaghetti
1/4 cup extra virgin olive oil
4 garlic cloves, minced
3/4 teaspoon red pepper flakes
1/2 teaspoon Italian herb seasoning
6 ounces fresh baby spinach
1/2 teaspoon salt
1/2 teaspoon freshly ground black pepper
2 ounces Pecorino or Parmesan cheese, grated
Directions:
Prepare pasta according to package directions; strain, reserving 1 cup cooking liquid.
Heat oil in a large saute pan set over medium heat; add garlic, red pepper flakes, and Italian herbs and stir until fragrant, 1 to 2 minutes. Add spinach, and toss until just wilted, about 3 minutes. Season with salt and pepper.
Add pasta to pan with spinach mixture and toss to coat, adding reserved cooking liquid 1/4 cup at a time as needed. Transfer to serving plates; top generously with Pecorino cheese and serve.
Did you make this recipe?
Let us know what you think!
Leave a Comment below or share a photo and tag me on Instagram with the hashtag #loveandoliveoil.