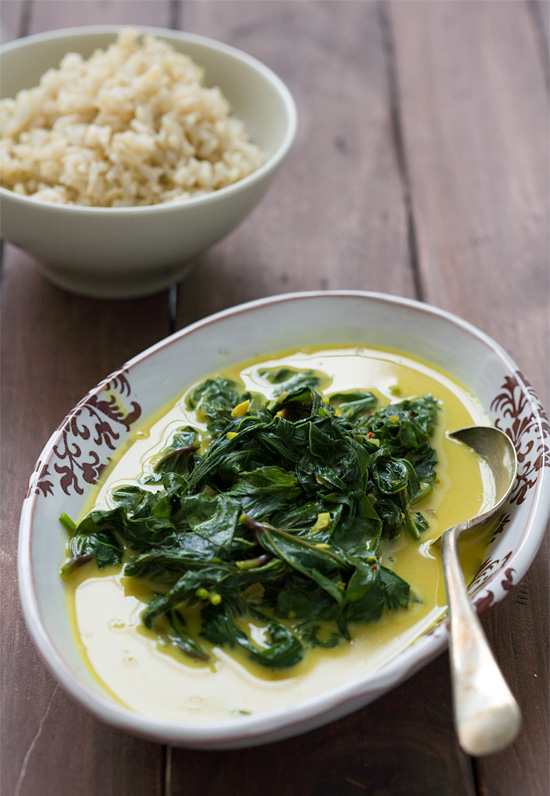 One of the things we love most about participating in a CSA is being exposed to new a different things. Granted, after a few years of belonging to one we're now familiar with that which was once new, but this year we were in for a treat.
Sweet potato greens.
Have you ever cooked with or eaten them before?
Apparently they are extremely healthy, but have a milder flavor than many leafy greens. Something along the lines of spinach or swiss chard. That and when cooked properly they are tender and buttery and practically melt in your mouth.
How often can that be said about a leafy green?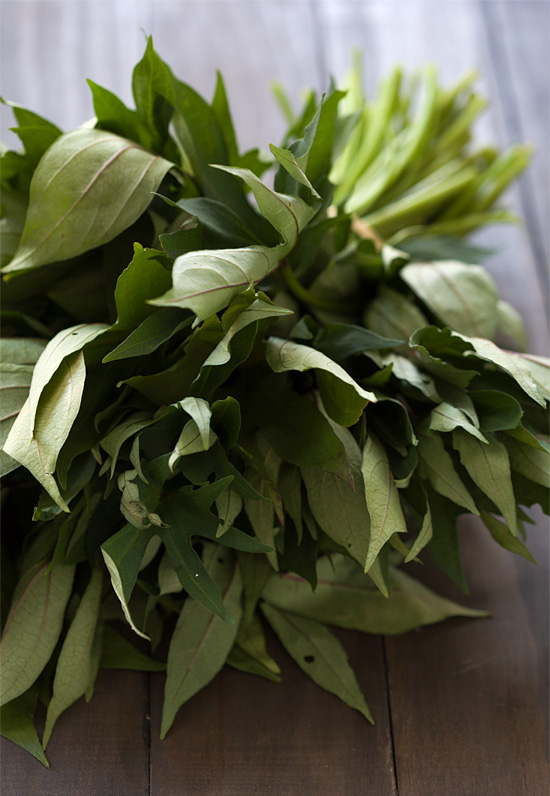 We've been talking about adding a recurring feature here on Love & Olive Oil for some time now, called "New to Us" or something along those lines, featuring new and unusual ingredients that we have never cooked with before. Consider this the very first installment, and a double one at that. What else is new to us? Fresh turmeric. We found some at Whole Foods alongside the ginger, and knowing we were making this recipe, couldn't resist trying it out. Fresh turmeric basically looks like little orange ginger roots. Or, you know, mummified baby carrots. You peel and grate it (wear gloves if you don't want your fingers to turn yellow), and add it to your dish. It's got a fantastic color and flavor more subtle and refined than the dried stuff (but that'll work too, in a pinch).
The turmeric, combined with lemongrass, shallot, ginger, and chili in a rich bath of coconut milk becomes something akin to a mild curry. It's not overly spiced or overly spicy, but rather smooth and luxurious – a perfect compliment to these unique greens.
The bummer about this recipe is sweet potato greens aren't exactly something you can go to the grocery store and buy. But maybe you have a garden, or a friend with a garden, or know of a local farm that grows sweet potatoes and can bum some tips off of them. I think the closest substitute here would be fresh spinach, perhaps swiss chard although it has a bit more bite to it and may need to be cooked slightly longer.
Sweet Potato Greens in Coconut Cream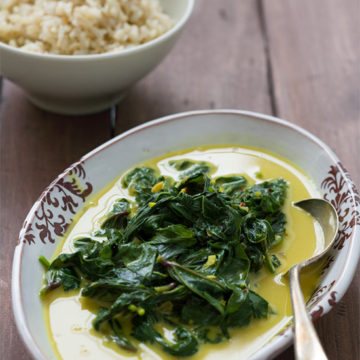 Ingredients:
1 large bunch sweet potato greens
1 tablespoon vegetable oil
2 shallots, minced
1 clove garlic, minced
1 teaspoon minced fresh ginger root (from a 1/2-inch piece)
2 teaspoons grated fresh turmeric root, or 1 teaspoon ground turmeric
1 red thai chili, finely sliced
2-inch lemon grass stalk, trimmed and finely sliced
1 to 2 teaspoons soy sauce, or to taste
1 cup coconut cream plus 1 cup water (or substitute 2 cups light or regular coconut milk)
2 to 3 teaspoons raw or brown sugar, or to taste
Salt and pepper, to taste
Directions:
Bring a large pot of water to a rolling boil. Trim off any thick stems from greens. Add to boiling water and blanch for 60 seconds, then immediately transfer greens to a bowl filled with ice water to stop the cooking. Drain.
Heat oil in a large pan or wok over medium heat. Add shallots, garlic, ginger, turmeric, chili, and lemongrass and stir until fragrant, 1 to 2 minutes. Stir in soy sauce.
Add coconut cream and water (or coconut milk) and bring to a simmer. Add blanched greens and return to a boil; reduce heat to low and simmer for 2 minutes. Add sugar and season with salt and pepper to taste. Spoon into bowls and serve with rice.
Did you make this recipe?
Let us know what you think!
Leave a Comment below or share a photo and tag me on Instagram with the hashtag #loveandoliveoil.