There's a lot to love about Tennessee: the people, the southern hospitality, the food, and of course… the whiskey. Nashville is home to several small craft distilleries and last week a group of bloggers were treated to a tour of Collier and McKeel, a new local distillery producing traditional Tennessee Whiskey, one small batch at a time.
The proprietor, Mike Williams, along with his right hand men, Ryan and Justin, are very passionate about what they do. And it shows. They gave us a thorough explanation of the distillation process, which is actually quite interesting even for those who don't normally drink whiskey (like my wife, who only seems to want to bake with it). Rather than simply buying whiskey from a larger producer, putting a label on it and creating a brand, Collier and McKeel makes their product from scratch using a blend of corn, rye, and malted barley. They grind, mash, and distill the spirits in-house, finally filtering it through a thick layer of sugar maple charcoal (the part in the process that differentiates a Tennessee whiskey from other whiskeys).
During the tour we sampled whiskey from several different barrels that were in the middle of the aging process. We compared the difference in flavor between whiskey aged in small barrels and whiskey aged in larger traditional barrels. Because the ratio of wood to liquid is higher in small barrels, they tend to impart the flavor from the barrel quicker than larger barrels do.
Regardless of the size of the barrel, what ultimately matters most is the flavor. Collier and McKeel's whiskey has all of the caramel, vanilla, and desirable woody characteristics that you would expect from a quality Tennessee Whiskey.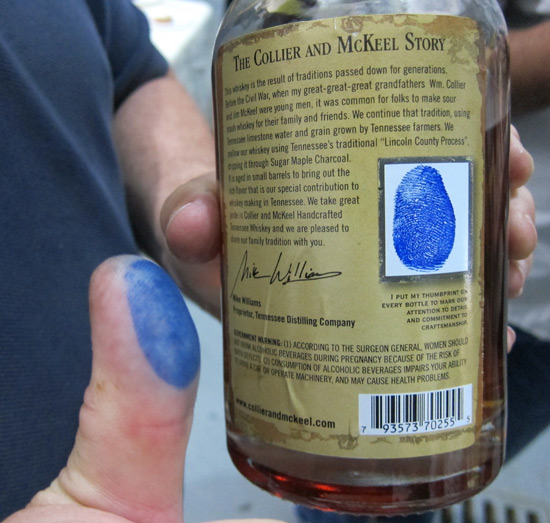 It is refreshing to see a small operation run by people who really care about what they are doing. Mike literally has his hands on every step of the process. Every bottle that goes out the door gets his thumbprint on the back to show his commitment to quality and attention to detail.
I'm all for supporting local businesses. Especially the boozy ones.