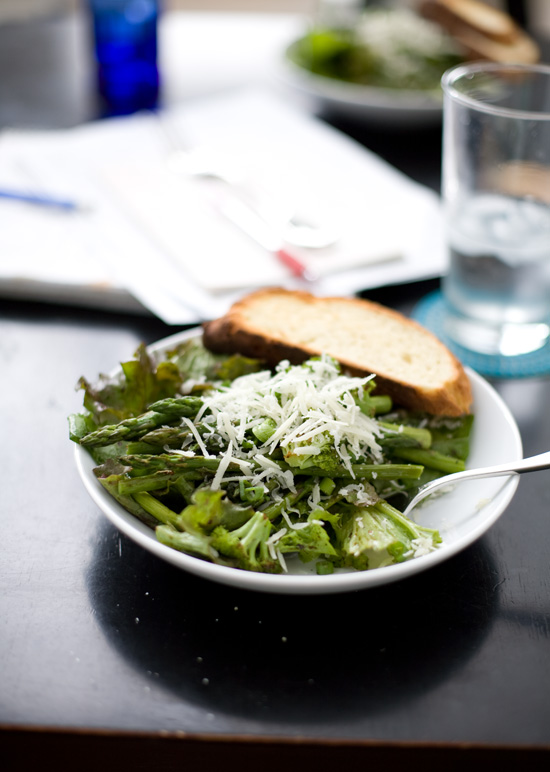 Sometimes, life happens.
It happens every day in fact.
And the styled and edited scenes that appear on this blog don't often reflect that.
So for once, I'm going to take a step back. Show you what dinner at our house really looks like.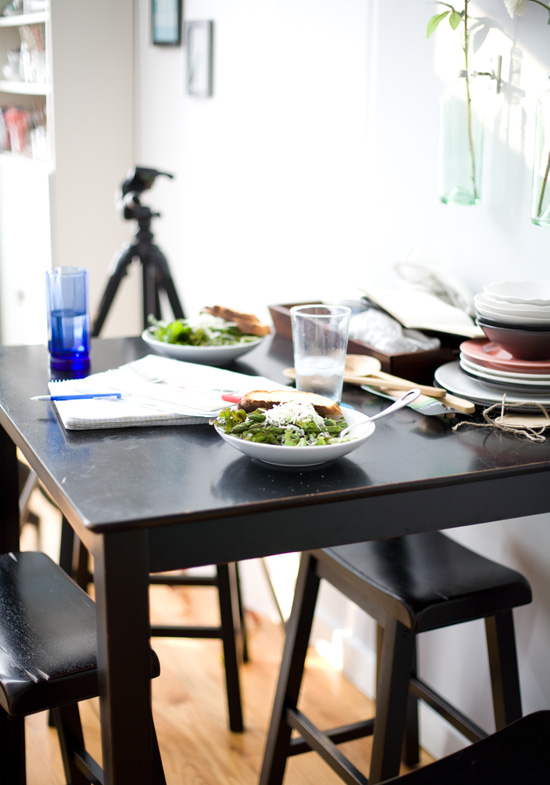 Right now at least, we're in the middle of some big projects. Projects that take up all of our attention, leaving little time for things like organization.
Yes, dishes seem to be taking over our life and our home.
We're running out of places to put them.
There are random spoons lying everywhere (it appears I have somewhat of an affinity for spoons. Not knives or forks, mind you, just spoons. Go figure).
There are papers and recipe notes and grocery lists. Cans of paint and stain. Random props and tools and tweezers and twine. Extra tables and wood boards and tethering cords. The tripod never comes down. My lens cap must be around here somewhere…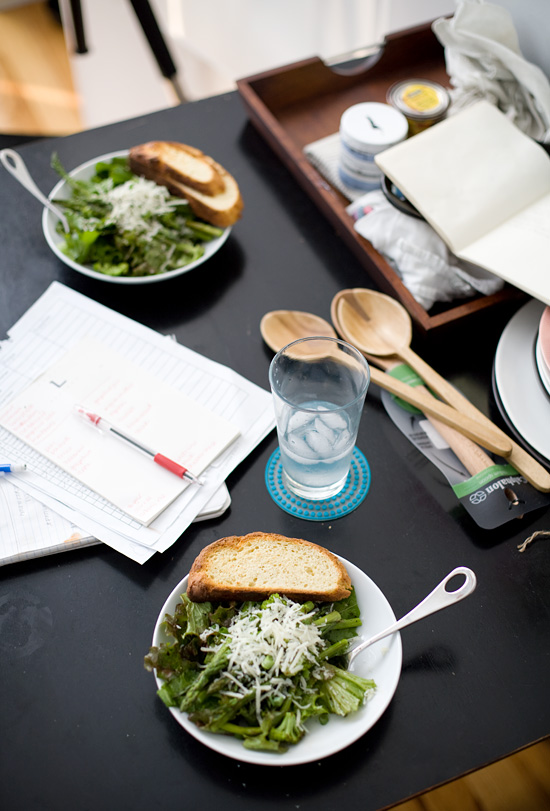 There's barely room for us to eat.
But we still do. Eat, that is. And with our CSA now in its 3rd week, we've been enjoying the greenage that we were so missing over the winter. Taylor's got a knack for taking a bunch of random veggies and throwing them together into a fantastic salad.
I almost didn't photograph this one, because it seemed so ordinary.
But it would have been a shame not to share it. The asparagus and broccoli are lightly roasted with a splash of olive oil and salt and pepper, and tossed with farm fresh greens. Topped with a drizzle of balsamic and and a pile of freshly grated parmesan cheese, it's a rustic farm salad. The best kind.
It's a beautiful meal. It's a real meal. Unstyled and in the midst of our cluttered dining table and just as cluttered lives.
Roasted Broccoli and Asparagus Salad
Ingredients:
1/2 bunch asparagus, trimmed
1 small head broccoli, cut into bite-sized florets
olive oil
salt and pepper, to taste
1 small head green leaf lettuce, washed and torn
balsamic vinegar
freshly grated parmesan cheese
Directions:
Preheat oven to 400ºF. Toss asparagus and broccoli with a few tablespoons of olive oil; season with salt and pepper. Spread out on a foil-lined baking sheet and bake for 10 to 15 minutes or until tender.
Toss lettuce with a splash of olive oil and balsamic vinegar. Arrange on plates. Top with roasted veggies and sprinkle with parmesan cheese.
Did you make this recipe?
Let us know what you think!
Leave a Comment below or share a photo and tag me on Instagram with the hashtag #loveandoliveoil.