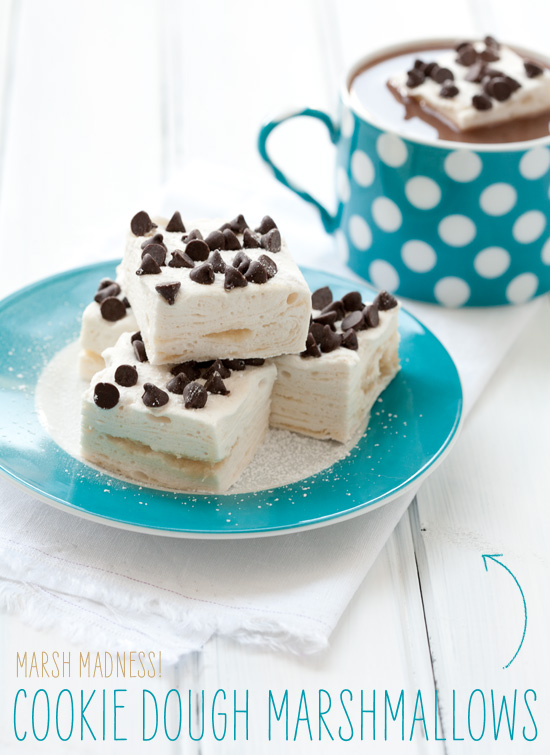 Basketball, shmasketball. No offense, of course, but the whole 'bracket' business blows my mind. Maybe it's because I'm chronically short, but basketball has never sparked by interest. I could very well do without.
Marsh madness, however, is an entirely different beast. Replace basketball with marshmallows and, well, you've got my attention. Seriously, I'll take marshmallows over basketball any day.
When I was knee deep in cookie dough, I spoke a lot with fellow Quirk Books author Shauna Sever, who was herself knee deep in marshmallow fluff. Well, maybe ankle deep; she had a few months head start on me. Shauna is the author of the newly released Marshmallow Madness, the fluffiest, puffiest book around (literally, the cover itself is puffy!) The book is filled with marshmallow treats of every shape and flavor. I get a sugar high just flipping through it (be sure to scroll down for your chance to win one!)
So when Quirk asked me to participate in their Marsh Madness contest to help promote the book, my answer was, of course, a resounding yes. The fact that I just happened to have a recipe for Cookie Dough Swirl Marshmallows in my book seemed too perfect.
That's right. Cookie dough marshmallows.
A light and fluffy brown sugar marshmallow with rich and buttery cookie dough swirled throughout. Topped with chocolate chips (of course) and a dusting of powdered sugar.
It's the ultimate cross-over event. Cookie dough meets marshmallow meets happiness.
While you can't get your hands on my book for another few months, if you're in need of a sugar fix, be sure to check out Marshmallow Madness. I think they go wonderfully together, don't you?
Seriously. Nothing compares to a homemade marshmallow.
Put that in your cocoa and drink it.
Cookie Dough Swirl Marshmallows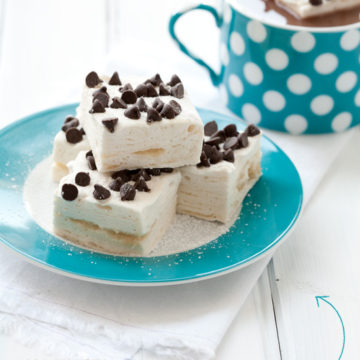 Ingredients:
2 tablespoons unsalted butter
1/2 cup powdered sugar, sifted and divided
For the Cookie Dough:
1/3 cup unsalted butter, room temperature
3 tablespoons granulated sugar
3 tablespoons light brown sugar, packed
pinch salt
1/2 teaspoon vanilla extract
2 tablespoons milk or cream
1/3 cup all-purpose flour
For the Marshmallows:
2 packets unflavored gelatin
1 cup granulated sugar
1/4 cup light brown sugar, packed
1/2 cup corn syrup
pinch salt
1/2 teaspoon vanilla extract
1/2 cup mini semisweet chocolate chips
Directions:
Butter an 8-by-8-inch baking pan. Line with parchment paper, leaving a 1-inch overhang on two sides; generously butter parchment. Liberally dust pan with 1/3 cup powdered sugar, making sure sides and corners are coated as well.
To prepare cookie dough, combine butter and sugars in a large bowl or the bowl of a stand mixer. Mix until light and fluffy, 2 to 3 minutes. Add salt, vanilla, and milk; mix well. Add flour and mix until incorporated. Set aside at room temperature until ready to use.
Place 1/3 cup cold water in the bowl of a stand mixer or a large mixing bowl. Sprinkle gelatin over top and set aside to soften for at least 5 minutes.
Meanwhile, combine sugar, brown sugar, corn syrup, and salt in a medium saucepan. Bring to a boil over medium-high heat, stirring until sugar is dissolved. When mixture begins to boil, stop stirring. Cover and allow to boil for 2 minutes. Remove cover and continue to boil, without stirring, until mixture reaches 238°F, about 7 to 8 minutes. Remove from heat.
Fit stand mixer with a whisk attachment and turn to low speed. Carefully pour hot (very hot!) sugar mixture into bowl with gelatin. Pour slowly down the side of the bowl to prevent splattering. Increase the mixer speed to medium-high and whip until mixture is thick, shiny, and lukewarm to the touch, about 13 to 15 minutes. Beat in vanilla.
Drop dollops of soft cookie dough onto marshmallow mixture, and fold until dough is swirled evenly throughout, but not fully incorporated.
Pour marshmallow into prepared pan, smoothing top with a lightly buttered spatula. You may also use your hands if you find it easier; simply wet them with water and press the marshmallow into the pan. It is sticky stuff; don't worry if you can't get it all out of the bowl. Lightly dust top with remaining powdered sugar and sprinkle with chocolate chips. Allow marshmallows to set, uncovered, for 3 1/2 to 4 hours or until firm.
To serve, lift marshmallows out of pan and onto a cutting board. Carefully peel down sides of parchment. Cut into bite-size cubes using a pizza cutter that has been lightly buttered and dusted with powdered sugar so it won't stick. Serve immediately or store in an airtight container for up to 1 week.
Did you make this recipe?
Let us know what you think!
Leave a Comment below or share a photo and tag me on Instagram with the hashtag #loveandoliveoil.