I hereby declare this week Basil Week. And when you see what I've got in store for the rest of the week you'll see why. Granted, it was a completely unintentional coincidence. Maybe I was having a subconscious butter rebellion during my first weekend cooking for myself and not for an editor, but basil was the center of my attention. No less than four of my culinary projects involved the bright summer herb.
And I'm totally ok with that.
So let's kick off this celebration of ocimum basilicum with a refreshing beverage. A muddled twist on a classic summer refreshment. It's sweet and sassy and bright and you'll want to drink an entire gallon of it. It'd be great with a splash of liquor in it, too. Heck, maybe it's time to set up a grown-up lemonade stand.
Take this opportunity to share YOUR favorite basil recipe! What do you do when that plant outside is growing out of control? What unique flavor combinations have you discovered for this humble herb? Do tell!
Basil Lemonade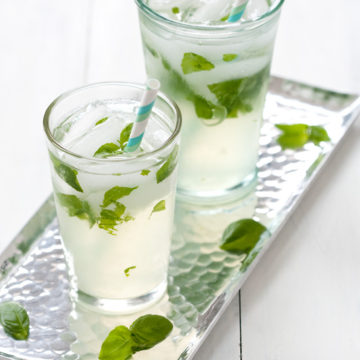 Ingredients:
1/4 cup granulated sugar
1/3 cup freshly squeezed lemon juice (from 2 large lemons)
1/4 cup fresh basil leaves, torn
water
ice
Directions:
Combine sugar and 1/4 cup water in a microwave safe bowl or glass measuring cup. Microwave on high for 45 seconds and stir until sugar is dissolved and liquid is clear. Set aside to cool.
Muddle together lemon juice and basil leaves, using a muddler or the base of a wooden spoon to crush the leaves and infuse the juice with basil flavor. Add 2/3 cup of cold water and sugar syrup, to taste. Pour over ice and enjoy.
Did you make this recipe?
Let us know what you think!
Leave a Comment below or share a photo and tag me on Instagram with the hashtag #loveandoliveoil.