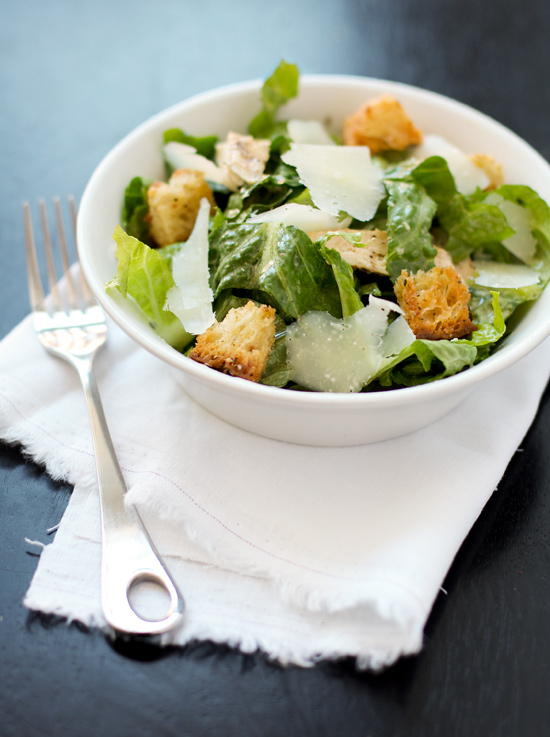 I'm sure Caesar salad is a staple in most households.
However, I'm sure most of the time it involves a bottle of dressing and a bag of croutons. Not that there's anything wrong with that, but it's just not our style.
Rather, we've found the perfect (easy, and salmonella-free) recipe for a Caesar dressing from scratch. It's as creamy or creamier than anything you can find in a jar, and bonus! You know exactly what did (or didn't) go into it.
Didn't use up all that nice fresh crusty bread you bought for dinner last week? It's too dry to eat by itself, but it is perfect for homemade croutons. Just like black bananas are the perfect candidates for banana bread, day (or week) old bread is just crying out for a more fulfilling future than the garbage. Give it that satisfaction by turning it into crispy, golden brown, homemade croutons.
Yet, even with the extra steps to make it all from scratch, it is still a surprisingly quick and easy dinner. A weeknight meal. Something satisfying for the whole family (especially if your family includes 3 cats. Yes, those anchovies and chicken strips are quite tempting. Bad kitties!)
Chicken Caesar Salad with Homemade Croutons
Makes 2-4 servings. Dressing recipe adapted from Epicurious.
Ingredients:
Vinaigrette:
2 tablespoons mayonnaise
3 tablespoons fresh lemon juice
1 tablespoon minced garlic
1/2 teaspoon Worcestershire sauce
1/4 teaspoon red pepper flakes
1 tablespoon Dijon mustard
2 anchovy fillets, mashed
Scant cup light olive oil
1/4 cup freshly grated Parmesan cheese
Kosher salt and freshly ground black pepper
Chicken:
1 large skinless, boneless chicken breast
salt and pepper
3 tablespoons canola oil
Croutons:
1/3 cup olive oil
One 1-pound loaf of day-old bread, preferably sourdough, sliced and cut into large cubes (about 2 cups)
1 large head of romaine lettuce
fresh shaved parmesan cheese
Directions:
In a medium bowl, whisk together the mayonnaise, lemon juice, garlic, Worcestershire sauce, red pepper flakes, mustard, and anchovies. Slowly whisk in the oil to emulsify. Stir in the cheese and season with sat and pepper. Refrigerate in a covered container. When ready to use, whisk again. Dressing will keep up to 10 weeks, refrigerated, in a covered container.
Preheat the oven to 350 degrees F. In a medium bowl, drizzle olive oil over bread and toss until evenly coated. Season with salt and pepper. Arrange in a single layer on a baking tray and bake until golden, turning to brown all sides. Actual baking time will vary depending on the variety and dryness of your bread, watch them carefully to ensure they do not burn.
Place chicken breast between two pieces of plastic wrap. Pound breasts to a uniform thickness (about 3/8″). Sprinkle both sides with salt and pepper.
In a large skillet, heat canola oil over medium-high heat until shimmering. Carefully add chicken breast to pan. Cook until both sides are lightly golden and chicken is cooked through, about 3-4 minutes per side. Transfer to cutting board and slice into thin strips.
To assemble, trim the lettuce and toss with some of the vinaigrette. Arrange on salad plates, top with chicken and croutons, and sprinkle with Parmesan cheese.
Did you make this recipe?
Let us know what you think!
Leave a Comment below or share a photo and tag me on Instagram with the hashtag #loveandoliveoil.