Happy 2011, everyone! We're celebrating the New Year with a fresh new layout for one thing (if you're reading this through a feed reader you may want to click through and check it out). What started as a desire for bigger photos turned in to a pretty significant redesign (funny how that happens), but I think you'll like it. Please excuse the currently dull and image-less archives. I have to go back and edit old posts, something that takes up quite a bit of my precious time. It'll get done, eventually. As always, if you encounter any issues with the new design please let me know.
And now, on to these cupcakes!
These adorable little mini cupcakes were made for an evening of celebration: celebrating New Year's (duh!) but also celebrating a surprise engagement. A double surprise in that Erin didn't know about the proposal, nor the giant party she was having at her house afterwords. Luckily she had plenty of friends to bring plenty of food, and a fiance who took care of every little detail. Congrats to the happy couple!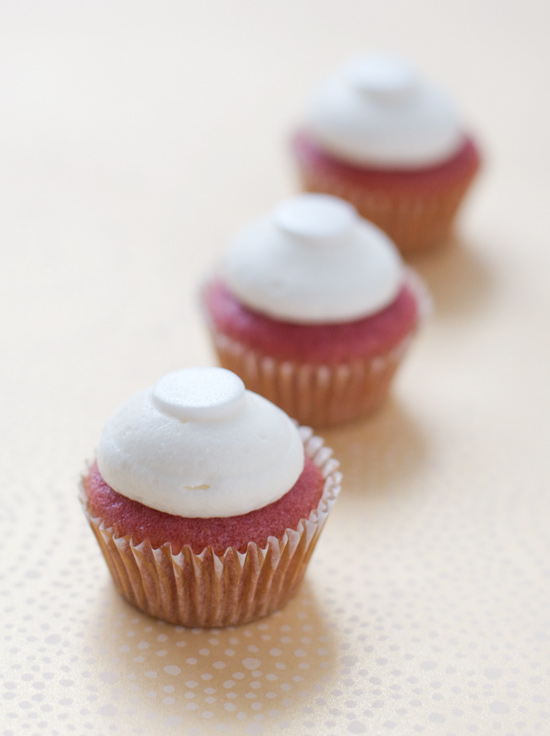 Whether it be for a New Year's Eve bash, or an engagement party, these festive cupcakes work perfectly for any celebration. I do wish the strawberry cake had come out a bit more pastel pink, but the slightly red hue was pretty nonetheless, especially once topped with a dollop of champagne buttercream and a shimmery dot of fondant.
I think they were a smashing success!
Strawberry Champagne Cupcakes
Makes 12 cupcakes (or 48 mini cupcakes)
Ingredients:
1 1/4 cup flour
1/2 teaspoon salt
1/2 teaspoon baking powder
1/2 teaspoon baking soda
1/3 cup coconut milk
1/3 cup champagne/sparkling white wine
1/3 cup strawberry puree
3/4 cup sugar
1/3 cup vegetable oil
1/2 teaspoon vanilla
For Frosting:
1 cup champagne
1/2 cup (1 stick) unsalted butter, room temperature, cut into tablespoons
2 1/2 to 3 1/2 cups confectioners' sugar
2-3 tablespoons milk or cream, as needed
Directions:
Preheat oven to 350 degrees F. Line a muffin pan with paper liners.
In a large bowl, sift together flour, baking powder, baking soda, and salt.
In a separate bowl, whisk together coconut milk, champagne, strawberry puree, sugar, vanilla, and oil. Make a well in the center of the dry ingredients and pour in the wet ingredients. Mix until relatively smooth. Fill cupcake liners with a scant 1/4 cup of batter (cups should be just under 2/3 of the way full). Bake for 18-22 minutes or until set, and toothpick inserted in the center comes out clean. Transfer to cooling rack and allow to cool completely.
Bring champagne to a simmer in a small saucepan. Continue to boil gently until only 2-3 tablespoons of liquid remain. Remove from heat and set aside to cool.
For frosting, cream butter in electric mixer for 1-2 minutes until fluffy. Slowly add 1 cup sugar and beat until smooth. Add 2 tablespoons reduced champagne and mix. Continue to add confectioners' sugar, 1/2 cup at a time, and beat until light and fluffy. Add cream or more sugar as necessary to achieve proper consistency. Pipe or spread onto cooled cupcakes.
Did you make this recipe?
Let us know what you think!
Leave a Comment below or share a photo and tag me on Instagram with the hashtag #loveandoliveoil.