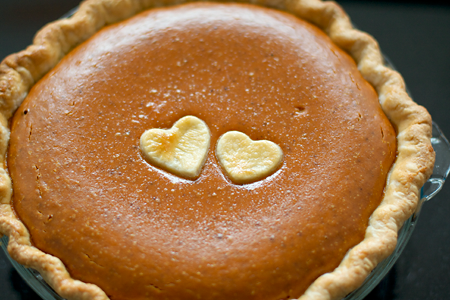 I bet you've never seen a pumpkin pie as pretty as this one.
I also bet you've never been threatened by your own husband and sister, warned that if your pumpkin pie wasn't perfect, you'd have to go out and buy them not one, but TWO grocery store pumpkin pies. On Black Friday, no less (and anyone who knows us knows we do NOT go out on Black Friday).
Meanies.
Needless to say, I did not want to go out on Black Friday. The pressure was on. After last year's incident, I wasn't about to try anything weird. I learned the hard way that you do not mess with pumpkin pie. So when I saw a recipe for an Old Fashioned Pumpkin Pie, I knew that was the one. The Bourbon whipped cream didn't hurt, either (Taylor and Robin are suckers for whiskey). I hoped that if my pie was sub-par the whipped cream would be a good cover up.
But before I could even consider the pie, I had to go head to head with my arch nemesis: pie crust.
Me and pie crust got off to a bad start. And I apologize now for any harsh words directed at it in the process. Good news is we've kissed and made up, and I've finally found the One Pie Dough to Rule Them All. I am a believer. I am in love. I will never look at another pie crust again.
Thanks cousin Brookie for the tip, I bow to you, pie master!
Folks: this pie crust is amazing. It is the pie crust of my dreams. My flaky and fabulous soul mate.
Just one thing to remember: 4 ounces of butter is NOT the same as 4 tablespoons of butter. Quite different, in fact.
So I messed up. Again.
So I ended up making two crusts. Again.
So I had to wake up early on Thanksgiving morning to re-make my failed crust. Again.
But the second one was perfect. Undeniably, unequivocally, unmistakably perfect. Everything that you were ever taught about pie crusts thrown out the window. This crust is a dream to work with. Soft. Not crumbly. Easy. And no, it's not too good to be true, it IS true.
This pie crust wasn't just passable, it was actually pretty. Me. I made a pretty pie crust. I didn't think it was possible, but the proof is in the pudding, er, pie filling.
Not only was the crust pretty, but the filling was fabulous. Light and spicy. So maybe I took one risk, by using fresh pumpkin instead of canned, but it really paid off. The filling was not nearly as dense and heavy as the canned counterpart. Just be sure you choose the right variety of pumpkin. I've heard Fairy Tale pumpkins are good. No idea what the variety we used was actually called (it came from our CSA) but it was small with slight variegated muted orange skin, and deep orange flesh. Beautiful inside and out. And it made for the perfect pie.
Old Fashioned Pumpkin Pie with Bourbon Whipped Cream
Ingredients:
1 medium pie pumpkin (such as a Fairy Tale or Sugar Pie – about 4-5 lbs will yield 2 cups), or 2 cups canned pumpkin puree
1 12 oz. can of evaporated milk
1/2 cup packed dark brown sugar
1/3 cup white sugar
1/2 teaspoon salt
2 eggs plus the yolk of a third egg
2 teaspoons of cinnamon
1 teaspoon ground ginger
1/4 teaspoon ground nutmeg
1/4 teaspoon ground cloves
1/4 teaspoon ground cardamon (I left this out)
1/2 teaspoon of lemon zest
1/2 batch of The One Pie Dough to Rule Them All*
1 cup heavy cream, chilled
1 tablespoon confectioner's sugar
1 to 1 1/2 tablespoons bourbon (we like Bulleit)
Directions:
To make pumpkin puree: start with a small-medium pie or sugar pumpkin (not a jack-o-lantern!), cut out the stem and scrape out the insides, discard (save the seeds, of course). Cut the pumpkin in half and lay cut side down on a rimmed baking sheet lined with silpat or aluminum foil. Bake at 350°F until fork tender, about an hour to an hour and a half. Remove from oven, let cool, scoop out the pulp. Run the pulp through a food mill or food processor until smooth. Place in a fine mesh sieve or strainer lined with cheesecloth and set over a bowl for at least an hour to drain. Use within 2 days or freeze for up to 3 months. If you do not want
Preheat oven to 425°F.
Mix sugars, salt, and spices, and lemon zest in a large bowl. Beat the eggs and add to the bowl. Stir in the pumpkin purée. Stir in cream. Whisk all together until well incorporated.
Pour into pie shell and bake at 425°F for 15 minutes. After 15 minutes reduce the temperature to 350°F. Bake 40-50 minutes, or until a knife inserted near the center comes out clean.
Cool on a wire rack for 2 hours. Serve immediately or let sit overnight in the refrigerator to serve the next day (bring to room temperature prior to serving).
To make whipped cream, beat heavy cream with an electric mixer with a whisk attachment until soft peaks form. Gradually add sugar until stiff peaks form. Lightly fold in the bourbon. Taste after one tablespoon and add more bourbon as desired. Dollop generously on top of pie and serve.
Pro Tip: brush your raw pie shell with an egg wash (1 egg, lightly beaten with a splash of milk or water) before adding filling. This will help keep your crust from getting soggy and negate the need to blind bake it at all.
Did you make this recipe?
Let us know what you think!
Leave a Comment below or share a photo and tag me on Instagram with the hashtag #loveandoliveoil.