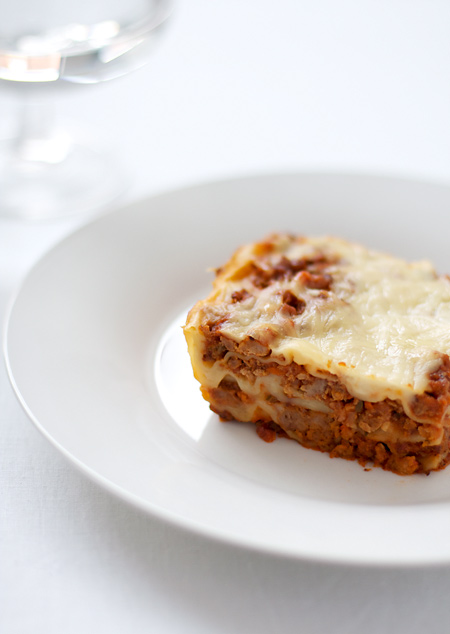 Pop quiz: what are the main ingredients in lasagne?
If you said marinara, ricotta, and noodles, you'd be 2/3 wrong.
At least in the case of this authentic Bolognese lasagne, where noodles are the only thing in common with the Americanized stereotype. This lasagne has, instead, a rich and meaty ragù sandwiched between layers of homemade noodles, fresh grated parmesan, and a creamy béchamel sauce. The end result is as smooth and creamy as it is rich and hearty, with no funky ricotta texture. The top layer of béchamel and parmesan bakes to a golden brown, finishing the dish with an almost pizza-like finesse. It is satisfying through and through.
And since we were going all out with this one anyway… homemade noodles. The kind of noodles that are so tender they practically melt in your mouth. No tough lasagne noodles here. For what it's worth, we recalled (after the fact) that the noodles in the original version were green. Spinach or pesto, I believe. But other than the hue of the pasta, I think we nailed it.
Our neighbor (who so kindly helped us make a dent in a dish that was clearly too much for two people, even two people and leftovers), declared this the best lasagne ever. Heck, Taylor and I declared it the 2nd best lasagne ever (demoted to second only because we weren't actually in Bologna while eating it).
If we made this again, we'd probably halve the recipe out of practicality. The ragù also has a tendency to thicken incredibly, we'd try to thin it out a bit with some additional wine or broth, to make assembly easier. This lasagne isn't an every day meal, nor is it for the faint of heart. Two pounds of meat and pancetta? An entire quart of whole milk? Indulgence indeed.

Lasagne Bolognese
Ingredients:
Ragù:
1/4 cup extra-virgin olive oil
2 medium onions, finely chopped
1 carrot, finely chopped
4 stalks celery, finely chopped
5 cloves garlic, sliced
1 pound veal or beef, ground
1 pound pork, ground
4 ounces pancetta, ground
1 8-ounce can tomato paste
1 cup milk
1/2 cup white wine
1 teaspoon fresh thyme leaves
Salt and freshly ground black pepper
Béchamel:
5 tablespoons unsalted butter
1/4 cup flour
3 cups milk
2 teaspoons salt
1/2 teaspoon freshly grated nutmeg
Lasagna:
3/4 to 1 pound fresh pasta sheets, about 7 by 4 inches, or dried lasagne noodles blanched for 6 minutes and refreshed
1 cup freshly grated Parmigiano-Reggiano
Oil for brushing
Directions:
Ragù: In a large heavy-bottom saucepan, heat olive oil. Add onion, carrot, celery, and garlic, and sweat over medium heat for about 5 minutes, until vegetables are translucent. Add veal, pork, and pancetta to the vegetables, and brown over high heat, stirring to keep the meat from sticking together. Add the tomato paste, milk, wine, thyme, and 1 cup water, and simmer over medium-low heat for 1 to 11/2 hours (if the ragù becomes too thick, add a little more water). Season to taste with salt and pepper, and remove from heat.
Béchamel: Melt the butter in a medium saucepan, add the flour, and whisk until smooth. Cook over medium heat, stirring regularly, until the mixture turns golden brown, about 6 to 7 minutes.
Meanwhile, heat the milk in a separate pan until it is just about to boil. Add the milk to the butter mixture, 1 cup at a time, whisking continuously until the sauce is very smooth. Bring to a boil and cook for 30 seconds longer. Remove from the heat and season with salt and nutmeg.
Assembly: Preheat the oven to 375 degrees. Brush a 9-by-13-inch glass baking dish with melted butter or oil, and layer in the following order from the bottom: ragù, pasta, béchamel, and grated cheese (saving about 1 cup béchamel for last topping), making 3 to 4 layers of pasta, finishing with ragù, béchamel, and 1/4 cup of the Parmigiano-Reggiano sprinkled over the top. Bake in the oven for 45 minutes, until the top is golden brown and the casserole is bubbling. Remove from the oven, allow to cool for 20 minutes, slice, and serve.
Did you make this recipe?
Let us know what you think!
Leave a Comment below or share a photo and tag me on Instagram with the hashtag #loveandoliveoil.