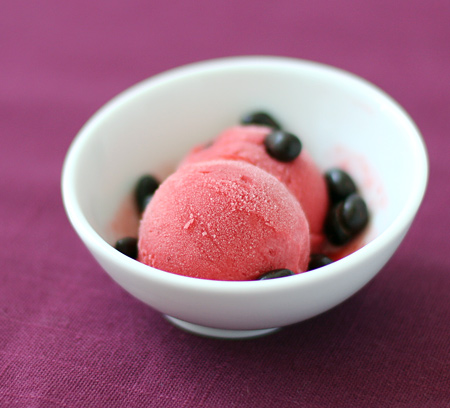 As much as I love ice cream, sometimes a sorbet is much more satisfying. I don't think there is such a thing as a sorbet that is not refreshing; it's in their nature. And as the temperatures slowly climb with the humidity not far behind, nothing feels better than pulling a tupperware full of frozen fruity goodness out of the freezer.
A word of warning: I am taking full advantage of strawberry season. And chances are the recipes you'll see on the blog in the next month or so will reflect that. So I hope you like strawberries.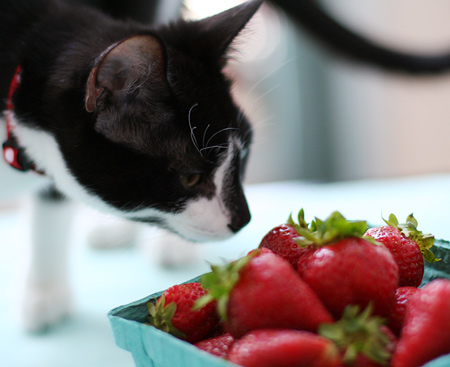 Little kitty likes strawberries. And if you don't like strawberries, little kitty doesn't like you very much.
This recipe is not your typical strawberry sorbet. I still had a few bottles of POM Wonderful pomegranate juice, and while they make an excellent addition to our morning smoothies, I wanted to put it to better (and more interesting) uses. Pomegranate goes with strawberries, right? Heck yes.
The result is a sweet and slightly tangy sorbet. Not quite strawberry and not quite pomegranate. With a hint of lemon. And, oh yes, topped with chocolate covered pomegranate seeds (a recent Trader Joe's find… and I have to say, delicious). You could top it with fresh pomegranate seeds as well.
And don't forget! Local Nashville folks should stop by the Sweet Relief food blogger bake sale for flood relief this Saturday (May 29) from 1:30 till 4, at the Green Wagon in East Nashville (1100 Forrest Ave). I'll be there, with two tasty flavors of cupcakes in tow. Get there early for the best selection! All proceeds benefit Second Harvest. More Information.
Strawberry Pomegranete Sorbet
Ingredients:
1 cup sugar
1 cup pomegranate juice
1 tablespoon lemon juice
1/2 tablespoon cornstarch
3 cups (about 1 lb) fresh strawberries
Directions:
Combine sugar and juice in a medium saucepan. Stir over medium heat until sugar is completely dissolved.
In a small dish, whisk together cornstarch and lemon juice. Add to pomegranate mixture. Bring to a simmer and cook for 5 minutes or until slightly thickened. Remove from heat.
Wash and trim strawberries. Puree in a blender or food processor until smooth. Transfer to a heat-proof bowl. Slowly pour in warm pomegranate mixture, stirring to combine, and allow to cool to room temperature. Cover and refrigerate. When mixture is thoroughly chilled, freeze in ice cream maker according to manufacturers directions. Transfer to a freezer-safe container and freeze until firm.
Did you make this recipe?
Let us know what you think!
Leave a Comment below or share a photo and tag me on Instagram with the hashtag #loveandoliveoil.