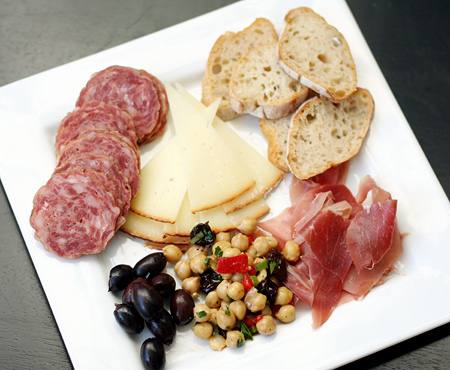 If Taylor had to pick one thing to eat, his last supper of sorts, it would probably look something like this. Savory morsels. Little bites of pork and cheese. To him, this is the ultimate meal.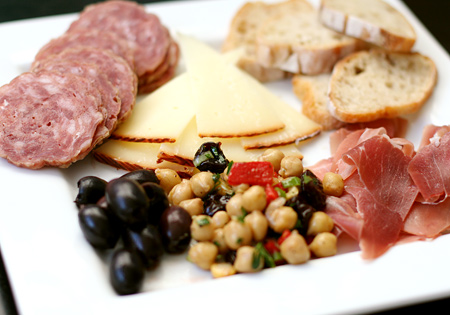 Me, on the other hand… I think you know my feelings about pork. I'll have some bacon or prosciutto here and there, but I have never liked salami or ham or other pork-y cured or processed meats.
But now I realize, if it's the good stuff, the expensive pork-y cured meats… now THAT I like. While I may be a bargain hunter in many respects, apparently I have expensive taste when it comes to salami.
Like this salami, for example. We picked this up at our neighborhood pasta shop, Lazzaroli's, that also carries a myriad of delicious Italian goodies, from cheese to olive oil to cured meats. We had heard him mention this special salami before, and despite our usually thrifty food choices and anti-splurge on fancy meat mentality, we decided we deserved a treat (or, I decided Taylor deserved a treat, because I didn't initially anticipate actually liking the stuff). This salami is authentic Salumi salami made by the Batali family (yes, THAT Batali) in Seattle. Apparently they don't ship this stuff East of the Mississippi, and I don't know what hocus pocus Tom pulled to get some, but he did.
The rest of the spread was tasty too, don't get me wrong; the Manchego cheese is a specialty aged sheep's milk cheese that almost tastes like Parmesan and might just be one of my new favorites. The chickpea salad was a nice way to break up all the meat and cheese, though I have to say that the poor chickpea salad would have had to have been made from magical legumes and sprinkled with gold leaf to outshine the salami. Good luck with that. Because as good as everything else was, the salami truly stole the show.
Tapas Plate With Marinated Chickpeas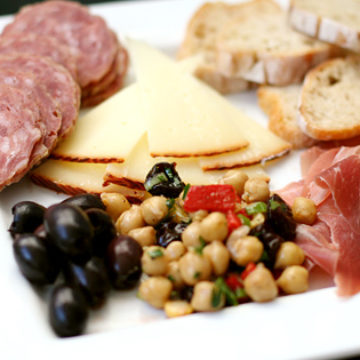 Ingredients:
1 15oz can chickpeas, drained and rinsed
1/2 cup dried sour cherries or raisins
1/4 cup chopped roasted red peppers
1/4 cup chopped fresh flat-leaf parsley
2 scallions, diced
3 tablespoons olive oil
kosher salt and black pepper
1/2 pound Manchego cheese, thinly sliced
1/4 pound thinly sliced Serrano ham of prosciutto
1/4 pound good quality salami
1/2 cup mixed olives
1/2 small loaf country bread or baguette
Directions:
In a medium bowl, combine the chickpeas, raisins, roasted peppers, parsley, scallions, olive oil, ½ teaspoon salt, and ¼ teaspoon pepper.
Serve with the cheese, ham, salami, olives, and bread.
Did you make this recipe?
Let us know what you think!
Leave a Comment below or share a photo and tag me on Instagram with the hashtag #loveandoliveoil.