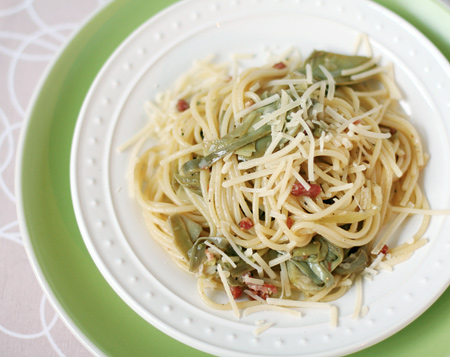 Taylor has this odd aversion to canned artichoke hearts. The marinated kind. I love them. We've had a jar in our fridge for quite some time, but every time I pull it out to throw it in a leftover-pasta, for example, he makes this disgusted face and I end up putting it back.
So when he first read this recipe, he started making that same face. But what a world of difference fresh artichokes make. Granted, it's a bit of an ordeal cutting them into the 1/8″ thin slices that the recipe calls for, but the final result is as delicious as it is unusual. Something different, that's for sure. And if it is an artichoke dish Taylor will actual eat, I'm all for making it again and again.
Would you believe that in the beginning months of this blog, my narratives accompanying each recipe were only a few sentences? My how things have changed. Now, a post feels incomplete with just a few paragraphs. I keep racking my brain for more to say to add to the mere two paragraphs that precede this recipe. And maybe that's why I find myself writing this 3rd paragraph here about only writing two paragraphs… to flesh it out a bit. But you know what? Sometimes a recipe speaks for itself. Yea, that's it. No more babble needed. I'll shut up now.
Spaghetti with Artichokes and Pancetta
Ingredients:
1 lemon, halved
8 baby artichokes (about 1 pound)
1/4 cup extra-virgin olive oil
1 medium onion, finely chopped
4 garlic cloves, thinly sliced
One 2-ounce piece of lardo or pancetta, cut into 1/4-inch dice
1/2 cup dry white wine
Kosher salt and freshly ground pepper
1 pound spaghetti
1/4 cup freshly grated Parmigiano-Reggiano cheese, plus more for serving
Directions:
Fill a large bowl with water. Squeeze in the juice from the lemon halves, then add the lemon halves to the water. Working with 1 artichoke at a time, peel off the dark green outer leaves. Cut off the top fourth of the artichoke; peel and trim the stem. Slice the artichoke lengthwise 1/8 inch thick and drop into the lemon water. Repeat with the remaining artichokes.
In a saucepan, heat the oil. Add the onion, garlic and lardo and cook over moderate heat, stirring, until softened, about 10 minutes. Drain the artichokes; discard the lemon. Add the artichokes to the saucepan, cover and cook over moderately low heat, stirring, until almost tender, about 10 minutes. Add the white wine, cover and simmer over moderately low heat until tender, about 5 minutes. Season with salt and pepper.
Meanwhile, in a large pot of boiling salted water, cook the spaghetti until al dente. Drain the pasta, reserving 1/4 cup of the pasta cooking water. Add the pasta and the reserved cooking water to the artichokes and toss over moderate heat for 1 minute. Remove from the heat, stir in the 1/4 cup of cheese and season with salt and pepper. Serve the pasta, passing more grated cheese at the table.
Did you make this recipe?
Let us know what you think!
Leave a Comment below or share a photo and tag me on Instagram with the hashtag #loveandoliveoil.