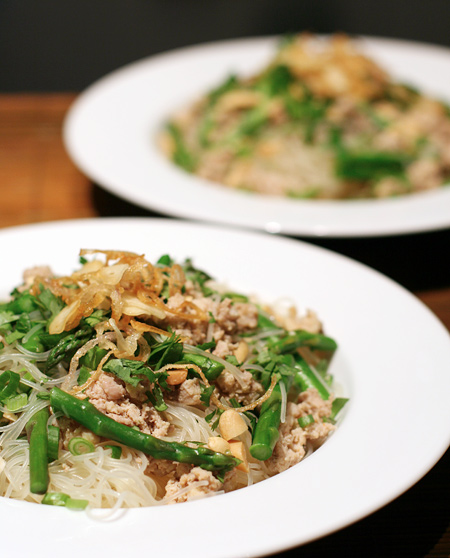 The other day I spent a good four hours flipping through our stacks of old food magazines. Mainly Bon Appetit and Cooking Light, with a few others mixed in. A solid 18 months of back issues. You see, when we get a new magazine, I'll flip through it once. Dog-ear any recipes that catch my eye, and we'll usually pick 2 or 3 of them to make that week. But after that? The magazine goes onto the shelf, never to be read again. It's like the magazine has one chance to impress me and then it is banished to the back of the shelf.
As the shelf was quickly beginning to spilleth over, I figured most of those old magazines could be recycled. But I decided to give them one last shot. Flipped back through each and every one of them, and ripped out any recipe that sounded even remotely palatable. A lot were a bit to fancy-shcmancy for your everyday meal (probably why we didn't pick out the recipe to begin with), but could be saved for a special occasion. Others were more complicated than we usually seek out for weekday meals, or used ingredients that were out of season (why magazines find the need to send out issues nearly two months early, I'll never know… while yes, your April issue beautifully highlights the best of spring produce, but it's still gosh darn winter here and I'm going to be hardpressed to find those fresh spring peas you're using in that there recipe.)
So now we have a nice stack of torn out magazine pages. Whether we'll actually ever look at them is a question left unanswered. But at least they take up less space than the huge stacks of magazines.
It's like spring cleaning, foodie style.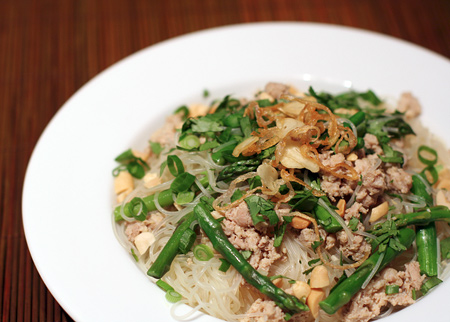 Anyway, this recipe was one of those overlooked-the-first-time-around recipes. It seems fairly unremarkable upon first look, but the final result is surprisingly good. This is one of those recipes that just tastes authentic. A bit Thai, a bit Vietnamese, with a surprising mix of ingredients and textures that make you stop and appreciate every bite. A recipe that makes me happy it wasn't lost for good in the shuffle.
And now for your dose of Sunday cuteness, just a little something extra for you kitten-watchers out there…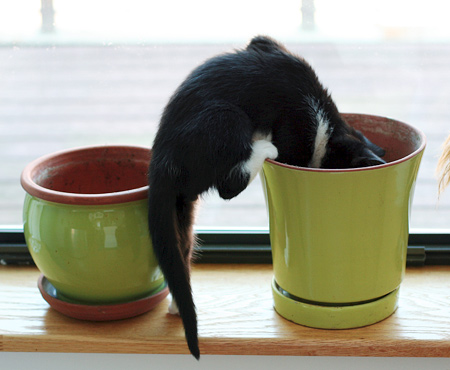 I think we've adopted ourselves a pot head, no? He's quite the little explorer, leaving no stone (or pot) left unturned.
Thai Noodles with Ground Chicken and Crispy Shallots
Makes 6 servings. Adapted from Bon Appetit.
Ingredients:
Vegetable oil (for frying)
4 large shallots, cut crosswise into 1/4-inch-thick slices
5 garlic cloves; 3 sliced, 2 pressed
2 tablespoons Asian sesame oil
2-3 quarts low-salt chicken broth
1 lb skinless boneless chicken thighs (or breasts) cut into 1 inch cubes
4 tablespoons fish sauce, divided
1 (6.75 oz) package rice stick noodles (maifun), broken in half
8 ounces Chinese long beans, green beans, or asparagus, cut into 1-inch pieces
1/4 cup fresh lime juice
2 tablespoons raw sugar or brown sugar, divided
2 pinches cayenne pepper
1/2 cup chopped fresh cilantro
1/2 cup chopped green onions
2 tablespoons chopped salted roasted peanuts
Hot chili sauce (such as sriracha)
Directions:
In a small saucepan, add enough vegetable oil to fill the pan to about 1/2 – 3/4 inch deep (you can fill it more if you want to truly deep-fry.) Heat until oil is 350 degrees F. Add shallots to oil and fry until golden brown, stirring often to prevent clumping, about 6-8 minutes. Using a slotted spoon or a spider, transfer to paper towels to drain. Add sliced garlic to oil and fry until just barely golden brown, about a minute, being very careful not to burn it. Using a slotted spoon or a spider, transfer garlic to paper towels to drain.
Mix sesame oil and pressed garlic in a small bowl. Set aside.
Bring chicken broth to boil in a large saucepan. Place chicken in food processor. Pulse until chicken is coarsely ground. Add ground chicken to broth and simmer until cooked through, stirring to break up clumps into small pieces, about 5 minutes. Using a spider or slotted spoon, transfer chicken to a large bowl. Add 1 tablespoon fish sauce to chicken; toss to coat. Return broth to boil. Add rice noodles and cook until tender, 3-4 minutes. Using spider or slotted spoon, transfer noodles to bowl with chicken. Return broth to boil. Add beans and cook until crisp-tender, about 5 minutes. Using a slotted spoon, transfer beans to bowl with chicken and noodles. Add sesame-garlic oil, lime juice, 1 tablespoon raw sugar, cayenne, and remaining 3 tablespoons fish sauce. Toss to coat.
Transfer noodle mixture to a large shallow serving bowl. Sprinkle cilantro, green onions, peanuts, fried shallots, and fried garlic and remaining raw sugar over noodles. Serve passing hot chili sauce over top.
Did you make this recipe?
Let us know what you think!
Leave a Comment below or share a photo and tag me on Instagram with the hashtag #loveandoliveoil.